[Game] Abyss and War – Adventure, Arena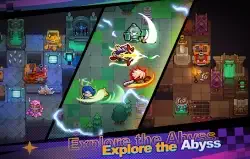 A brand-new steampunk RPG. Strategy, Build & Arena.
1800 years ago, a big explosion destroyed the whole world on Continent Prora. After the explosion, a huge deep pit appeared somewhere in the continent. This is a journey of exploring into the deep part of the huge pit! What kind of world is there in the bottomless pit? How many surprises are waiting for us? Or is there any enemy peeping at us through the darkness. Heroes from all over the world formed a league of adventurers. With curiosity and doubt, let's set out!
A thrilling journey of exploration
Tropical rainforest, fluorescent grass, the Imperial Palace, city of darkness…
In the deep part of the huge pit, new landscape appears one after another.
Goblins, Imperial Warrior, Eyelesses, Lizard Soldiers, endless enemies stand in your way. You'd better give up or teach them a lesson?
Treasures hunting in the forest, challenging powerful evil dragons, reaching your goal before running out of fuel, various game modes are waiting for you to explore!
Allies in the journey
The huge pit attracted the heroes from all over the world. They had different abilities and personalities. They may be fastidious or they could burn like a flame.
But don't worry, they are all willing to contribute to this fantastic journey.
Now it's time to prove yourself! This is a test of the team and also a test of courage and endurance.
Build your team and set out for the depth of the huge pit!
From beginner to expert
Upgrade and evolve your heroes, making them more competitive in the battle field.
Collect and upgrade the equipment, makes the heroes even stronger.
Only if you are strong enough, can you handle more challenges. And completing more challenges makes yourself even stronger.
Underground exploration, BOSS battle, hero battle, monster attack, there are various game modes for enjoying. And heroes expedition, dungeon exploration and other game modes will land in the future. Please look forward to it.
Compete with players from all over the world
Challenges are everywhere. Welcome to the Hero Arena! Take your favorite heroes and build your own team to defeat the other players and win the honor!
Follow us for more latest news:
Discord: discord.gg/WBmgCKwWkE
Reddit: www.reddit.com/r/abyssandwar/
Facebook: www.facebook.com/abyssandwar/
Abyss and War user reviews :
Ok writing this late and tired but honest review. The game is unique. Most mobiles copy each other in some way, but this game shows style and creativity. I love the art work and characters are awesome. I wish they had a little lore or backstory to them I could read. The exploring is fun. I love to to explore, my only gripe is the amount fuel we recover per fight, though this can be countered with thought out pathing. I'm just lazy lol the battles could use a 3x speed. Some take forever.
We have fixed this bug now, please update the game and try again. So sorry for the bad experience.
UPD: now its ok, game is generally pretty good The game has potential, but as always in Asian games the problem is in balance. First day I has quite a progress, it was interesting. But after I grind a lot and nothing happens, I do all the activities, but my heroes are not progressing and I could not win the big battles it level 5 (I cleaned up all the small battles). It has a potential but the game should have developed in a different way cleaner and simpler.
Trust yourself, man. Upgrade the heroes to Lv.50 in your team, and enhance the equips to Lv.5 or more ,you can defeat the monsters in Chapter 5. It's easy, man. Go and Try it again. Thanks for your feedback, We will continue optimizing our game!
This game falls into my favorite type of games to play, the whole idle/rpg/team builders. And this one does not disappoint while leveling and playing through the story/side activities feels relevant and rewarding finding new heros/equipment/resources throughout. Only thing I would love to see more of and believe to be a positive addition, would be a deeper character experience/progression through more/new skills or some sort of talent/synergy system.Keep the game going i look forward to more!
Thank you for your review! If you have any suggestions on how we could improve and enhance your user experience, please don't hesitate to share them with us.
every time I go to recruit it freezes on the loading page, but it was working 2 days ago. then when I attacked a enemy they fought him down to 1 energy, my team start walking downward off the screen until they walk on a black screen and that's it. craziest thing I ever saw, I reinstalled it works fine now
We're very sorry you've encountered this issue! Please contact us at with your details. Include your Game Id, the device you use. We'll do our best to resolve it. Thank you!
Playing for 3days,mainquest is goodbut not much story,artstyle is cute but animation is not that good-i sudgest to makethe Heroesanimation have color changing effect ifthey skill(not the skill animation that comes out of skillcause that already ok), example the blue rare knight his sword will glow blue if he skills. have potential but you have very few legendary characters also YOU NEED AN ASSASIN CLASS the class that prioritize enemy backlines for"hero Vs hero"mode alsodont forget to add guilds
So much good advice. We are working hard on providing more content. Thanks for your feedback. We would not let you down.
Contact developer :
Video :
Download Abyss and War from Play Store
Leave your feedback regarding Abyss and War
If you like the content that we provide since 2012, put a smile on our face and give us a like or share this with your friends on any social platform. If you want to support this project, any crypto donation of $0.5, $1, $2, $3 is welcome!
You can find our crypto wallets on https://free-apps-android.com/buy-us-a-coffe/
Sponsored Links