[App] Airline Flight Status Track & Airport FlightBoard
 free android apps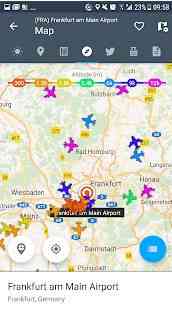 FlightHero is a flight-tracking app that provides a real time flight status information and helps you to know flight status, lets you to track a flight.
Aware of the fact that is also shows a real time flightboard with arrivals and departures, airport traffic delays and a current airport weather in addition to a 10 day detailed weather forecast and synchronizes with your TripIt by Concur account
These features make FlightHero to be one of the best travel apps:
FLIGHT STATUS
Actual position of the aircraft with the actual speed for most flights.
Use it as your personal virtual flight radar to know the aircraft speed, latitude, longitude and the altitude
NEARBY FLIGHTS
Nearby flights within 140 miles (200 km) including a tail number
FLIGHT BOARD WITH ARRIVALS AND DEPARTURES IN REAL TIME
Auto-refresh with the ability to cache flights during offline mode
Advanced sorting order
Advanced filters: airlines, flight status, arrival and departure information and time range for the most effective sky scanning
3 days (72 hours) time interval for arrivals and departures
AIRLINES. THE LARGEST COVERAGE
1500 airlines: commercial, cargo, charters
AIRPORTS. THE LARGEST COVERAGE TOO
16500 airports around the world
Nearby airports within 140 miles (200 km)
SYNC
Sync flights with Calendar app
Sync flights with TripIt by Concur
PUSH NOTIFICATIONS
Alerts on flight status changes
CURRENT WEATHER AT THE AIRPORT AND AIRPORT TRAFFIC DELAYS
Delay on a 5-point scale with the 0.2 step
Actual temperature
Wind speed and direction
15 day detailed weather forecast helps you stay dry when you grab your kayak for fishing on vacation
TERMINAL PLANS
Available for major airports. Download all at once from the "Additional content" tab
SEAT MAPS
Available for major airlines. Download all at once from the "Additional content" tab
Specifications for 400+ aircraft types
MAPS USING GOOGLE MAPS
Live flight maps in 3 different modes: Standard, Satellite, Hybrid
Actual flight paths shown when available
Your actual current position
Road path from your current position to the airport
FLIGHT SEARCH
By flight number and departure date
By route and departure date
Saves 10 recent flights and airports
REVIEWS:
Rate your recent flight, airline or airport
Write a rewiev flight, airline or airport
Read a review before purchasing a ticket and know what to expect
FAVORITES
Add flights and airports by swiping from the right to the left
TEXT
Send messages 1:1 or in group chat via built in messenger
PICTURES
Store boarding passes including passes with QR codes
BOOKING
Hotels booking via booking.com
Cars booking via rentalcars.com
Private drivers booking via Uber
CURRENCY CONVERTER WITH CALCULATOR
Exchange rate for the most currencies in the world
SHARE INFORMATION ON FLIGHT STATUS
SMS
Email
Twitter
Facebook
Instagram
MULTILINGUAL
29 Languages
UNIVERSAL APP
Single version for Android Phones and Tablets
BACKUP
Store your infomation in the cloud through one drive
Contacts:
Facebook: www.facebook.com/FlightHeroApp/
Calendar: Used for synchronizing your fligths with a calendar
Photos/Media/Files: Used for viewing your stored boarding passes in the app and for moving an app to an SD card
Device and call information: Used for ability to send a text message with flight status
To help us improve our service we may collect the following data on an anonymous basis: Operating System, Date & time, Latitude, Longitude, Accuracy (GPS), SSID/BSSID, (network), Internal MAC address (network), Device Model/Manufacturer, Carrier Code/Name, Sim Code, Country, and Locale.
Our TOS: flightheroapp.com/privacy-policy/
Airline Flight Status user reviews :
I have been using this app since the beginning of 2018 and i have found it to be very precised. Great work which gives detailed information about the flight we have been looking for…Highly Appreciated
App tells me I've reached the "limit of free daily transactions" after the 2nd time I checked flights and that I need to upgrade to pro? I'll give you 2 guesses whether I'm going to do that…
Very detailed & helpful info provided.
Guys, you gotta be kidding, by thinking there are a lot of idiots to by an app that you can't even try. You can literally do one or two moves before the app will tell you that your 24h free options are used and now you should wait for next 24h. Uuuuuhhhh…noobies! Useless!!!
Contact developer :
Video :
Download Airline Flight Status from Play Store
Leave your feedback regaridng Airline Flight Status
Get more android apps/games/updates
Subscribe to our mailing list and get new android apps / games and updates to your email inbox.
Thank you for subscribing.
Something went wrong.