[App] AirMore – File Transfer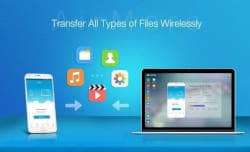 AirMore is a cross platform tool that allows you to connect your mobile device to PC wirelessly.
Free you from cables and client. The only thing you need to do is to open the web browser on PC.
HIGHLIGHTS
Multimedia Streaming
AirMore allows you to stream Android music, pictures and videos to your PC easily. Transferring is no longer necessary as you can easily stream media files to a large screen and share with others.
File Transfer
Easily transfer videos, music, photos and other data between your Android and PC with clicks. No need for cables.
Android Screen Reflector
It is easy for you to reflect your Android screen to PC from the AirMore Web. And a good way to play game on big screen. (This feature needs Android 5.0+)
Contacts
You can manage all your contacts on AirMore Web conveniently, including editing, transferring, deleting, and making phone calls.
Messages
Tired of sending SMS from your small phone screen and keyboard? Try this out! Create a new message and type it on your PC. Faster and easier than ever.
File Management
You can upload, download and delete the files in your Android. Manage music, photos, videos, apps, documents, no big deal. AirMore helps you manage all with clicks.
Easy connection
Scan the QR Code on AirMore Web and get connected at ease. (For now, local network connection only)
Secure Transfer
AirMore makes the transfer between mobile device and PC more private and secure, as your approval is required for successful connection.
OTHERS
Browser support: Chrome, Firefox, and Safari
Document format: txt, word, excel, ppt, pdf and epub.
SUPPORTS
Offical Website:  airmore.com
Facebook:  www.facebook.com/pages/AirMore/1519925044929175
Twitter:  twitter.com/airmore_
Google+:  plus.google.com/110576186886576714610/about
You may also like
AirMore user reviews :
QR Code scan failed says it's not on the same network… but it is. That's a ding. It did connect by typing in the ip address but I had to search for it, found it quickly, but it's not just listed on the main screen. That's a ding. Then it wanted permissions for my contact. Why? Why do you need access to my contacts? That's a big ding. And then it wanted access to my phone calls. Why? This can't run in the background if I get a call without access to my calls? C'mon! That's another and final ding. I didn't even bother to test how well an actual transfer went because I'm not using an app that needs access to my contacts or phone calls. I can't wait to here the canned response to that when other / competitor apps don't require it, so save the copy & paste. This app is a big "NOPE" for me.
App at times can be slow and the User Interface can be clunky and difficult to navigate at times. Apart from the user interface and occasional slow loading and connecting times, AirMore is my go to app to use to transfer files from computer to phone or vise versa. The app does a great job at preserving the image quality and videos are easily transferred too! Good app!
Almost 5 stars. When you export files, PLEASE DO NOT change the meta-data on the files. You are just copying the files, NOT changing the contents. When you change the modified date, you are really making your utility a lot less useful. A lot of folks use the modify date to sort their files, or to find files from a particular time period. Copying files en mass from your phone indicates all copied files were edited today… Not good! Please fix or provide an option to preserve the meta data!
A great app since for some reason I can no longer sync to my Samsung phone with a USB cable. The Radar function doesn't show any devices though. Not a big deal as scanning the code works. It's actually better than accessing the phone with USB. What I wonder is – could a playlist be synced or created with Airmore? I'm going to work with it some more to see if there is a way. When I was able to sync via USB I was able to transfer playlists from Windows Media Player. Either way a great product that was easy to install.
I saw that many people were complaining that there was a problem in that you had tk connect to the same wifi to connect. I had this same problem, but It can be easily fixable by connecting with your ip adress. But aside from that, this app is so convenient and easy to use it boggles me I didn't know about it before!
Got this app originally for the iPad and it seemed to work quite well, though I did have a few issues with it. Certainty liked the QR scan; saved all the trouble of finding codes IP addresses and user names, which I've never been able to understand. This app, with its QR scan in, was a godsend. Will update review to 5 star if works well on android.
Contact developer :
Download AirMore from Play Store
Leave your feedback regarding AirMore
Get more android apps/games/updates
Subscribe to our mailing list and get new android apps / games and updates to your email inbox.
Thank you for subscribing.
Something went wrong.