[Widget] Aix Weather
,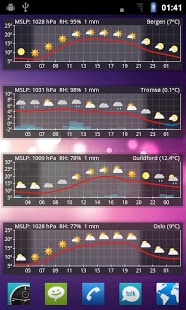 Aix Weather is a pure homescreen app widget that shows temperature, maximum/minimum precipitation and sun rise/set times graphically to give you a compact and accurate forecast.
Weather data is taken from Norwegian Meteorological Institute and NOAA National Weather Service. Data will be most accurate for Europe and the US.
Please check out the introduction by either opening the app from the market, or by using the menu key while on the Aix configuration screen. If you have any issues with the widget, please email me so I can help you.
This widget is designed to work in a portrait 4×1 format.
From MET data provider regarding recent change:
"The weather forecasts on Yr for large parts of northern Europe was until the 14th of December based on an old weather forecast model called Hirlam 8 km. This model is now discontinued. It has been replaced by the ECMWF model. Unfortunately this means that we can no longer provide short term forecasts with hourly resolution for the UK on Yr. The temporal resolution is now 3 hourly.
We are working on providing a global forecast with hourly resolution and hope we can roll out this update in the not too distant future."
The source code for the app can be found at:
github.com/pveierland/aix-weather-widget
Aix Weather user reviews :
Excellent widget! I set it to 1070×768 which makes it use about half screen (1080×1920 is my screen size) this way the view is very detailed. Below this widget I have a 9-days Meteogram Pro widget to cover the other half of screen. A dedicated weather screen. I'm using this widget for many years since Android 2.x and it always worked perfectly. Big thanks to developer, I wish you all the best
what happened with the latest update? The forecast is just a sine curve with 4 cloud/sun icons over a day. Temperature, precipitation, cloud cover, day/night shown for each 3-hour time segment for the next 24 hours. I find that seeing how the weather will develop is much more useful than the max/min temperatures. The accuracy is impressive as well.
Been using this for several years, and really enjoy the 24 hour at-a-glance visual presentation. However since being upgraded to OS P (9) it refreshes data very slowly.
Best weather widget – tiny text I love this widget. It gives the most weather information about the day at a glance that I've ever seen. Nothing else comes close. Its only weakness is that the text is pretty tiny.
Inaccurate forecast for New York CIty The weather for New York City is often inaccurate. The AIX site says it gets its data from the Norwegian Meteorological Institute and NOAA National Weather Service and that it should be accurate for Europe and the US. Unfortunately not so for NYC. Accuweather, for example, which uses the NWS for data, among other services, is much more accurate for NYC. Too bad, because I really like the graphical interface. I also wish there was an option for a 4×2 widget. The 4×1 widget is too small!
Best weather widget available It's beautiful and very functional. I always use the NOAA weather graphs on the web, so this is a really nice condensed version. It's especially useful for when I want to run, bike, or ski the next day and want a quick view of what the weather is going to do. Only thing that might improve it is maybe increase to 48 hours and add wind information.
Contact developer :
Download Aix Weather from Play Store
Leave your feedback regarding Aix Weather
Get more android apps/games/updates
Subscribe to our mailing list and get new android apps / games and updates to your email inbox.
Thank you for subscribing.
Something went wrong.