[Game] Altered Beast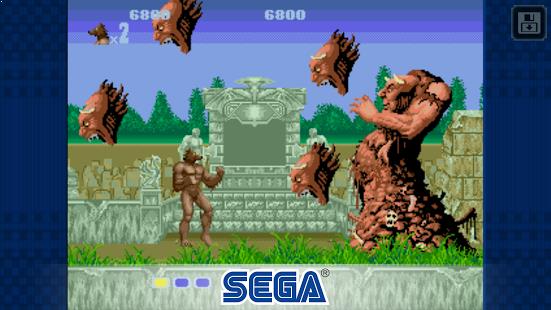 Venture into the underworld in SEGA's legendary beat 'em up Altered Beast, now available on mobile. Play free and fight your way through the legions of hell!
Risen from the grave to fight the terrors of Hades – you are the Altered Beast.
Morph into killer predators using mystical power orbs, then claw, maul, and hack your way to the depths of hell to rescue Zeus' daughter, Athena. Combat waves of demons, overcome grotesque boss battles, and tear the armies of the damned limb from limb!
Altered Beast joins the SEGA Forever classic games collection, a treasure trove of free SEGA console classics brought to life on mobile for the first time!
FEATURES
Five hellish levels of undead terror, each with their own nightmarish boss battles
Transform into apex predators – morph into a wolf, bear, tiger, or dragon – each with their own devastating attacks
Collect mystical power orbs to boost your strength and attack power
Combat demons from the ruins of ancient Greece to the depths of hell
All cheat codes from the original present and working
SEGA FOREVER FEATURES
PLAY FREE
SAVE YOUR GAME PROGRESS AT ANYTIME
LEADERBOARDS – compete with the world for high scores
CONTROLLER SUPPORT – fully integrated wireless Bluetooth controller support
OFFLINE PLAY
GAMES RELEASED EVERY MONTH – Download them all!
RETRO REVIEWS
A coin-op conversion to the letter [87%] – Robin Hogg, The Games Machine #19 (June 1989)
If you're a fan of beat 'em ups, this one's made for you. [87%] Computer & Video Games Complete Guide to Consoles Vol. 1 (1989)
TRIVIA
Altered Beast originally featured twice as many action moves, but these were stripped out to make the gameplay simpler and more fun
The arcade version's ending implies the entire game was just a play, with the demons being nothing more than actors wearing monster costumes!
Neff's Rhino form makes a cameo in Wreck-It Ralph (2012) as a member of the Bad-Anon villains support group
CLASSIC GAME FACTS
Originally released in arcades worldwide in 1988
While Altered Beast was a Genesis pack-in title in North America, the game was sold seperately everywhere else
Altered Beast was officially ported to NEC's PC Engine and CD-ROM² systems
Privacy Policy: www.sega.com/mprivacy
Terms of Use: www.sega.com/terms"
Game apps are ad-supported and no in-app purchases are required to progress; ad-free play option available with in-app purchase.
© SEGA. All rights reserved. SEGA, the SEGA logo, Altered Beast, SEGA Forever, and the SEGA Forever logo are registered trademarks or trademarks of SEGA Holdings Co., Ltd. or its affiliates.
You may also like
Altered Beast user reviews :
I played this game nonstop on Sega growing up, it was my faaaave! I love that I can play again! Controls are a little iffy but the fact that you can customize and move them for a better play, is great! So far, so good!
Its the same one we all played as kids… The nostalgia is strong with these sega games! Lol! If you liked them then,you'll like them now
I agree that this is a very good mobile game, fun and challenging but the controls are difficult; you will be getting hit but your man won't move.
Great app. Sega Forever baby. However, not worth buying with only 5 levels. Ads can be a little frustrating but hey, cant complain too much because its free. its actually a brilliant strategy. Anyway, i finally ended this game after 28 years thanks to the save feature. Game does repeat but levels are much harder. so if u up for the challange, go for it. but ima pass
Was so excited to play this game and relive old memories. however the controls were so bad that it was basically unplayable. jump only works half the time If enemies come from both sides then forget about it, your game is finished. Just about impossible to escape without losing all your health. The enemies just beat the snot out of you and it's so frustrating I want to throw my phone across the room
I want to give you fine folks at SEGA one more star, but, can not. The controller support is wonky at the moment. Bluetooth controller, too. I uninstalled, but, am not demanding a refund, because, I'll be re-installing as soon as you fix the game. Altered Beast IS the classic pack in title with the system! So, I know that this will be resolved, because, Genesis does won't nintendon't!!! Fix the controller issue and let me know and I'll reinstall. All the others worked with my 8bitdo M30.
excellent gameplay. makes mew ant to go and dig up mi old sega genesis and relive those days
This is a great port of alteredbeast. Some people are experiencing issues depending on there phone model. I have not ran into any lag, only sound issues which were fixed in the latest update. My only complaint is there is no custom button layout option. I am using an S5 for anyone interested.
Blast from the past! I grew up with Sega Genesis… I love this! how about Golden Axe next?
Contact developer :
Video :
Download Altered Beast from Play Store
Leave your feedback regarding Altered Beast
Get more android apps/games/updates
Subscribe to our mailing list and get new android apps / games and updates to your email inbox.
Thank you for subscribing.
Something went wrong.