[App] Anygram – Make Global Friends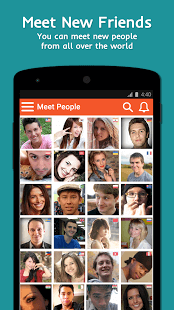 Anygram is a service with which you can make foreign friends through language exchanges.
The language exchange is to teach your language to foreigners as well as to learn their languages, so it has an advantage that you can make foreign friends.
Using Anygram, you can easily meet a lot of native speakers from around the world who use the language you want to learn.
And you can do language exchanges in a variety of ways with people who want to learn your language among them.
Even if you do not know the foreign language well, you can communicate with foreigners through the chat having translation functions.
In frequent conversations with foreigners your language skills will go up by itself, and you can also experience various cultures around the world.
Main Features
1) Meet people
Searching people by language or interest, You can meet different people from all over the world.
You can make friends while you freely make chatting, follow, like, and pen pals with whom you want.
2) Open Story
You can share various stories or ideas with people around the world.
You can see the diversity of countries you want to visit.
3) Open Debate
You can have a variety of debates by defining a particular subject.
Please try to participate in such debate to find out how foreigners have different thoughts from yours.
4) Chat
It is not difficult to communicate with foreigners having different language.
You can communicate with foreigners through a machine translator.
If the translation is incorrect, you can get free correction from the native speakers.
It has a function which allows you to avoid a person of bad manner, because it has the ability to evaluate the chat etiquette.
5) Pen Pal
You can have pen pal relationship with a foreigner whom you want, and send and receive news via letters.
Writing a letter in foreign language, you can get correction from the counter party of pen pal.
6) Correction from native speakers
If you register an article after writing for the language lessons, a number of natives around the world will provide free correction.
Also, if you provide correction to the articles which foreigners learning your language posted, you can get points.
While teaching your language, you can make a good friend.
7) Translation by native speakers
You can receive translation of native speakers after posting articles in foreign language or pictures.
In addition, if you can translate, you can gain points by providing translation.
Anygram is not a dating service to satisfy your curiosity.
Interacting with various people around the world, please learn the language and also experience global cultures.
Related Keywords
Language exchange, foreign friends, pen pals, native speaker proofreading, native translation
Anygram user reviews :
It's pretty good mostly. But I had it on both my tablet and phone on the same account, and I missed a ton of messages because some came on my tablet and some on my phone, and it confused the conversation. It would be useful to syunc everything from the same account so it is the same in each devices. I only see messages sent on my phone on my phone and not ones I sent earlier on my tablet. I uninstalled on my tablet so I'll Hopefully see all my messages now
It's really fun to use and meet people everywhere!
It's so fun and share with lot of people
Contact developer :
Leave your feedback regarding Anygram
Get more android apps/games/updates
Subscribe to our mailing list and get new android apps / games and updates to your email inbox.
Thank you for subscribing.
Something went wrong.