[Game] Ascension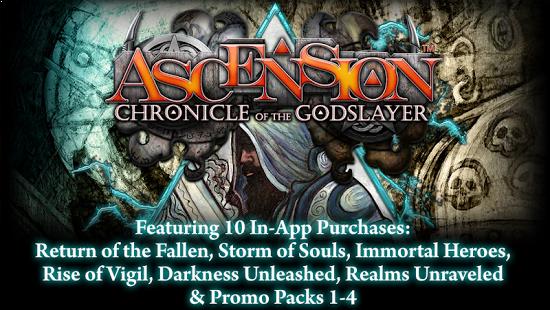 Ascension : Dreamscape Expansion Now Available!
Step into the Dreamscape, a plane of visions and imagination created in the wake of New Vigil's transformation.
As the factions gain insight into the new world's power, they must also be on guard for those who might abuse it for their own nefarious ends.
Join the heroes of New Vigil as they explore the exciting possibilities that await them in the Dreamscape!
New Insight Resource and Dreamborn cards allows players to access Dream Cards and other powers!
Use the Dreamscape to access the powerful new Vision Cards, as well as Heroes and Constructs!
Playable as a stand-alone 1- 4 player game, or combine with other Ascension games!
Ascension: Chronicle of the Godslayer, is the first officially licensed deck building card game for iOS. Play alone or with friends to battle against the Fallen One for honor and victory. Conceived and designed by three Magic: the Gathering tournament champions, Ascension will provide hours of engaging and strategic game play for enthusiast and experienced gamers alike.
2011 Golden Geek award winner (Best Mobile/Handheld Game)
Pocket Gamer Bronze Award 2011
Dice Tower Awards Awards: Best Digital Boardgame
iOS Boardgames Blog
iOS Board Game of the Year -2011
iPad Boardgame of the Year – 2011
Best Interface and Graphic Design – 2011 Best Online Multiplayer – 2011
Highlights
Universal Application: Play on iPhone, iPod, iPad, iPad Mini, and iPad Air running iOS 5 and up for free.
1st officially licensed deck building game for iPhone and iPad.
Over 50 beautifully detailed cards, hand drawn by Eric Sabee.
Full asynchronous support for multiplayer online games.
Play against multiple A.I. opponents using varied strategies.
Introductory tutorial to teach you how to play.
Enhanced visual optimization for iPhone 4 and iPad using high resolution graphics designed for the retina display
Ascension user reviews :
It's a decent game, on the verge of being average game because of the flaws. The AI takes an extremely long time to "think" and adds unnecessary dead time to the game. A game that should be 10 minutes takes 15 to 17, because of the loading time. The game also freezes on occasion. I just cant recommend this game anymore
I had an issue with the game not fitting my screen and the developer(s) fixed my problem within days. This is one of my top two most played games. There is an amazing amount of depth to this deck builder. A definite must buy!
Absolutely love this game but there's some sort of bug for my Pixel 2. Even when my phone is on silent, Do Not Disturb, and volume is all the way down I still get notifications and the sounds that accompany them. Obviously this can be pretty embarrassing if I'm in a meeting or the theater. If this can get fixed then I'll change my review to the well deserved 5 stars.
Great game. It is incredibly fun but the fact the developers have not implemented a way to increase the honor limit in multiplayer is just absolutely ridiculous. Just do it guys. Allow us to pick how big the honor pool is. 60 honor in 2 player games basically renders all mechana constructs useless and really hurts your ability to build and combo.
This is far and away one of the best deck building games on any platform. Purchases are not pay to win and expansions are well worth the money after you've played your 1,000th match with the cards initially available (still fun without any purchases, but innovative new game mechanics come with expansions). After a period of inactivity and switching devices I lost access to my purchased expansions. Pieriv on the Asmodee team promptly fixed the issue for me.
Great but glitchy:/ I absolutely love this game, but it crashes WAY too much. I sometimes have to perform a hard reset to get my phone to respond again. As soon as this gets addressed I'll deffinatly change to 5*
Still brilliant I've been waiting years to play this (since my iPhone was stolen), and it's as brilliant as I remember. Immediately bought all the expansions.
Just finished playing about 1/2 hour. I like the game, but the ads are too frequent and too long. The description on the purchase page should state that there are FREQUENT ads and how to disable/get rid of them. I won't buy any expansions to this game unless there is something IN WRITING about the ads on the site.
Last Update :
Fix push notifications on Android 8 and above
Contact Developer :
Video :
Download Ascension from Play Store
Leave your feedback regarding Ascension
Get more android apps/games/updates
Subscribe to our mailing list and get new android apps / games and updates to your email inbox.
Thank you for subscribing.
Something went wrong.