[Game] Battle Brawlers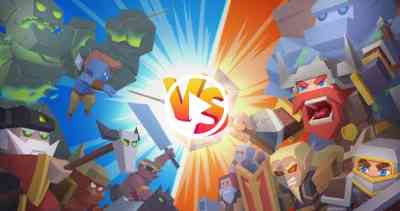 Battle Brawlers : 1) Core 1v1 and 2v2 PVP battle arena with instant chatting function.
(2) 8 races, 200+ different troops, 10+ distinctive heroes, 40+ magic spells.
(3) Many amusing modes. Gold Tournament, Master Cards Championship, Group Mode, Crazy Mode and various achievements.
(4) Bullet Screen for live show of battle. It allows players to send bullet screen to cheer or comment.
Game Rules:
Instead of control an army to fight, your troops will muster and fight by themselves after placing barracks on battlefield. You won't be able to move the barracks of troops after setting. So think and plan well before setting up your troops.
Your troops will move, fight and use skills automatically. At beginning of each round, you will get certain amount of gold for building new barracks or upgrading existing ones. Be prepared any time! Attacks of opponent troops will be fiercer in each new round!
Defend your War God at all costs. Your troops will form the first layer of protection. If enemy defeats your troops, they will pass the portal to attack your War God. You will win the battle by defeating enemy's War God before yours get killed. Vice Versa!
User Reviews :
Nice game, but needs more polish, like the victory sign at the end of the match is very low in resolution. And etc.
the game itself was really great, remind me of old game from warcraft named castle fight, but the server was really bad, it give me 999ping really often … uninstaling the game and will give 1 star until this problem solved (pls someone let me know) and I will gladly comeback to this nostalgic game — EDIT : solved, rate 5
DaYu Tech

Thank you very much.
I very love the game since i play 2 years ago with R2 developer..before this i wish someone will open back this game and my wish come true thank you so much..but have some issue with connection because my ping always red everytime the battle begin and it ruin my rank :'( Hopefully u can fix it but overall totally awesome.
This game is very fun, smart & a tiny bit educational. You need to think fast & act fast to survive. However, the grammar & text in this game is hard to follow. I would enjoy more spaces, caps & punctuation as well as having the text in combat & such readable by players.
This game is amazing. Love playing this game, so did my pals. It takes a lot for me to be impressed by a game. This by far is one of the best games I've played. Pictures and game design are stunning! Keep up the good work.
This game is amazing but, there is a few things that could make the game even better. For example, difficulty options, multi-player mode,friend system
A very interesting competitive game, there are many modes, exercise reaction ability, and mental ability, competitive game set up scientific, beautiful interface, great!
Very interesting game, the screen is very fine, the level set reasonable, support the game of conscience.
The game is very good , you'll need to be patient to start this(as it takes time) , and also good data connection.
The game did a good job of restoring Warcraft's battle, praise. Hope to update the PVE mode.
Battle Brawlers developer :
Video :
Download Battle Brawlers from Play Store
Leave your feedback regarding Battle Brawlers
Get more android apps/games/updates
Subscribe to our mailing list and get new android apps / games and updates to your email inbox.
Thank you for subscribing.
Something went wrong.