[Game] Battlefield Companion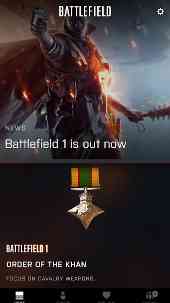 Stay updated on the go with Battlefield Companion !
Check your stats and customize your loadout. Design your own emblem and catch up on the latest news and videos.
Battlefield Companion is a complete overhaul of the Battlelog App. You can access the old Battlelog App experience under the MORE menu or by visiting m.battlelog.com.
Feature highlights:
CAREER
Your new profile and identity of Battlefield. Here you can explore your stats and achievements and see how your friends are doing.
CUSTOMIZATION
Explore and customize your soldier's loadout while on the go – with full support for Battlefield 1.
EMBLEMS
The emblem editor and gallery makes designing awesome emblems for use in Battlefield a snap. Smart tools like the grid tool, zoom, and cropping makes the editing experience faster than ever.
FRIEND LIST
The friend list makes keeping tabs on your Battlefield friends easy. Get a daily summary of when your friends are playing or follow that favorite friend to know exactly when he or she is playing.
Supported games are Battlefield 1 and Battlefield 4.
Requires acceptance of EA's Privacy & Cookie Policy and User Agreement
User Agreement: terms.ea.com
Battlefield Companion user reviews :
get logged out repeatedly. Other than that this app is helpful to change loadout when you're not in game, a big plus in my opinion. Battlefield 4 and 1 are the only supported games till date. When will Battlefield V support come?
It is a great app and useful for showing people your stats. I think it would be more helpful if you put the stats of the guns when trying to change your players inventory. Nonetheless a very well made app.
This app has a bug where I can't change the colour, opacity, duplicate or flip objects in the emblem creator for one of my emblems. I can do this however on my other emblems. Please fix ASAP.
I try to log in and every time it errors with "too many redirects" upon tapping the login button. Every time.
Bf4 had league tables for local area with a searchable online map..this is just basic stats
Perfect app for looking at stats. Only thing left is the Battlefield V stats
When Battlefield V is added to this app, I will give it 5 stars. It's useless as is when I don't play other battlefield games currently.
It was good for a wile but they just forgot about battlefield hardline and the other ones
Lovely app, especially with the emblems. But please make an auto save option for them. I spent 2+ hours making one and POOF…gone. Like it never existed. It happened because I accidentally exited and when I came back in it said failed to load. I wanted to give this one star, but the other options are really good. PLEASE THOUGH, MAKE. AN. AUTOSAVE.
Battlefield 3-4 are still wildly popular unlike EA's other games, why can't we still have Commander control capabilities for Bf4 on here. Edit: No it doesn't function properly at all.
great concept but poor design. its very flawed in the fact that it repeatedly signs me out, doesn't allow me to use my Xbox account easily, the emblem designer is horrid, and the overall app was a flop, i do understand it was abandoned and i see why, i mean who would want to clean this mess? overall it was a fantastic idea, but very neglected in design and overall fuctionality.
I love this app. very helpful. I didnt understand at first and I couldn't log in correctly. but once I figured it out the app started running smoothly. only one thing missing…….Battlfield 5, please add that game to this app. tanks, and may the panzerschreck be with you.
In order to obtain BF4 you must log in using EA account, not your console account. I believe there is a problem synching up the console databases but if you use EA login then you're using their own database. This stopped the problem for me. It would be nice if you actually could use Battlescreen for map as no option to change ma zoom on the go like BF1
This app is perfect for battlefield players, but the logo maker could be a bit more precise and should include more icons e.g.- world war two/one icons.
Contact developer :
Download Battlefield Companion from Play Store
Leave your feedback regarding Battlefield Companion
Get more android apps/games/updates
Subscribe to our mailing list and get new android apps / games and updates to your email inbox.
Thank you for subscribing.
Something went wrong.