[App] Binaural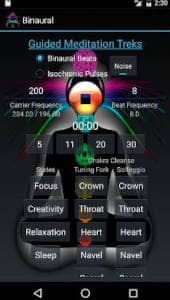 Binaural Beats Generator by Guided Meditation Treks lets you generate your own binaural beats and isochronic tones to help you with sleep, relaxation, creativity, and focus.
Binaural beats have been scientifically shown to alter a listener's brainwave patterns, and brainwave entrainment has shown great potential for human health. Isochronic tones are a similar technology that do not require headphones. Now you can create your own binaural beats and isochronic tones using this tool! It also teaches you about the technology so you can use it to create your own guided meditations with it.
Binaural user reviews :
brilliant just get a Rife or chakra/Solfeggio frequency list this app and enjoy! And of course there are presets. And plays in the background Thank-you. Best.
Excellent. Extensive web support for study. Very authentic app. No trackers or spying elements found on test with 'ClassySharkExodus', unlike others it's a safe app. Please add presets for alfa, beta, delta etc. separately. Waiting for next update. Good wishes.
Excellent app. Was hoping to find an app that allows me to create my own frequencies. This is it!! Able to play Spotify concurrently!! Clean, simple interface. Would be cool to have a tab with a list of benefits at each frequency. With a quick web search, they are easy enough to find. Can't find any option to donate to the creators of this app. There's no advertising on the app. Wonder how they are being compensated. I've turned off notifications as one review mentioned adware.
It works on my Note 8. Other than that, seeing that it hasn't been updated since 2017, I'm wondering why I'm using the space. I haven't gotten around to trying it for the main purpose I initially got it for, which was to see if I could drown out the lifelong tinnitus. So I guess I'll perhaps keep it.. tho actually there's more current (ie up-to-date) sound generator apps available so… I may just uninstall. Aren't I glad we had this little talk thru? Yes. We agree… that you're nutz!
Fantastic app. Is free with no ads. Very simple yet very pro. Especially the information in the website. Suggestion, 1) Able to manually change the duration, more than 30 minutes. 2) Able to export to *.wav or *.mp3. So i can create a playlist with few combination and play for few hours (during sleep). 3) Able to load personal "Noise" from phone, like sea wave or raining sound. Thanks a lot and keep it up.
I don't know anything about this. On the screen there's highlighted "Guided Meditation Beats" or something like that. Click on that and it'll take you where you can read up on it. Seems really interesting. Lately I've been watching weird YouTube videos that help you meditate or relax & fall asleep. This might be a better alternative idk, has some science behind it anyway. Anything to turn off the madhouse that is my subconscious is worth a try.
Only comment is Android does not have gamma? yet I phone does? should be the same imo. Good app but suggest use with visualisation mind training to be really effective. Yes you can adjust the frequencies but a quick search reveals so many people have a different opinion on what frequency is correct.So who is correct?. 5 years ago I tried 256 hz for third eye and within 2 minutes got a kaleidoscope of astral colour hence my point. This is one of the best apps available.
Great to find an ap like this which is not (unlike all the others I tried) tied into Google advertising (aka surveillance /analysis /manipulation / censorship) Easy to get the hang of, sure as it develops for thee it will only improve. Until then 10/10 developers for keeping the advertising /spyware out of your ap.
I love it! works in the background even when playing something else at the same time! love the option of controlling the volume and the carrier frequency; it's splendid. I just wish you'd make it possible for the app to run beat frequencies below 0.5 hz. peace
This App is amazing! 4.5/5 This app is easy to use and understand. But it could use a control setting for the Noise sound. for me, its too loud and would've been better if i could change how loud i would like it to be and have some kind of adjustment to it.
Love the different frequencies you can generate with the app. It needs an update for newer versions of Android but it works just fine for me. I'd love to see more noise options like brown and pink noise and even natural sounds.
It is the BEST app of its kind no adds, no puchases, no interuption. has both binural beats, Isochronic pulses and white noise. Can be set indefinitely. Can access any frequency you need. I use it while I sleep, or a few minutes on the go, it adapts to your needs. BEST APP EVER.
Contact developer :
Download Binaural from Play Store
Leave your feedback regarding Binaural
If you like the content that we provide since 2012, put a smile on our face and give us a like or share this with your friends on any social platform. If you want to support this project, any crypto donation of $0.5, $1, $2, $3 is welcome!
You can find our crypto wallets on https://free-apps-android.com/buy-us-a-coffe/
Sponsored Links