[Game] Booking Revolution (Wrestling)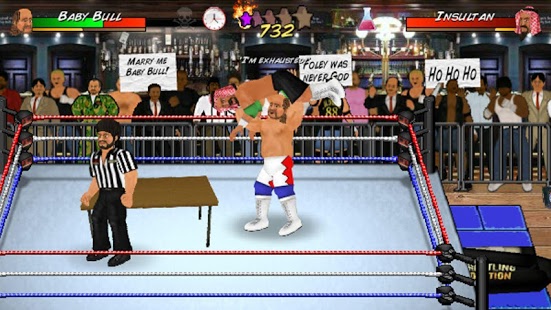 Booking Revolution : More genuine 'OH MY GOD!' moments than any other wrestling game.
Meekin On Movies
Wrestling Revolution may be the reigning champion of in-ring action, but now "Booking Revolution" takes you behind the scenes where the REAL power is! Assume control of a given promotion and set about making it your own by changing the gimmicks of the wrestlers. Then deploy your talent in supercards of your own creation – complete with sophisticated ratings that measure the entertainment you're providing. As a fully playable wrestling management sim, it's also your responsibility to put the right person over in the right way at the right time for maximum impact! But with a locker room full of egos and rival promotions fighting to beat you in the ratings, your dream job could turn into a nightmare.
Upgrade to "Pro" to start at a promotion of your choice with full privileges – such as hiring new talent. This also grants you access to the editor, where you can save your changes to all 350 characters across all 9 promotions to create your own universe. You can then enjoy acting out your own dream matches with no pressure in "Exhibition" mode with immortals who are always at full health.
The following guide assumes that you are familiar with the basic controls from Wrestling Revolution:
RATINGS SYSTEM
The key ingredients to a "good" match are as follows:
The "Popularity" of the wrestlers involved determines how much the fans will care about their actions. It affects their overall enthusiasm for the match, as well as how much they will "pop" for key moments (such as a near fall). In some instances, it is "Strength" that determines how entertaining an attack is, etc.
The purple vial indicates whether there is a Face-Heel "chemistry" between a good guy and a bad guy. Without this, the match may lack meaning (although especially popular or talented wrestlers can overcome it). Wrestlers who are friends in real life may also have automatic chemistry.
The green scales indicate whether the match is evenly "balanced" or not. Fans will quickly lose interest if one person dominates and they are not convinced that anybody could win at any moment. It is important to keep an eye on the health meters and make sure there is some back-and-forth.
The clock grows increasingly solid, indicating that the match is running is too long. The fans have a limited attention span depending on the scale of the match. It is not impossible to make gains after boredom has set it, but it's certainly harder. Note that the last minute of a match ceases to be boring! Long-sighted bookers can use this for exciting time limit draws.
The skull & crossbones indicates that the match is relying too much on extreme violence. Fans can become desensitized to this after a while and it will lose its impact. The damage is not permanent though, and faith can be restored if you lay off the weapons.
A flame around the rating indicates that there is an established rivalry that the fans are getting a kick out of seeing. This enhances their enthusiasm for the match – as well as providing pre-match "hype" (a better starting score). You can use promos to create rivalries if they do not happen naturally.
The overall score for a show is the average of all the matches on the card – with the "main event" being twice as significant as all the others. It is slightly more generous than the rating for a single match, as it is not expected that every match on the card will be a classic. A 5-star show may be one full of 4-star matches!
I regret that there is more to this game than I could ever explain here! I hope you enjoy figuring some things out for yourself.
Please note that Wrestling Revolution depicts a fictitious universe and is not affiliated with any real wrestling promotions.
Booking Revolution user reviews :
Awesome One major change I'd like to see is. Once you get 3 or 4 million with one promotion. You can buy another small promotion and hire a manager for either of your promotions. Would be amazing. I'd pay 5 bucks for that. Going back and forth between your very own promotions if they start slumping. However it may not be possible to include that. So as far as what's in this game it's awesome. Takes some time if you've never played before. Amazing. Give it a chance
Awesome game Mat! Guys quit complaining about deaths. Matt doesnt make games for two year olds all his games show the struggle about business and becoming famous!
Well when a character dies make it to where if you restart career it make them be back and same wrestling place and not then put on the menu where it says dead and then make it to where u can put them where u want also make it to where you can choose where to fight and what it looks like in the audience u know where we are and it looks like and that type of deal but its great and I think u should make more games
Content Rating :
PEGI 12
Contact developer :
Video :

Leave your feedback regarding Booking Revolution
Get more android apps/games/updates
Subscribe to our mailing list and get new android apps / games and updates to your email inbox.
Thank you for subscribing.
Something went wrong.