[Game] Brother Wake Up (Scary Horror)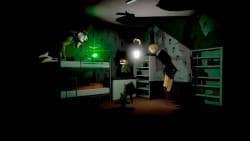 Brother Wake Up This is the creepiest and scariest game ever! Real Horror Survival
That night, your little brother was cursed by the "Watchmaker".
Because of the curse, your brother will not be able to wake up and his dreams will be filled with nightmares.
You must collect all the parts from the old watch.
Only then will the Clockmaker's curse subside and your brother will wake up.
Challenge yourself in the best Scary horror game! Will you be ready to face real evil?
It won't be easy. Intricate mazes. The oppressive, eerie silence makes you listen to every rustle. And only the screams of the monsters scouring the corridors let you know how close these terrible creatures have gotten to you.
The scary game will keep you awake. Search every corner. Check all the rooms to find hidden parts.
Beware of the creepy Clockmaker's assistants, they will interfere with your quest. In our scary Game, these terrible creatures will prowl and chase you.
Be careful and don't make noise – They see and hear you! They find and kill everyone who gets in their way! Be attentive and careful, use shelters and furnishings to hide from monsters and stay alive.
Bear Freddie and Granny cannot be compared with his bloodthirstiness of the Monsters that will meet you on your way! Master the puzzles that await you on your path to survival in this scary horror game.
In Brother Wake UP, a horror and survival game, you will not be left alone, because they are always there … Solve the secret riddles and find the objects that are hidden in this damn horror game, hide and run away, this is your key to survival!
Explore scary dark rooms, abandoned nooks and crannies, scary dungeon basements and mysterious eerie labyrinths. Solve challenging puzzles, search and collect hidden objects to unravel a unique story and escape traps alive to help your little brother wake up in our scary horror game (similar to fnaf and granny)
If you like scary games – our game, you should definitely like it, you will not find scary stories better than the Game "Brother Wake UP"
Several Unique Locations.
Perfect Horror: sudden screamers, intense gameplay, and terrifying atmosphere.
Sneaky, horrific watchmaker mates with their own AI
You may also like
Brother Wake Up user reviews :
AMAZING The game has great graphics, awesome controlls, and is extremely scary. You can even practice. This, this is the perfect game. But What I would like is if you could make it to where, when you save your brother, we get kidnapped and have to escape or something. like another level. And with locked doors, it would be nice to have a sound effect there that shows its locked. great game
Love the game, graphics are very nice in my opinion, LOVE the style. Sadly I wasn't able to pass the second level even on easy. After a certain point it's impossible to find anything and it's really difficult. Still love the game for what it is though.
I LOVE IT!!!! IT'S AMAZING!! Great Graphics, Amazing gameplay, Scary monsters, Good Story, but the jumpscares need some work at least the sounds and make some sort of jumpscare animation for each of the Monsters please other than that, Great Game i recommend!
Didnt really play much of it but it does have good quality, controls and fits well with nightmares of what a kid would have. Buy is challenging also cause of how many enemies you have to look out for.
Not too hard not too easy. In other words, perfect. Fun, and scary. Can you put more back story and maybe an intro so we know more like how we got there and whatnot. Good game though
I luv the game although I've played this awhike back I see you all have changed a bit if stuff around including ghost mode .also I had done keys went back to pick them up and they were gone I like it better the other way but it was a good game Wish I could get all my old progress back thnxGlitchy lissedy progress
Criss Cross Games

Sorry to hear you are unsatisfied with the progress of the updates. I hope you can enjoy our app again in the future.
love the cool game. bugs fixed and works smoothly. is it ok if you add multi player? me and my sister want to play together on it. it's ok if you dont. or you can add quality settings low and high detail.
Its addicting and no matter how mad I get I still play it, honestly its the best game I ever played, but i think they should make it so its a bit easier. I only get three lives and have to collect 28 clock details. Although like I said it is addicting.
Criss Cross Games

You can always get extra lives in the first-aid kit
Contact developer :
Leave your feedback regarding Brother Wake Up
Get more android apps/games/updates
Subscribe to our mailing list and get new android apps / games and updates to your email inbox.
Thank you for subscribing.
Something went wrong.