[Game] Build Away – Idle City Game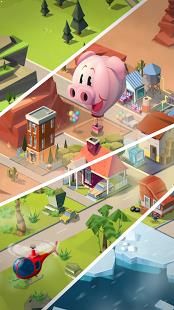 Over 3,000,000 people are already playing Build Away!
Love building? Want to build the most awesome city of all time? In this game you'll be breaking records for constructing cafes, homes, chicken shops, banks, villas and caravan parks on your mobile phone or tablet!
Attract friends to your town and develop a booming tourism economy. The more you play the more you'll discover…
7 REASONS TO BUILD AWAY!
SIMPLE & RELAXING – Tap n' swipe to grow your city from a caravan park into a metropolis!
GROW ENDLESSLY! – Automate your city and earn continuously while you're away!
UNIQUE RE-DEVELOPMENT – Erect new buildings over old ones for happiness boosts and bonuses.
FESTIVALS – Increase production by having carnivals and giving out free ice-cream!
FRIEND TOURISTS – Attract friends to help you grow and customize your town!
INVEST WISELY – Prove your strategy with smart decisions on when to upgrade and re-develop.
PLAY ANYWHERE! – The world's best idle city simulator is free to play online or offline!
Privacy Policy: www.futureplaygames.com/privacypolicy.html
Terms of Service: www.futureplaygames.com/termsofservice.html
Build Away user reviews :
Great game!! I enjoy building my town, making lots of money and extras off the buildings, helicoptor, UFO, moose, and police cars.. So much fun.. this game has kept me up all night at times.. I gotta make myself stop playing so I can get sleep! Thanks for such a fun game.. I play 3 different idle games.. I'm suprised I can ever get anything else done. Keep up the good work!!!!
a great game, there is always something to do, get the things that appear in your city, its really helpful for progression. the ads aren't intrusive in fact my advice would be to watch them, the rewards are worth a 30 second ad. it wouldve got 5 stars but improvements could be made, a stats page for example so you know what each building gives and how long it takes.
I really enjoy the game. I've been playing it for awhile, but lately I've noticed that the monies accrued during my absence (plus the doubled amount with the viewing of a video, does not get added to my total. WHAT is the point of accumulating money while "idling" if you're NOT going to bother adding it to my total?!? Kinda defeats the "IDLE" aspect of the game, doesn't it?!?
you again get one star, only so I can leave this message. I've been working this game for close to a year. You people have screwed it up again and again. I went through your little email messaging, and was told that even though all of my other levels did fine, except for your screw-ups, this last level isn't leveling up. I notified you, you said it was in the faqs, and it's not. I am so glad that all of your games are such failures! they are run by all of you, and every one of you is a failure!!!
so i git this game today and im on the third city at the moment but i have been ADDICTED to this game! If you like building tycoon games and have a good amount of patience, you will love this game!!! 30/10!
I think it awesome because umm.. Well it has a great variety.and i wish tye creator could make it to where you could go see other peoples towns
Great game. One of the best clickers out there.
This game is so addicting
So far so good
Last Update :
Various bug fixes and improvements!
Thank you for playing! Keep the businesses running and Build Away!
Contact developer :
Video :
Download Build Away from Play Store
Leave your feedback regarding Build Away
Get more android apps/games/updates
Subscribe to our mailing list and get new android apps / games and updates to your email inbox.
Thank you for subscribing.
Something went wrong.