[Game] Celestial Fate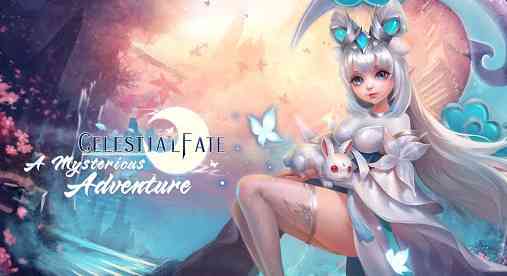 Celestial Fate is a fantasy MMORPG 3D mobile game based on ancient Chinese novel, Journey to the West.
The game is fair, simple and easy to play. You can experience different kinds of excitement every second in this game. Created by a professional team in the industry with powerful engine, every attack, combo attack and displacement skills are calculated precisely in order to present real ARPG combat experience.
This game is the new definition of mobile game PK. Its scenic background and immersive story are going to take you back to the ancient dynasty of Tang and embark on the oriental odyssey!
Game Features
Epic World Map
High quality graphic and stunning scenes are going to immerse you in the 3D fantasy world!
Fair Gaming Environment
Powerful anti-cheat mechanisms ensure a fun and fair environment for all Celestial Fate players.
Endless Benefits and Free Diamond Rewards
Growth Funds, Diamond Rewards, free VIP, as well as Divine Pet are waiting for players to get!
Limitless Costume Variations
Be the fashion trailblazer! Countless in-game costumes at your own disposal!
Fairy Mount System
Faithful Mount to travel alongside your journey, venture and grow stronger hand in hand!
Rebirth Gear and System
Dominate the Battlefield with class exclusive Rebirth Character, Character Rebirth System, Rebirth Gears and most of all glaring Rebirth Skills!
Rune System
Mix and match your favorite Runes into countless effect combinations, nurture and customize YOUR strong character YOUR way!
Multiplayer Dungeons
Join hands with your friends to undertake exhilarating dungeons together, adventure awaits!
Guild War
Teamwork makes the dream work! Plan out strategies with guild mates and come out victorious against other Guilds!
Multiplayer & Cross Server Real Time PVP
Breathtaking Cross Server and Classic Multiplayer Battle graphics! Usurp all the glory with your own power on these battlefields!
Marriage & Baby System, search for your destined other
Unique and complete Marriage System, search your significant other and create wonderful memories together!
God & 72 Changes System
Unique gameplay design that allows Gods and 72 Godlords to assist in battle, nothing can stand in your way!
Let the path to the immortality of Celestial Fate begin!
Also see our list
Celestial Fate user reviews :
This game is really fun, I've already played this game a lot of times since 2020. But deleted it for some reasons, and now I downloaded it again but when I played it I can't go in some places (like Changan City even though my level is the required level) I don't know what's wrong with it. Maybe I should just really delete it though *sigh*, still its a wonderful game.
EYOUGAME(USS)

Greetings Hero! Thank you for supporting us! We appreciate it so much! Do feel free to contact us on Facebook: @EyouCelestialFate for further inquiries. Do enjoy the game! Thank you
I loooved this game before your latest update. "What went wrong?" you ask? Good question. 1. Quiz was frozen on question 19/30 from start to finish. 2. Guild Quiz has the wrong answers. None of us got high scores, at all! It used to be reliable, now it isn't. 3. CS Guild War??? Seriously? That was a lag fest. Not only that, you're also actively discouraging newer players from playing because they can't do anything. EVERYONE was lagging. This should be only server-wide, not cross-server. There are far too many people, and clearly, your game could not handle it. 4. CS Quiz, too? Instead of distributing that "Scholar" title to multiple people, and helping multiple people, you made it much too hard. Your events and updates are usually fun, but this was just horrible. It makes the game a lot more of a hassle to play. Please reconsider your decisions, and consider how we, the players, feel about all of this.
EYOUGAME(USS)

Hello there, thank you for supporting us! We apologize for any inconvenience caused! Your feedback mean a lot for us. Do feel free to drop us more feedback on Facebook: www.facebook.com/EyouCelestialFate/ . We appreciate your valuable feedback. Do enjoy the game and please rate for us again! Thank you :D
Addictive once you get to understand the game. But now I'm facing issues with sending personal messages. I cannot sent any PMs or share locations. Also I cannot go to locations sent by my friends.
This game is alot like many others; but even after a year of not playing there service was amazinf and i was able to recover my account. Its a slightly boring game but a amazingly good help team!
Love this game but it is very much pay to win. I definitely dont like that you must be VIP 4 just to create a guild. Especially when there aren't many players per server and a lot of people are free to play. (I'm usually F2P but I actually topped up in this game) but with all that being said I did hold rank 4 before topping up so it's not that bad.
Contact developer :
Download Celestial Fate from Play Store
Leave your feedback regarding Celestial Fate
Get more android apps/games/updates
Subscribe to our mailing list and get new android apps / games and updates to your email inbox.
Thank you for subscribing.
Something went wrong.