[Game] Cluck Night
  i am innocent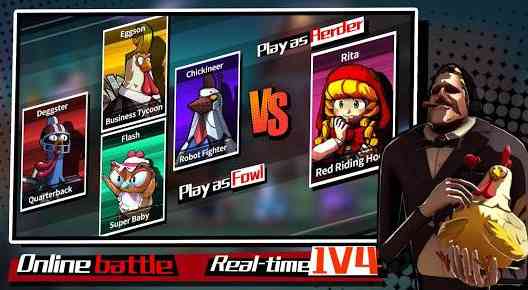 Cluck Night is an asymmetrical cartoon-style competitive game for mobile devices featuring real-time 4v1 action-filled gameplay.
A brand-new game published by Coconut Island Game, and developed by Thunder Cat Games.
Story
At the Horror Farm of Cluck Night you can take the role of either a human or a chicken. A bunch of utterly bored aliens beamed up four fowl on a stroll and before tossing them back to Earth, made a couple of modifications to them. The extraterrestrial journey endowed them with peculiar abilities, which naturally has left mankind somewhat concerned. Who knows? With their powers they might try taking over the world! Being enslaved by their own clucking livestock was not a prospect that appealed to the humans. Hence, they took the sensible course of action—and locked the four offending fowl up in a specialized farm. The modifications they underwent may have granted them superfowl powers and advanced brainpower, but at the end of the day, they're still just chickens. Will the poor birds escape from Horror Farm before sunrise? Or will mankind succeed in retaining their rightful place, at the top of the evolutionary chain?
You may play either as the clucking escapees themselves (each with their own distinct abilities), or as the master of the farm who's hot on their tail, the fowl herder. Leon is a strong-built powerhouse and will do all in his might to annihilate the little pests. However, the running fowl has the superiority in numbers! If they work as a unit, perhaps they might just be able to turn the tide and escape.
Service Center
Facebook: www.facebook.com/CoconutislandStudio.com/
Email: contact[at]coconut.is
Features
1. Thrilling Gameplay
4v1 real-time competitive gameplay! In order to escape and attain their freedom, the running fowl must destroy energy generators to open the No-Harm-No-Fowl Gates. The fowl herder, however, has a different objective: to catch the little pests and roast them for a great chicken dinner. Who will stand victorious once the sun rises?
2. Characters
The current roster includes some ten characters: the fried chicken shop owner Leon, the lovely little girl Rita, the maid Kelly, Egg-a-fowl, Time Fowl and more! There are also dozens of fancy skins for you to unlock and use, each one transforming you into a dazzling peacock!
3. Team Up with Friends
If you choose to play as a running fowl, then you must become one with your flock! Utilize your unique abilities and assist your friends to attain victory!
If you instead choose to play as the fowl herder, well, you set the pace as you chase them with weapon in hand!
4. Endless Possibilities
We are hard at work creating new game modes for you to sink your teeth into, and are dead set on making this a long-lasting competitive game that keeps you coming back for more!
Cluck Night user reviews :
This game is great but there are major issues that prevents it from being 5 stars. One of those being it takes waaaaay to long to open a file that makes it difficult to get a character I have to watch an ad to play the character I want (Xerox send me him my account is Herment) and the killer kelly is broken. She has a fly that reverses your control's but it doe's it for way too long. Besides that it's a great game with a lot of potential.
It's so hard to do anything in this game, If I try to click on a button then all of a sudden "uh oh looks like you disconnected" and it happens all the time. If I such as breath wrong then I disconnect, Sometimes ill watch an ad for a reward and once I'm done "uh oh looks like you've disconnected" this will happen even when I have a low ping and a full bar if internet, I don't know if it has to do with the game or me but I'm gonna assume it's the game. If there's a way to fix this then help.
This game is really good! The characters, art and gameplay. One thing that is making it dissapointing right now is everytime I play with a friend, the Friends list does not load anymore and just shows "Loading". Please fix it, that's it.
Contact developer :
Video :
Download Cluck Night from Play Store
Leave your feedback regarding Cluck Night
Get more android apps/games/updates
Subscribe to our mailing list and get new android apps / games and updates to your email inbox.
Thank you for subscribing.
Something went wrong.