[Game] Conflict of Nations – WW3 PVP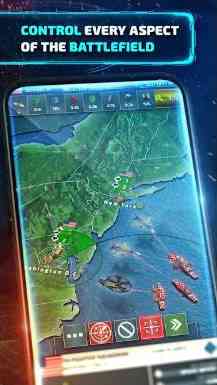 Modern Battle Tanks spearhead the assault, Attack Subs prowl the oceans for lone Carriers, Ace Pilots dominate the skies with Stealth Fighters… while your hand reaches for the Nuclear Launch Button.
In Conflict of Nations: World War 3 you control the course of history on a global scale!
Take control of one of the mightiest nations of the world and face the looming threat of World War 3. Conquer resources, forge alliances and strengthen your economy. Research devastating weapons of mass destruction and become the dominating superpower on the planet.
Intelligent alliances or ruthless expansion, stealth warfare or nuclear devastation? The choice is yours: The nation's military power is awaiting your command – 24 hours a day, 7 days a week. Are you ready to take control?
For fans of realistic grand-strategy games, Conflict of Nations offers a gigantic playing field, a multitude of military units, and infinite paths to success. Jump into a match, plan your strategy, and lead your troops to victory in the days and weeks ahead. Rank up and claim your place among the best players in this addicting WW3 game.
FEATURES
Up to 100 human opponents per match
Units move in real-time across the battlefield
Loads of different maps and scenarios
Real military technologies and equipment
Huge research tree with over 350 different unit types
Three distinct doctrines: Western, European, Eastern
Terrain based combat with stealth, radar and missiles
Nuclear and chemical weapons of mass destruction
Fresh content, updates, seasons and events
Dedicated alliance gameplay in a huge community
Join the race for the best strategy players on the planet! Jump right into World War 3, and test yourself in real time against human players across geopolitical maps of the modern world!
Enjoy Conflict of Nations? Learn more about the game and share your experience with the growing community:
Facebook: www.facebook.com/conflictofnations/
Twitter: twitter.com/NationConflicts
Discord: discord.gg/by66wzg
Forum: forum.conflictnations.com/
Wiki: wiki.conflictnations.com/
Youtube: www.youtube.com/user/doradoonlinegames
Conflict of Nations: World War 3 is free to download and play. Some game items can also be purchased for real money. If you do not want to use this feature, please set up password protection for purchases in the settings of your Google Play Store app.
Conflict of Nations user reviews :
Gameplay is quite good. Although, I have a couple of issues. Firstly, I think some units should be tweaked in move and attack time. For example, I am play Ireland and it apparently takes 4 hours for a fighter squadron to fly the length of the country, which isn't fun or realistic at all. They should be buffed and take only an hour or less, no reason for them to have similar move speed as ground forces. Secondly, the notification to get me to play other game modes constantly pops up. Fix please.
Love this game. It's overwhelming at first but after a day or two you'll understand the dynamics. This is everything an RTS gamer could only dream of but in this case it's reality. The mechanics are so well put together and the gameplay is well fleshed out and complex with the right amount of units and upgrades that allow different approaches. The only thing i wish it had was an offline mode against different levels of AI so you can play solo and come up with new strategies.
The game seems intimidating at first but once you learn it, it becomes very fun. I think the one thing that can be improved is the pay to win aspect. You can spend day building your millitary only for someone to throw 50 dollars at the game and then completely wipe the floor with you. I get the devs need money but it would be good if they could find a way to make this issue disappear
On mobile this is absolutely fun! , but on other devices it is kind of scratchy . But , this game is very fun and has everything you need in a game like this . But , I do have 2 problems about this . 1. This game is very-very slow . 2. I think there should be a country making option where you colonize the map against other uses over an ideal country and have a custom made flag . As of this , I find this game very entertaining and recommend to users
Good game but there could be a few changes for instance you could trade resources, and provinces with other nations. The stuff you do in the game is way too long. You could also make an economy button to see if your economy is doing good. Also if you take out the head nation i think all its territories should have a 5% chance of falling and going back to the players who used to rule them.
I LOVE this game, the strategy, the maps, the ability to join other nations BUT, the inability to control the free spending in the game makes weeks of playing ENTIRELY useless. A bad player can pay to outbuild all other nations in the game. I want to keep playing due to the time and strategy investment, but odds are no matter how far you progress, one of 60+ players in your session are going to spend to beat you. I'm just done.
Already annoying in the first 5 minutes… It takes two minutes to load past the developer's logo, just to tell you to then select a playable nation and 9 times out of 10, that nation is "already taken" even though it shows up as one you can select… Uninstalling this glitchy, laggy, game… Played on a Galaxy Note 9, pretty beefy phone… So it's not because of a "cheap phone" as most developers lie and say.
This has the potential to be 5 stars easily but like everyone else says the pay to play is ridiculous,the memberships are almost mandatory to play the game right. Its a great game but the pay to play ruins it,they should take fortnites advice and make it free and just have the cool things buyable because these things don't make people want to spend or play because if u have to continously spend money no one will want to play
Fantastic game, great idea, but needs quite a bit of refinement and polish. The game sometimes lags and becomes unresponsive. The maps are just the same and perhaps after a point it feels repetitive, regardless of how many different nations you choose, but nevertheless, in the long term strategy games genre, this is probably one of the best.
Game is good. Some players aren't, and drag the game down. Not the app creators fault. I paid quite a bit of money, too. Prices to buy needed parts for crafting are high, and the neutral countries don't sell parts on the market, or miniscule amounts. Designed that way so you pay cash to play. Why I gave it 4 stars. I just deleted the game mid-game, deciding not to pay them for this cash drain. Way too expensive for prolonged fun. Bye.
I enjoy games like this and it is fun. It may not be for every one because it is a very slow game. But the issue is there are a few bugs and the 'report bug' option hasn't been added yet, which is stupid. The bug with my game is that if I have the 'display armies' setting turned on, then the game just freezes. So download with caution.
Latest Update :
General bug fixes and performance improvements.
Contact developer :
Video :
Download Conflict of Nations from Play Store
Leave your feedback regarding Conflict of Nations
If you like the content that we provide since 2012, put a smile on our face and give us a like or share this with your friends on any social platform. If you want to support this project, any crypto donation of $0.5, $1, $2, $3 is welcome!
You can find our crypto wallets on https://free-apps-android.com/buy-us-a-coffe/
Sponsored Links