[Game] Crash of Cars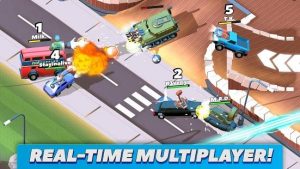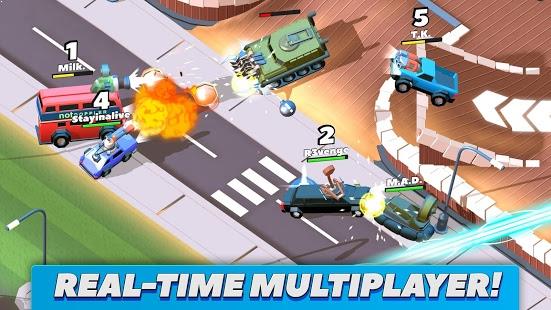 Welcome to Crash of Cars, a REAL-TIME MULTIPLAYER game where your goal is to collect as many crowns as possible before getting destroyed.
Collect power-ups, destroy other players, steal their crowns, and climb the leaderboards!
KEY FEATURES:
4 Maps to enjoy REAL TIME Multiplayer battles
30+ unlockable cars across 4 different rarities (Common, Rare, Epic, Legendary)
30+ Skins to customise your cars with. Pepperoni Skin on the Camper Van is quite a tasty choice.
16 Upgradable Power-Ups, including a flamethrower, cannon, trebuchet, and more.
Play with Friends feature. There's nothing more fun than destroying your friends :)
Mission System
Hourly Leaderboard and Google Play Game Services support
Single Player mode also available
New Content Coming Soon!
From the publishers of Earn to Die. If you enjoy .io style online multiplayer games or fast-paced PVP action, be sure to download now!
Required Permissions FAQ:
WRITE/READ_EXTERNAL_STORAGE is required to share animated GIF replays and load/display some ads in game (Crash of Cars is an ad-supported game).
Crash of Cars user reviews :
Gameplay's great! The different modes are excellent, and the cars are awsome. Though the time machine has that Flame trail that needs to turn like the car. Superb game though!
I LOVE THIS GAME!! All the cars you can get, the huge arsenal of weaponry, but, however, I have a suggestion. Every few hours the maps refresh. I would like it if it did not do that, do I could play any map, any time. But still it's a Great. EDIT:. OK, game is still good, but the cloud save kinda failed. It deleted my tank, energy car, and I think a few other ones. Please fix the cloud save. Pls and thank you!
I love the game and I admit that it can become somewhat addicting, but I hate the way it's programed to sabotage you out of the clear blue. Instead of being true head-to-head combat between (human) opponents, it fires weapons from hidden areas of the screen where no cars appear to be located. And the launch is always timed PERFECTLY, so that you are not able to avoid being hit. So I can no longer justify a five star rating for this game like I used to.
This game used to be good, but now it's all pay to win. You used to be able to get legendary every now and then.But now I've restarted(weeks ago) and haven't got a single one. And the game matching is terrible, you get set with people way way over you level. Honestly can't be happy with this game if you don't pay, and I don't want to give devs like this money. Lastly, I'm pretty sure everyone has a fav map, BUT once the maps changes (in the cycle) you won't get it back in the cycle till your 90.
10 min of fun and then what this game is cool the mechanics are great but some this game makes me what to stop playing because i gets old very quik. It has alot bugs on it i am not goin to lie some time the wepons selection it just suck theres a period on time when they just give you the same useless wepon about 3 or 4 time and is not cool. Is like this game whants to quit you from playing and the bots are just not good they end up chasing you. This review is from both offline and online.
Fun game, with one major flaw. As you play, your efforts are rewarded with 'gems' or 'prestige points.' If you're a regular player, you can max out on prestige. Once you do, you don't get anything for unlocking new cars. You get some favorite cars, then don't really want to get anything new because the points you get mean nothing. It's almost better to keep getting the same ones over and over, eventually you start getting gems. Prestige points = weapon upgrages, but EVERYTHING else requires gems
In my opinion this game is very underrated! – I read some reviews and some say its p2w, its not that bad, other say the prize machines are rigged and you cant get legendary and epic cars, yes you dont really get good cars from the normal prize machine, but its so satisfying when you actually get one, and the legendary cars are not even that OP, you can still play the game just fine with any car. – Other reviews say that the matchmaking is bad but this type of game doesnt even need matchmaking at all, you can still get decent amount of coins no matter what level you are or what car you use. You can be patient and just collect crowns and not get into fights. – Other complain about the ads, but they are not that many (compared to other cringe games). You usually get 1 everytime you die, but you can stay alive for a while (5-10 mins usually). And you can watch an ad for 20 or sometimes even 40 coins, but that also means you get more coins from watching ads instead of actually playing so i understand why people would consider this game an "ad machine" – Most say that the bots in offline mode is a problem, yes the bots are not that great, but if you want to get some coins when you dont have internet its still worth playing Definitely give this game a try
This game is great. It has awesome multiplayer stuff as well as bots, so if you have no wifi or data, you can play offline. All I'd like to see are some more maps and I'd be happy. Well made game, all around.
Easy controls, addictive gameplay, great 3D graphics. Outstanding game! EDIT: What? Now you get 20% of the amount of gems you used to when you got a maxed car? I'm sorry, but that's gonna drop my rating down to four stars.
GREAT game! I can only think of two things it needs: clans, and in game team.
Latest Update :
This update contains bug fixes for our Halloween update
Our Halloween update includes:
5 brand new cars, including a car that copies nearby powerups and another car that can be fast and agile or slow and powerful
New Player Profile: Track your progress against your friends!
New Skin! Show off to your enemies with this new unique skin!
New Cars, means new Quests! Can you complete them all?
Contact developer :
Video :
Download Crash of Cars from Play Store
Leave your feedback regarding Crash of Cars
If you like the content that we provide since 2012, put a smile on our face and give us a like or share this with your friends on any social platform. If you want to support this project, any crypto donation of $0.5, $1, $2, $3 is welcome!
You can find our crypto wallets on https://free-apps-android.com/buy-us-a-coffe/
Sponsored Links