[Game] Dice of Legends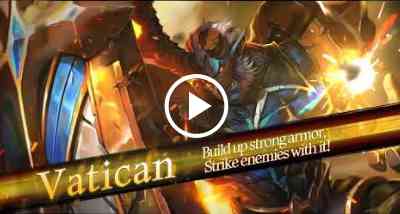 Dice of Legends : The "Dice" is here now that you have never seen before.
Join now to our new turn based PvP board game "Dice of Legend"!
It is a strategic battle game with unique champions! Structure your own deck with champions and skill cards and win your battle.
Unique champions and skill cards
Build your own strategy and use it with classic skills of champions against opponent!
Easy&Simple = PerFect
See everything at once with simple interface
Attack opponent's weakness with easy dice control!
The attraction of Dice of Legends
Control : Begin your strategy with numbers come out from simple dice control
Skill Cards : With various skills that only champions own, build your strategy that no one else can copy.
Rank Match : Earn your stars with victory to level up your rank.
Minions : You can do anything with your minions! Unlimited!
Ranking : Ranking is to define your abilities!
Growth : Not only depending on your strategy, but also requires minions' growth as well!
It requires you focus and concerntration!
Dice of Legends official Community
1. Official website to check out Recent news and event
cafe.naver.com/diceoflegends
2. Meet users from all over the world and get exciting news from them on facebook
www.facebook.com/DiceofLegends
Minimum Specifications
Smartphone App Access
Using the app requires access to the following services.
Required Access Permissions
Contact List: Used to gather information for game services and events.
Photos/Media/File Storage: Used to store game-related files, videos, screenshots, and to receive customer inquiries.
Permissions Withdrawal Method
Android 5.0 or higher: Settings > Apps > Permissions > Permissions list > Accept or withdraw permission
Under Android 5.0: Upgrade your operating system to revoke access or remove apps
If you cannot accept permissions individually, please refer to the above method to withdraw permissions.
If you are using Android version 5.0 or lower, we recommend upgrading above version 5.0 to select privileges individually.
Caution
If you have any issues with the game resources or accessing the game when withdrawing permissions, please contact us.
Please send any game inquiries to the link below.
Game Contact
allm.oqupie.com/portals/147
Privacy Policy
diceoflegend.com/PrivacyPolicy_en
Terms of Service
diceoflegend.com/TermsOfService_en
Dice of Legends user reviews :
After playing 1,5 months I must say I really enjoy this game, I climbed up to top 20 this season and like your big update +/- 2 weeks ago. I want to ask you to add 1 thing at the deck building filter screen: a button to group up all the units without a faction. It's a small thingy I know sorry but it would make building a lot easier.
allm

Hello Bleachigo Kawasaki. We are happy to know that you are enjoying the game. If you have any concerns or suggestions, please feel free to contact us again.
When I first play this game, I'm amazed by how good is the design,graphic,and gameplay, But now the bug is too much for me, I can't activate skill card even though the range is correct (I met the condition needed but can't use it), which make me lost 3 times in a row, gonna stop playing until the bug is fixed.
allm

We are sorry to know that you feel that way and thank you for trying the game. You can tell us your concerns or suggestions on our support page so that we can further improve the game. Support page: allm.oqupie.com/portals/147
Just started playing this and I'm having a ton of fun with it. Really good game, reminiscent of games like Culdcept. The only problem I am having with this is that my google play account won't link to this so I can't change my name from guest which is a little annoying.
allm

Hi PhaedraDarkstar , thank you for the kind words and the positive rating for the game. I apologize for the inconvenience on the Google Play. I would like to advise you to try and check if your internet connection is stable. Also please send us a ticket about your concern : allm.oqupie.com/portals/147
Last Update January 6, 2020 :
Change of shop explanation screen design
Change of In-game UI and design
New packs added
Parly bug fix
Contact developer :
Video :
Download Dice of Legends from Play Store
Leave your feedback regarding Dice of Legends
Get more android apps/games/updates
Subscribe to our mailing list and get new android apps / games and updates to your email inbox.
Thank you for subscribing.
Something went wrong.