[Game] Dinos Royale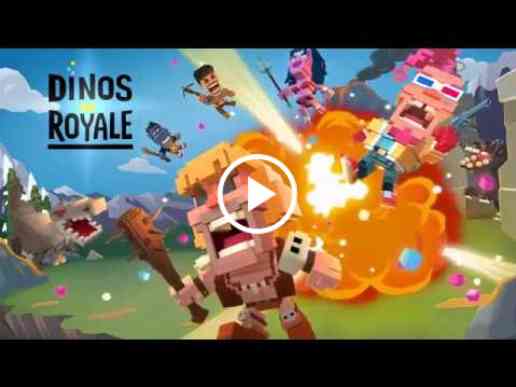 Ride on the back of a dinosaur wielding heavy weaponry and fight to be the last one standing in the craziest battle royale game designed specifically for mobile!
BATTLE ROYALE for MOBILE
Dinos Royale is a PvP battle royale game viewed from a top down perspective played in short 3-5 minute matches making it perfect for mobile play on the go! Dinos Royale features easy to pickup dual stick controls with a simple on screen inventory system for comparing and equipping all of your gear.
FIND WEAPONS AND ARMOR
Guns! Armor! Guns! Medpack! Search the map for the best loot and equip crazy weapons ranging from a spiked baseball bat to throwing knives to a grenade launcher! Take less damage by outfitting your character in helmets and other armor pieces. Heal up with a med-pack when health is low.
RIDE DINOSAURS
Jump on the back of a triceratops and ram the competition. Or get around the map quickly and attack with speed using the velociraptor. Or devour your puny foes as the king dino, the T-Rex! Shooting isn't always the answer – sometimes you gotta use your teeth!
EPIC BATTLE MAP
Don't let the storm catch up with you! Duck in and out of buildings, hide in the caves or take cover under the canopies. Dinos Royale's huge map and varied terrain make for tons of variety and tactical opportunities.
INTENSE GAMEPLAY
Play against real people from all over the world online or practice up and improve your skills against bots in offline mode. Battle alongside a friend in DUOS or go it alone in SOLOS. You decide how you want to battle but you must remember one thing – outlast them all!
Dinos Royale user reviews :
This is the kind of battle royale I was looking for— fair fight, trophies and gems are not tough to earn, and winning is based on how the players should plan his/her strategy. Weapons may have variations of strengths, but that's the challenge and it's cool. However, these days, I experience lags every now and then, include also the times where I get stuck on the map and ended up defeated so easily. Really hope this gets fixed.
It's kinda boring. I just get killed immediately and it's really hard to aim we're your shooting. I didn't like it at all I downloaded it I played fora little while and it was horrible in my opinion it's very hard to move at first. I recommend not playing it but give it a try if you want.
I tried to play this game on my chromebook but the controls arn't great for a computer which I totally get… But the app won't even OPEN on my phone. I cant be competitive on the computer and i cant even play on the phone. It seems like a fun game but with so many issues, i cant realy play… Just a suggestion add chromebook keybinds and/or fix the opening bugs. However, great job with the general gameplay it seems to be fun despite my issues
Wizard Games Incorporated

Thanks so much- that's great feedback. We are sorry to see you are having problems! The performance of the game is a priority for us and something we will continue to optimize
Awesome Royale game. One of the best. Love the armor, guns and dinos. Plenty of guns to choose from. The Dino mounts add flavor to the game. Armor helps tremendously. Very balanced. Tons of skins to achieve, and are displayed properly. You aren't paired with level 99 players who have 188282 kills. You are paired with players you're rank. Excellent. Map is spacious. Additions? Maybe an auto item pickup if higher level option? Other than that keep it up DR!!
Wizard Games Incorporated

Glad you're enjoying! Thanks so much for the well thought out feedback!
Awesome great job makin the game
Game is way better than it was in the early access, a lot smoother and less bugs, still a bummer exists that doesn't let you shoot while you are running, please fix it soon, it kind of ruines the fun
Wizard Games Incorporated

October 26, 2018

Thanks for the feedback. We've got an update coming really soon that fixes a ton more bugs and makes the fighting a bit snappier. We think you're really going to like it.
This game is great and I hope you add more dinosaurs, add dino skins and hope for emotes and can I change the match type and if I can, then how do I do it?
Wizard Games Incorporated

October 26, 2018

We've got a lot of updates planned that will be coming fast which will include a lot of the features you're requesting. At the moment only one game mode is available at a time and it alternates between duos and solos every 8 hours. This is something we will be changing in one of the near updates.
Contact developer :
Video :
Download Dinos Royale from Play Store
Leave your feedback regarding Dinos Royale
Get more android apps/games/updates
Subscribe to our mailing list and get new android apps / games and updates to your email inbox.
Thank you for subscribing.
Something went wrong.