[Game] EarthCraft 3D – Block Craft & World Exploration
 gacha life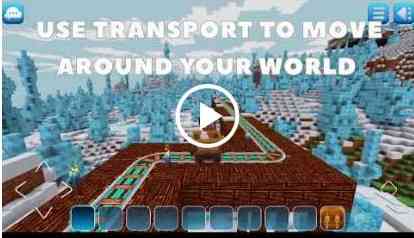 EarthCraft is a "free to play" adventure game in sandbox style with 3D procedurally generated world.
Create your own world, limited only by your imagination! Explore the deepest mines and caves, decay blocks in search of ore, diamond, emerald, gold and other resources. Such tools like axe, pickaxe and shovel will help you in it.
In EarthCraft multiplayer beta mode you could play with real people online:
get together in one world to show the most amazing buildings to each other!
discuss in real chat game features or game quests;
give advices to people online how to build their shelters/houses/towns!
have fun with friends!
get the most amazing experience!
You can choose one of the modes – Survival and Creative .
Creative: In this mode you focus on building of beautiful constructions, you have all the items and resources in the inventory, it's the world of possibilities. As we have already said, here you are limited only by your imagination.
Survival: In this mode you have to find food, to gather blocks to build shelters or houses, to craft weapons, armor and tools to stay alive and to fight against enemies. It's not so easy but we believe you can overcome any obstacles and conquer this wild and hostile world.
Some interesting things you can find in our app:
1. Electrium. It gives you an ability to create different electric schemes, circuits. This feature will make your gameplay more simple and fun
2. Animal breeding. Create your own farms close to your house and forget about the lack of food or wool.
3. Trading. Find some village, trade with villagers and get new items
4. Enchantment table. Use it to enchant and upgrade your weapon, armor and tools.
5. Anvil. Use it to repair your tools and combine enchanted items to make the best weapon in the game
6. Fishing. Feel hungry? Catch some fish.
7. Blueprints. Don't want to build the house from scratch, block by block, do you? Use blueprints. Just tap the button on your screen, choose the house you like the most and get the incredible building just in couple of taps.
8. Do you believe you're strong enough? Go to Nether and we'll see what you can do.
Create your own story in a realistic world of EarthCraft and have fun.
Follow us on:
FACEBOOK:  www.facebook.com/tellurionmobile/
TWITTER:  twitter.com/TellurionMobG
YOUTUBE:  www.youtube.com/channel/UC2jqGx9MXCUJjYZY_f19vug
FORUM:  forum.tellurionmobile.com
INSTAGRAM:  www.instagram.com/tellurionmobile_games/
QUORA:  www.quora.com/profile/Tellurion-Mobile-1
VK:  vk.com/tellurionmobilegames
EarthCraft 3D user reviews :
It's an amazing game, except the whole amazing part. This is nothing but a cheap knockoff copy of the actual game called "realmcraft"! I compared both games and it's EXACTLY, the same! The only difference is that you lack behind on graphics, connections, and well ALMOST everything. You somehow even managed to keep up with the latest updates. Like get a life, along with original ideas. I suggest you dont support this pirated fraud, and uninstall this. And download realmcraft. Geez what a fraud.
Very similar to minecraft. Must play the game. The graphics are awesome, but the thing that disappoints me are some of the blocks. Specially the quartz block. It's not pure white. I hope the developers fix this and also add some more quests in the game. Because the quests get completed just In 2 to 3 days. I hope the developers fix these problems. But still, it's really is a 5 STAR GAME.
Great game for a ripoff but would be better if you was able to add friends and play with friends. Also please add Villagers and Villages. Also would be better if your dogs would stay when you tell them to stay and if you was able to light trees on fire and for them to burn all the way. Also please lessen the ads.
Survival, Explore and Craft Games

Thanks for your feedback. We noticed that you gave us 3 stars. What do you think needs to be improved? Perhaps something went wrong with you? Describe your problem to us and we can help you right now. We will add multiplayer as soon as possible)
This game is just like minecraft but it is free. I just need a few things like command block and clock. Though this game is awesome, it has a few bugs like whenever I take something from my inventory an ad comes. Its really frustrating that you want to build something and then an ad pops up from nowhere. Plz if you read this survival games creators, do fix this bug. Keep up the good work
Contact developer :
Video :
https://youtube.com/watch?v=z7aNOzoODnY
Download EarthCraft 3D from Play Store
Leave your feedback regarding EarthCraft 3D
Get more android apps/games/updates
Subscribe to our mailing list and get new android apps / games and updates to your email inbox.
Thank you for subscribing.
Something went wrong.