[Game] Era of Hero – Idle Adventure
 free apps android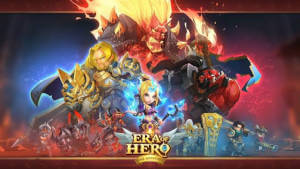 1.No need to operate
Send your hero team to fight automatically without control! There is no obstacle!
You can easily wait and get a lot of rewards and rare equipment! Even when offline, you can also get rich rewards!
2.Summon Heroes
Underground goblins! Supreme Archangel! Wise king of mankind! The ancient tree man of the forest! There are countless legendary names on the mainland. Call your heroes as soon as possible!
3. Fun and strategy
More than 100 heroes of different camps, hundreds of skills!
6 kinds of array, changeable
Forge and collect rare weapons and equipment to enhance combat effectiveness!
Heroes can incarnate weapons, wear different weapons, and have different combat performances!
You need perfect equipment matching strategy to enjoy the fun of the game with simple operation and ease!
4. Rich game content
Placement, fight, dungeon, hero task, collect and cultivate!
Trial tower, expedition train, arena, guild!
Endless wonderful content waiting for you to experience!
5. Guild
Together with the guild members, challenge the guild instance zones and get a lot of rewards!
Compete with other guilds to place the ownership of mainland resource points!
Together with other players, create a legendary guild and gain powerful guild Skill Bonus!
6. Top competition of global players
On the global server, compete with the vast number of players from all over the world!
Challenge the leaderboard and the highest glory and win the spoils!
Era of Hero user reviews :
The game is a good afk game, but I hit a wall in the first 24 hours of playing that have lasted for the last 2 days because the amount of exp and gold that you get from idle rewards is very Low and can't level my characters quickly enough. Also, the drop rate of heroes is extremely low, you get a lot of gems and summoning Scrolls for free at the beginning but even after using everything that was given to me, I used over 300 summons and only got 4 true 5* heroes, which I find ridiculous.
Cloud Joy

您好,高品質英雄隨著質量的提升,獲取的概率也會有一定的難度,所以我們游戲前期通過簽到和任務,也給予了對應英雄的獎勵。同時您也可以參與各種活動來獲取召喚卷軸和鑽石,積纍資源做到厚積薄發。同样遇到打不过的关卡适时的挂机,也能获取一定的资源,当您用资源去换取英雄的实力提升,又能更好的闯关获取更多的资源,环环相扣!小元也祝願您早日獲取你想要的英雄,如果您對我們游戲也有其他想法或者建議,可以通过客服邮箱:Jgame_[at]outlook.com進行反饋,我們會第一時間進行解答。
17 days in… The first week makes you think it's gonna be a great game. You can see that the drop rate for Summons feels pretty good so you decide to peel apart the velcro from the ol' wallet (thinking that this game is going to be a long-term game) and drop some coin into the game. Shortly there after (around day 8) the drop rate plummeted severely! Lucky to even get a 4☆ hero to drop with a 10X summon is insane. With each press of the button you try to remain hopeful only to be …
Cloud Joy

您好,高品質英雄隨著質量的提升,獲取的概率也會有一定的難度,所以我們游戲前期通過簽到和任務,也給予了對應英雄的獎勵。同時您也可以參與各種活動來獲取召喚卷軸和鑽石,積纍資源做到厚積薄發。小元也祝願您早日獲取你想要的英雄,如果您對我們游戲也有其他想法或者建議,可以通过客服邮箱:Jgame_[at]outlook.com進行反饋,我們會第一時間進行解答。
It's a very cool game but needs works the hero drop is very bad and also you will have to spend alot of money to play very big pay wall.
Cloud Joy

您好,高品質英雄隨著質量的提升,獲取的概率也會有一定的難度,所以我們游戲前期通過簽到和任務,也給予了對應英雄的獎勵。同時您也可以參與各種活動來獲取召喚卷軸和鑽石,積纍資源做到厚積薄發。小元也祝願您早日獲取你想要的英雄,如果您對我們游戲也有其他想法或者建議,可以通过客服邮箱:Jgame_[at]outlook.com進行反饋,我們會第一時間進行解答。
the game graphics is awesome but theres a huge wall to force you to pay and theres more. best worst
gacha
i've ever played. why ?? when you have the x100 scroll to summon 2-3 5star only. /uninstall
Cloud Joy

您就這樣離開了小元,揮一揮衣袖,不帶走一片雲彩。小元倍感傷心,可能是您覺得不合適,但我相信隨著我們版本的更新,游戲也會越來越符合您的期待。另外高品質英雄隨著質量的提升,獲取的概率也會有一定的難度,所以我們游戲前期通過簽到和任務,也給予了對應英雄的獎勵。同時您也可以參與各種活動來獲取召喚卷軸和鑽石,積纍資源做到厚積薄發。如果有時間記得回來看看,這裏是您永遠的家。小元會隨時恭候!如果您對我們游戲也有其他想法或者建議,可以通过客服邮箱:Jgame_[at]outlook.com進行反饋,我們會第一時間進行解答。
Good game lots of free rewards low drop but lots of summon opportunities for free, obviously p2w as all of the genre are like that now a days
Cloud Joy

Thank you! Your evaluation is an encouragement to us. Of course, if you encounter any problems in the game, you can send feedback through the customer service mailbox: Jgame_[at]outlook.com, and we will deal with it as soon as possible.
5 star if the chat room improve. At least able to email other user personally. Thanks.
Cloud Joy

您的評價就是對我們的鼓勵,我們會將遊戲越做越好,也希望今後的每一日都有您的陪伴,當然如果您在遊戲中遇到任何問題,可以通過客服郵箱:Jgame_@outlook.com 進行反饋,我們會第一時間處理。
F2p friendly without the usual need to spend tons of dias on things like backpack space.
Cloud Joy

您的評價就是對我們的鼓勵,我們會將遊戲越做越好,也希望今後的每一日都有您的陪伴,當然如果您在遊戲中遇到任何問題,可以通過客服郵箱:Jgame_[at]outlook.com 進行反饋,我們會第一時間處理。
The game background it's like a broken tv, confusing
Cloud Joy

很抱歉,給你造成了不好的體驗。如果游戲畫面顯示異常可能是您第一次打開游戲時正在下載資源,下載進度會顯示在左上角,待所有資源下載完畢后顯示即可正常。如果還是無法解決,建議您可以通過客服郵箱:Jgame_[at]outlook.com進行反饋,我們會第一時間進行解答。
I like this game more on chalange and adventure..:)
Cloud Joy

您好,您的評價就是對我們的鼓勵,我們會將遊戲越做越好,也希望今後的每一日都有您的陪伴,當然如果您在遊戲中遇到任何問題,可以通過客服郵箱:Jgame_[at]outlook.com 進行反饋,我們會第一時間處理。
Wouldn't click after 1 10 tutorial
Cloud Joy

您好,建议您先重新打开游戏或重新安装游戏,如果还是不行,请详细描述一下遇到了什么问题,最好录一个视频以便我们对BUG进行核实并修复。如果您对我们游戏也有其他想法或者建议,可以通过客服邮箱:Jgame_@outlook.com进行反馈,我们会第一时间进行解答。
Great idle game, love it!
Cloud Joy

您好,您的評價就是對我們的鼓勵,我們會將遊戲越做越好,也希望今後的每一日都有您的陪伴,當然如果您在遊戲中遇到任何問題,可以通過客服郵箱:Jgame_@outlook.com 進行反饋,我們會第一時間處理。
Latest Update :
1. New Language: English is now available
2. Optimize the game experience, improve the frame rate and reduce the jam
3. Fixed some interface display problems and improved UI interaction
4. Fixed some other problems and improved the user experience
Contact developer :
Download Era of Hero from Play Store
Leave your feedback regarding Era of Hero
Sponsored Links
If you like our content you can help us with a share or Subscribe but if you want to go even wilder Buy Us a Coffee (you have our crypto wallets below. Thank You!
Bitcoin
Ethereum
Tether
Tether
Cardano
Xrp
Polkadot
Binance coin
Stellar
Dogecoin
Tron
Elrond
Vechain
Digibyte
Polygon matic
Donate Bitcoin(BTC) to this address
Scan the QR code or copy the address below into your wallet to send some Bitcoin(BTC
Donate Ethereum(ETH) to this address
Scan the QR code or copy the address below into your wallet to send some Ethereum(ETH
Donate Tether(USDT) to this address
Scan the QR code or copy the address below into your wallet to send some Tether(USDT
Donate Tether(USDT) to this address
Scan the QR code or copy the address below into your wallet to send some Tether(USDT
Donate Cardano(ADA) to this address
Scan the QR code or copy the address below into your wallet to send some Cardano(ADA
Donate Xrp(XRP) to this address
Scan the QR code or copy the address below into your wallet to send some Xrp(XRP
Donate Polkadot(DOT) to this address
Scan the QR code or copy the address below into your wallet to send some Polkadot(DOT
Donate Binance coin(BNB) to this address
Scan the QR code or copy the address below into your wallet to send some Binance coin(BNB
Donate Stellar(XLM) to this address
Scan the QR code or copy the address below into your wallet to send some Stellar(XLM
Donate Dogecoin(DOGE) to this address
Scan the QR code or copy the address below into your wallet to send some Dogecoin(DOGE
Donate Tron(TRX) to this address
Scan the QR code or copy the address below into your wallet to send some Tron(TRX
Donate Elrond(EGLD) to this address
Scan the QR code or copy the address below into your wallet to send some Elrond(EGLD
Donate Vechain(VET) to this address
Scan the QR code or copy the address below into your wallet to send some Vechain(VET
Donate Digibyte(DGB) to this address
Scan the QR code or copy the address below into your wallet to send some Digibyte(DGB
Donate Polygon matic(MATIC) to this address
Scan the QR code or copy the address below into your wallet to send some Polygon matic(MATIC