[Game] Era Origin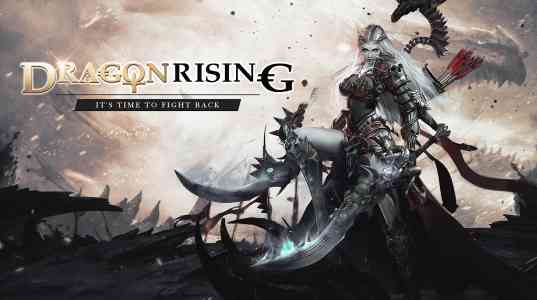 Artistic map and scenes, magnificent European buildings, intriguing story and immersive battles make this game a next-gen fantasy adventure.
360 degree views that provide unlimited exploration, blood-boiling combats and PvP arena, freewheeling cultivation system and efficient communication platform, this is going to be an epic fantasy world that you've never met before. The dawn is yet to come and the horn of war has sounded. It's time to awaken your asleep soul and respond to the call. Assemble, heroes! Be ready to fight for glory and power!
Unique and groundbreaking gameplay
Diverse battle stages, not just a mere game of numbers
Match skills with runes freely to create your own combination
Advanced game design and console-level QTE involved interaction
Innovative battle, revolutionary graphics
Choose one out of three main characters and equip them with two weapons to your liking
Ultimate Skill allows you to kill monsters in one go and experience impactful combat
Intriguing Story, movie-like graphics
The engaging storyline provides immersive experience to players
Console-level technology is used to create lifelike characters!
Multiple gameplay, bid boredom goodbye
The story driven gameplay gives rise to different gaming experience
Enjoy vivid content and character experience
Custom costume, free collocation
With a wealth of unique costume to choose from, you have one thousand ways to customize your hero.
Fair competition and social game environment
Fair competition, let your strength speak for yourself
Real social life, team up with your friends worldwide
Official Fanpage: www.facebook.com/eyoueraorigin
Website: eraorigin.eyougame.com
Contact Us: support[at]eyougame.com
Also take a look at our list
Era Origin user reviews :
Hello i would give more stars then maximum, the game is amazing but i found a bugg that affects melee champs in Aio Shadow Event, our dmg isnt recorded as it should for exemple im sttongest from C. S 16-17 YET I DEAL LOWER DMG THAN PEOPLE with almost 1milion less power. Please fix this bugg its very frustrating for me and the other players that play melee.
I've been on this game for a week now and I have a very mixed review. The graphics and overall game play is smooth and seamless, same with fight scenes. Most games slow down frame rate for fights but this one doesn't. That being said the questline has broken quests like offline botting which doesnt seem to work. I logged out of the game left it overnight and the offline botting didn't change even a little bit. Login rewards haven't shown up in my inventory either. Fix for a full rating please
Good game, character designs, artwork and music is alright. Reduce Experience points by 10% Leveling up is too fast. Autoplay is very good but There should be way to turn off auto play and guidance when we want. And good that it does not have a ton of in game resource download.
i am playing it more than a month now. this game is really fun.. i hope next patch would put "extract" option for grant items, that you can extract or get the gem stones on it. lots of grant items seems useless already when you lvl up and equip more powerful equipments. the stones of that grant items is on waste already. extract option on grant items would be so amazing if it would be added. thank you.
EYOUGAME(USS)

Greetings ! Thank you for supporting us! We appreciate it so much! Do feel free to contact us on Facebook: www.facebook.com/eyoueraorigin/ for further inquiries. Do enjoy the game! Thank you
Leveling doesnt really start until about 180 (about an hour or so in game) and then one still levels quickly. Most of the game is idle play both on and off line. Gear and skills are nearly handed to you. My only down sides. "Pay to Win" buttons on the screens. I believe there was 5 icons each with a different "special" to purchase, why? The other is the long login. Ok not really login, it is getting in a server after login. 5 minutes at the start screen and still not in a "green" server
EYOUGAME(USS)

Hi warrior, thank you for supporting us! We apologize for any inconvenience caused! We promise to give you a better gaming experience in the future! Do feel free to contact us on Facebook: www.facebook.com/eyoueraorigin/ for further inquiries. Do enjoy the game and please rate for us again! Thank you
Firstly I'd like to say what an amazing job the development team has done big round of applause The graphics are amazing with a feel that you can only really get on console, there's plenty to do and discover that keeps you coming back for more. A very unique experience with multiple character customization and devolpment. Just a really well rounded game. The only issue I have is that the gem & gold drop rate could be slightly increased to aid progression alittle more. Keep up the good work.
Contact developer :
Download Era Origin from Play Store
Leave your feedback regarding Era Origin
Get more android apps/games/updates
Subscribe to our mailing list and get new android apps / games and updates to your email inbox.
Thank you for subscribing.
Something went wrong.