[Game] Eredan Arena – Card Battle TCG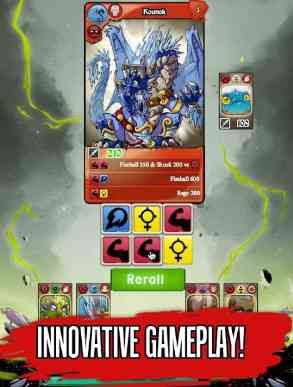 Incredibly fun, simply smart
Choose your 5 heroes team carefully, every decision you will make during combat can change the outcome!
Obtain new heroes, make them evolve and become the master of the arena !
Easy to get in, hard to master!
Easy to get in: With it's very fast and intuitive gameplay, you will get in the game in not time.
Build your deck: Hundreds of characters are available for you to master. The more you play, the bigger your team.
Evolve: Your characters skill evolve has you play. They keep getting better at what they do!
Play anywhere: Available on mobile and desktop, you can continue your battles and your climb in the charts anytime.
Lead the leagues! Show how good you are and win prizes along the way!
Follow us on Twitter @EredanArena
Like us on Facebook: www.facebook.com/EredanArenaOfficial
You may also like
Eredan Arena user reviews :
Fun game but no balance, all money grab. Always 1 or 2 chests with crystals yet only one option to spend them on a chance for something useful. With a 7 day cool down. The game can be amazing but it would need a complete balance overhaul, a way for new and returning players to progress smoothly (but slowly) using only free in-game currency, and a reworked competitive scene. There is so much potential but it appears as if the devs are content with their current marketing strategy.
Good lord. This might be the most boring, most broken, most unbalanced card game ever. Every opponent runs with crazy over powered cards, you can't do anything against them. If you are reading this, stay the hell away from this mess. And don't let me start with the customer support. My game auto changed the language after a battle to italian or spanish and they can't do anything to change it back to english! Worst customer support than EA! Let that sink in.
3 star not because its not good . its awesome but the maker need to give this game more action this is a good comment to help you realize your missing ideas. more action more players . more players more help to us. right?? so keep going and more action to this
The game is pretty fun and a good time killer. I like the twist of rolling dice to activate your card's abilities. There's a lot of variety in character types, abilities and artwork that it makes it fun to collect new cards which also feels like a pretty constant flow. I would definitely recommend it to someone who wants to play a more casual card game with a twist of dice rolls but I can't say I recommend spending any money on the game.
i really love these game but if u can add new things than playing the league again and again ,sometimes it makes us bore but if u can manage to make something creative than these then many players will play . I hope i might u will do your best
I would have give it five stars. could be a great game… if it was an easy way to get more and better cards without paying. then when you get the chance to play with better cards in the sv mode it seems like the dye dont want you to win. with this being said the only way to enjoy or win in this game is if your willing to spend your money. also what is up with getting level three maxed out cards over and over and over again. THAT NEEDS TO CHANGE!!!!!!!!!!!!!!
To Admins and devs, Please create a new server… too OP for new players not even a slight chance on winning. ranking system gets flawed if you put up servers it might attract new players and this game becomes fun again … thanks.
was a great game but now has become trash! anyone that is Ice is over powering. it has now became a Pay to win, theres no way you can just play and get those cards when they are exclusive. isnt only the Ice clan, there are a few others that are just over powering and if you use old cards, they cant even do anything anymore. I get damaged from using a spell come on now. also 2500 shield in 1 move, old cards get 250-500 shields in a move, 2500 in 1 move that's ridiculous!
I've been playing this game for almost 2 years now and I've seen low reviews saying its "pay to win" and it's really not. If anything this game is a grind for cards and i appreciate that aspect. Also this game does not have ads which makes it even better. This isn't a game for people who aren't competitive or into the grinding/farming aspect for new ex or regular cards. One thing I have to say to improve gameplay is for SURVIVIAL. DECREASE the time you wait after losing 3 games to 1 day at least
Contact developer :
Download Eredan Arena from Play Store
Leave your feedback regarding Eredan Arena
Get more android apps/games/updates
Subscribe to our mailing list and get new android apps / games and updates to your email inbox.
Thank you for subscribing.
Something went wrong.