[Game] Eternity Legends – League of Gods Dynasty Warriors
 free android apps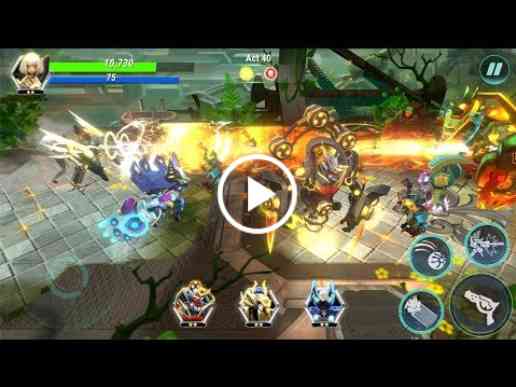 An action strategy RPG with futuristic fights of Gods against Thanatos and his army.
Start your journey from hot deserts through many famous places in the world to Thanatos Castle.
Collect, train and form legendary team to participate in battles, daily challenges, epic boss conquests and compete in the Arena.
STUNNING 3D ETERNAL WAR OF GODS
Non-stop combats with dynamic effects and diverse skill animations.
Numerous heroes from different cultures to collect and form the most powerful team.
STRATEGIST GAMEPLAY
Level Up, Tier Up and Rank Up your godly heroes, craft and collect rare weapons, increase combat power, equip gear for proper tactics.
Call for the help of allies in battlefield to overturn the battle and win against the opponents.
NUMEROUS GAME MODES
Adventure Mode: fight and capture cities around the world, collect gear and level up your gods.
Sky Scraper: challenge your limits by conquering many levels of increasing difficulty.
Star Gates: new challenges every day, collecting materials to get mysterious gods.
Super Boss: be careful when fighting with this gigantic creature if you don't want to be slaughtered.
Global Boss: oppose against boss attacks with other players around the world.
WORLDWIDE ARENA
Participate Arena, experience PvP battles with players around the world.
Make your way to the top of the battleground and gain glorious trophies.
GUILDS & COMMUNICATION
Join and connect with other players to form a Guild.
Team up with your guild mates to become the best ones together and earn legendary rewards.
Facebook fanpage: www.facebook.com/EternityLegends.LeagueOfGods/
App Permissions Information
Photos/Media/Files need to be enabled to download DLC.
Permission Management
Android 6.0 or higher – Settings > Applications > Select App [Eternity Legends] > Permissions
Eternity Legends user reviews :
This Game Is Awesome, So I Rate It 5 Star. I'd Like To Advise Every Eternity Legends Lover, Don't Open This Game When Your Net Is Weak, Otherwise All The Data You Played Offline Will Collapse. And I Am Hoping For The New Update
I played this game for a week, the few days was awesome, i always get a new hero, but lately every time i draw, i always get the hero which i already had, i regularly load my accnt so i could draw. Then lately the game always crushes, restarted and loses all the loots i've gained. It is now totally sucks, at 1st im so glad that the DEVs made this game, but as long as you play this it shows a lot of negativity. FYI i got a high specs of android phone.
nice game, easy to get on with. Huge problem is you take a risk of losing all your gear when they update. Then divmod blanks you when you ask them to fix it and return your items. I have tried for over a week. Very bad customer support, in my opinion this game is good but a rip-off by divmod. Avoid playing this game and spending money on it or you might find your self out of pocket and angry. I have deleted the game now but still taste the bitter taste of being coned out of money and time.
DIVMOB

Hello, please send your username and your problem to eternitylegends.leagueofgods[at]gmail.com, thanks,
I'd give the graphics 10 stars if I could! It's not just 3D,but they're cell shaded graphics, so it looks like a comic book. The fighting is very dynamic. When you execute a move that has multiple hits, you can turn and aim different hits at different enemies. It's also easy to get gems without paying real money. Has lots of different game modes. Definitely the best fighter from Divmob yet!
I like this game. A nice change and I've not encountered any bugs. Love the way you can summon support. Great work devs.
Updating my review as they replied to my reviews and implemented a fix very quickly, thank you! Original: No controls, extremely frustrating
DIVMOB

Hello, we are sorry for the inconvenience. We will have new update to fix this issue in 1-2 days. Thanks,
Thanks for fixing the joystick Now we are talking lol
All this is is a clone of heroes infinity with a different name
Player auto battle ai is way off its attacking barriers or for say the wall behind it when there is a swarm of monsters in front of it. Your better off not doing auto battle unless you want 2 stars and replay the level regular to get 3
Fun game, needs some polishing and maybe a better screen refresh rate. Also the AI needs to be smarter for auto battle, arena, idle campaign. Thank you! Nice job guys!
Last update :
New hero
Improvements & bugs fixed
Contact developer :
Video :
Download Eternity Legends from Play Store
Leave your feedback regarding Eternity Legends
Get more android apps/games/updates
Subscribe to our mailing list and get new android apps / games and updates to your email inbox.
Thank you for subscribing.
Something went wrong.