[Game] Futurama Game of Drones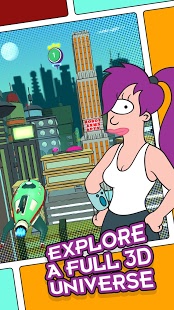 Futurama Game of Drones : GOOD NEWS, EVERYONE!
This is Professor Farnsworth. I'm sending you off on a whirlwind of deadly, quite deadly, and very deadly missions! I've created an array of delivery drones to make your almost certain death more fun than my trip to Ecstasia 9, the fun planet!
Oh, and remember, the drones require almost constant attention, so you'll need to make sure they're arranged in groups of four or more. I also added some rather explodey doohickies, so look out for super drones like the triple-dipple laser drone, oh my.
I expect you to behave in a manner becoming of a Planet Express employee, so that means no destroying all humans, Bender! And you'll need to use each of your special abilities to get those packages delivered before we inevitably go bankrupt and you're all living on the streets!
Come along, off you go. It's time for my nap, oh yes.
*FUTURAMA: GAME OF DRONES FEATURES*
NOT SURE IF MATCH 3, OR… – This isn't Slurm Soda Crush Epic! You gotta match 4, dummy.
YOU'RE SPECIAL – Use your special delivery boy superpowers, like, erm… oh never mind
EXPLORE THE FUTURAMA UNIVERSE – And teach colorful aliens how to lurve
PARTICIPANT REVIEWS
I can't believe this was released without a B76-403 certificate of fun. – Hermes Conrad
This will almost certainly stimulate the human's tertiary brain. – Dr. Zoidberg
……………………………………………….. Hypnotoad
ALL GLORY TO THE HYPNOTOAD. DOWNLOAD FUTURAMA: GAME OF DRONES NOW! ALL GLORY TO THE HYPNOTOAD.
Futurama Game of Drones user reviews :
Lower the time to next lives It's a pretty fun game my only complaint is it takes 30 minutes for any one life to be replenished and I think that's too long
Great otherwise. Love the idea and effort though! Thank you for all your hard work guys! 5
Been watching Futurama since it was on Fox, of all places! The game itself is somewhat derivative but adds the flare of an interactive comic. The story so far seems true to form and while it isn't the same as new episodes of the show itself this feels like it keeps the spirit of the franchise alive. I have to admit that it seems to set itself apart a bit from the old boys club of games like Bejeweled and Candy Crush with unique combinations all the while poking fun at the copy and paste nature of itself. A+
Contact developer :
Video :
Leave your feedback regarding Futurama Game of Drones
Get more android apps/games/updates
Subscribe to our mailing list and get new android apps / games and updates to your email inbox.
Thank you for subscribing.
Something went wrong.