[Game] God Kings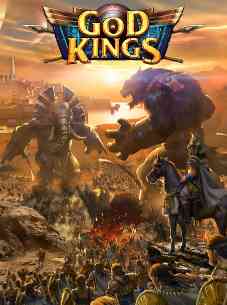 God Kings : IT'S TIME TO BECOME THE WORLD'S GREATEST KING!!
Compete on the ultimate battleground against epic monsters and tyrannical enemy kings in the vast 3D world of God Kings! Raise an eternal empire and build an army, the likes of which have never been seen! Your strategy, your victory! Summon legendary Guardians and unleash devastating damage upon all those who stand opposed! Join forces with other strong kingdoms and grow your influence on the battlefield together!
FEATURES
Build your empire in unseen beautiful 3D graphics
Forge an alliance with your friends and other players and conquer your enemies' territories
Summon legendary Guardians and evolve them into the ultimate battle machines
Command your Guardians and mighty armies to win in epic PvP battles
Capture and sacrifice your enemies' Guardians to strengthen your empire
Research Divine Powers to shape the destiny of your troops and economy
Fight in diverse regions such as deserts, jungles, the arctic or volcanoes
General Terms and Conditions: legal.innogames.com/portal/en/agb
Imprint: legal.innogames.com/portal/en/imprint
Also check our list
God Kings user reviews :
Fun, good layout, adequate help with mechanics – the biggest thing that is annoying is that when you get something completed whether it be a building upgrade or a monster killed there is a small rectangular purple bar that comes out and it covers up the timer. So if you're trying to use speed ups or complete something you need to tap a bit or wait for that bar to disappear. If you guys could put it on the opposite side of the screen it would be fine
InnoGames GmbH

Hi, Thank you for your comment. Is there something we could improve?
I have only 4 because there are glitches here and there. When I go to the map sometimes I can't click on specific spot it won't let me then I have restart the game and the other is that I can't exit the game ,I just have to end directly the game. Overall it has potential and refreshing strategic gameplay.
InnoGames GmbH

Thank you very much for the review. The bug that you described is quite interesting, would you mind reporting it directly to the team? You can do so when in-game by tapping on 'More' and then on 'Help' and opening a ticket there. I'm sure that the support team would love to get the report from you.
This is by far the most beautiful and expensive game. The trailer is deceiving I guess to make people get it but what got me is the Egyptian them (I love). This game is also in idle to which is a plus.
You make upgrading your war hall to level 14 mandatory to upgrade palace to level 15. For most it's a challenge.. ok. Until the rally's you join produce no scrolls lol. In my opinion, if you are going to make something mandatory in a free to play game.. the drop rates should be realistic
InnoGames GmbH

We have had some technical issues. Sorry about that! It should work just fine by now.
Everyone that gives bad rating cause chat bar stops working is not the game is happening with all Android's in almost all games I believe you should be blaming Google not the studios that make games :) and about the 2000 graphics I don't mind I come from the times we're we had contra
InnoGames GmbH

Thank you for your positive review! :) We will still be looking into improvements, to make the game even more enjoyable.
The game is good within itself. My only problem is that people can attack you over and over again where you cannot even recover your troops back. It already takes long to heal your troop which can be longer then your obelisk last. Then its also a process to build new troops. This game does not give enough time to recover or redefend themselves especially for those of us who work or go to school. Would of gave 5 stars but that issue makes me want to quit and uninstall.
InnoGames GmbH

Thank you for your suggestions and taking the time to share your feedback! :)
Latest Update :
What's new?
Bug fixes and improvements for speed and reliability of the game.
Thank you for playing God Kings!
Contact developer :
Video :
Download God Kings from Play Store
Leave your feedback regarding God Kings
Get more android apps/games/updates
Subscribe to our mailing list and get new android apps / games and updates to your email inbox.
Thank you for subscribing.
Something went wrong.