[Game] Goddess Legion – Silver Lining – AFK RPG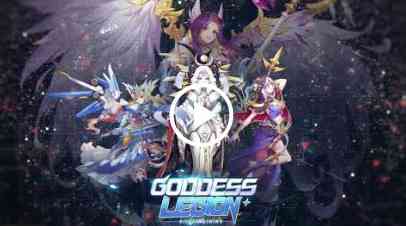 Silver Lining brings you a new 3D idle RPG game which has hyper dimension cute anime girls with you in command.
No time to fight but still want to be a powerful player? Try out the casual idle mode to fight automatically anytime and anywhere.
Recruit Goddesses, explore instances, PvP in the arena, choose your favorite Goddesses and start winning battles! Fantastic 3D graphics, exquisite characters are co-produced by famous painters will show you a brand new cosmic era. Let's bring up pretty Goddesses and begin an epic adventure trip in this universe!
Game Features:
Idle Battle Gameplay
Growing a powerful Goddess legion while you're away.
Even if you are offline for a break, your Goddesses will still be fighting for you.
100+ playable girly characters
Over 100 legendary Goddesses from different races with unique personalities are available in the universe. Cultivate with your favorite Goddesses.
Dating With Your Girls
Dress your girls up in your favorite outfits!
Customized fashion attires make your girl the fashion idol.
Assemble Powerful Team
Recruit Goddesses and strategically build your team to defeat the evil.
Deploy Goddesses with different formations. Try to figure out which is the best tactic for your battle.
Create or join mighty legion with players from all over the world. Fight to glory!
More than just an Idle game
SSSR? Rare Goddesses and various instances are waiting for you!
Put forth your best Goddess to get rich rewards in the Elite Challenge, Gemstone Trial, Endless Tower, Time-space Door, and Arena.
Discord:
discord.gg/AdcbGZn
Facebook page:
www.facebook.com/GoddessLegionRPG/
Goddess Legion user reviews :
Enjoyable AFK game to have, I'm just having an issue with the game for the past week or so; after I go into the game server (I play on S-40 if it'll help you devs or something..) it'll show me the pop-up of me leveling up, but after I close it out to go to the main screen where it shows you your character, it hides the HUD. It just shows the character, I can only interact with her and can't do anything else, no buttons to press to go to any other screen or anything.
Rita Wang

Dear player, I am really sorry for the inconvenience we caused. You can try to uninstall the game and then reinstall the game from Google Play Store. That will help. But if the problem stll exists, feel free to contact us.  www.facebook.com/GoddessLegionRPG/At the same, the technicians will fix the problem as soon as possible.
this game is fun to play in your spare time because of afk functions, but recently I've been experiencing problems playing the game. often when I load in my game freezes in the screen where it says user login and I have had to reinstall the game multiple times to play and I'm getting tired of it. I know others have been experiencing this problem and have been waiting for a fix and I would like to play the game because I enjoy it
This is a severely underrated game.Though there are some minor problems but none such that are game breaking.The game is small and runs beautifully even on weaker connections. Oh did I forget to tell you that you can earn upto 10-15k premium currency(diamonds) every month without paying a dime.Even the best of the units are gettable without paying a dime. Also there is no energy system, no vip,no nothing. Many servers are dominated by f2p players .You can see it for yourself. Thanks
MMORPG + GACHA = 100 p2p.. low drop rate and very unstable character optimization.. 1 SSSR chara can beat your 5 SSR team.. not to mention, first 2 hours of gameplay and you are most likely meet the pay wall.. gems was super rare to collect but not when you spend it.. 180 gems for a single pull only for exp card x4??.. while, achievement and daily quest are most likely useless.. lets talk about event.. spend 200 gems to get 20 gems??.. top up 25k for 2 UR chara while 6840 gems = 100$.. srsly??
Rita Wang

Dear player, I am very sorry that we have not brought you a better gaming experience. Players are free to choose whether to recharge, there are many exploreable events in the game, players can also get the heroes they want for free. I hope you can get the hero you want and wish you a happy life.
Played for about a month and really liked the game. I logged in everyday missing maybe one or two days. But made up with gems so I got all the rewards. I did everything I could every day aside from giving you guys money on a daily basis and it seems I've hit a wall. It really sucks because my husband happens to be stuck at the same wall and he's played 3 days before I joined. We're both going to be quitting the game as it's now seems anything we do to "power up" is all for nothing to show for.
Rita Wang

Dear KiTTa, sorry for not bringing you a pleasant gaming experience. We will continue to optimize and improve the game. If you have any detailed suggestions about the game, please feel free to tell us. We will make improvements based on your feedback. Thank you for your understanding and support. Wish you have a good day.
Contact developer :
Video :
Download Goddess Legion from Play Store
Leave your feedback regarding Goddess Legion
Get more android apps/games/updates
Subscribe to our mailing list and get new android apps / games and updates to your email inbox.
Thank you for subscribing.
Something went wrong.