[Game] Grow Heroes
 i am innocent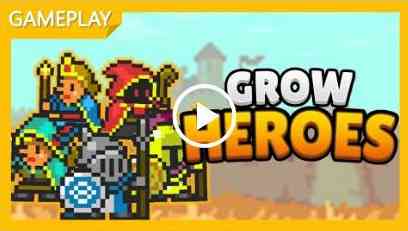 RPG game of retro style graphic is released.
Together with the warriors of Pixel World, they hunt the monsters of the dungeon and collect gold
Enhance your weapons and equipment!
Collect various artifacts and become stronger!
Game Features
Convenience to enjoy with one hand!
Powerful combat system – Conquer dungeons using skills, target attacks, potions, etc.
Optimized for automatic hunting and killing time!
Various skills according to hero
Reclaiming artifacts through reincarnation system
Strengthen, evolve, and upgrade your heroes.
Property Dungeons with Various Bosses
This game that dont need wifi and play offline without internet.
This version of the game is not a demo. it is a full edition
This game is pixelstar game 's retro rpg game!
Grow Heroes user reviews :
It's a fun time. I'd like it if they had a permanent money buff though. For real money I mean.
its very fun to play you should danloud it
Games like this are never really meant to be great. This one isn't as good as most. Biggest complaint is that progression is WAY too slow. It's the kind of game you play on the toilete for a year before your guys get noticably stronger. Upgrades are expensive and don't do much. There's way too many menus and currencies. There's a ton of upgrades, but at 1% per a shot. Pfft.
I like this cute little pixel game. Classic looking RPG. Issues I do have is it crashes a lot during game play or ads. Few spelling errors in the GUI. Sometimes the quests not work unless I am doing it wrong. Example is I have done the first dungeon several times and the quest for completing 1F (I think that is how it is called) is still 1/2. Along with the crashes being annoying, after a couple of minutes of the game running, most of the time it does not respond to my tapping anymore. I have to keep tapping something for it to work, like level up or ad watching, or until it crashes.
All in all amazing game. My only issue is that the knight and warrior i feel are inverted. I generally see knights are armoured more than warriors and would therefore have more health. Its not something that makes a difference i just thought i might let you know plus you people may see it in a different way
Love the game but switched to a new phone same account I lost what I paid for the skip add thing not happy
In short the game is fairly good. Nice old scool style of graphics, not to many ads, easy to use controles. If you was to add a way to earn skulls and gold when you are not playing the game i would rate 5 stars. Till then it will stay at a three star rating.
I like the game and almost everything is perfect but just one thing wrong…why does stage 100 have lvl 200 enemies? That makes zero sense when every stage is equal to the lvl of the enemy. Wouldn't that mean stage 100-199 doesn't exist?
more updates pls game is good but need some updates like more relic more quest and add skip stage relic and stage % rebirth return boring always go back to stage 1 and stages dont even skip takes too long to go 1000 stages again
Cool! Beter than Soda Dungeon. Onother Online and Offline game. Best game for busy people like me. Hope it will last.
This is a Wonderful Game! I Love it! I hope to see more content!
Best Game ever I like how u can use the skills and even heal your allies and revive them.
It's so boring like you just do some upgrades and stare and your pixel heroes battle on. You barely actually do anything.
It's a game about evolving hero's it has lots of things to do you kill even monsters There are also raids
I love pixel games and I recommend this game
PixelStar Games

Thank you!
Contact developer :
Video :
Download Grow Heroes from Play Store
Leave your feedback regarding Grow Heroes
Get more android apps/games/updates
Subscribe to our mailing list and get new android apps / games and updates to your email inbox.
Thank you for subscribing.
Something went wrong.