[Game] Guardian Girls – Astral Battle – Bullet Hell Shmup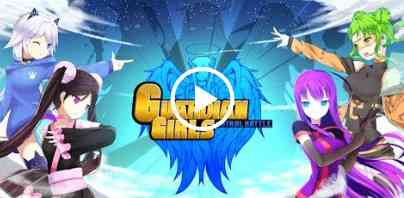 The world is attacked by monsters called Astral Spirits.
Play as Necta, Mikan, Mao, and Ghina and defend the earth by shooting all the Astral Spirits. Help the girls battle all the astral spirits.
Guardian Girls: Astral Battle is a simple shmup game with a lot of bullets (bullet hell). Player have to dodge the incoming bullets and enemies while shooting and destroy the enemies. You don't need internet and you can play this game offline.
Game Features:
Simple Shoot'em Up, move with your touch and shoot all the enemies
Bullet hell (Danmaku), let's see how you dodge all those bullets coming at your player
Cute anime girls, I know you like it ;)
Epic story, what's an anime game without a story? Find out what's really happening and why the Astral Spirits are attacking
Boss Fights, the minions are too easy? Don't worry there's a boss for every 10 levels in the game, with cool and challenging bullet patterns
Also see our list
Guardian Girls user reviews :
I tried it out, the developer abandoned the game and started making a new game, i feel kinda sad for this game, it's kinda ok, the Story is fine and funny but you need internet to defeat bosses because they are overpowered so yeahh I recommend you this game, there is no coupon codes try making one if you are reading this devs!
This game is actually a really great shmup. Very smooth, and I found deaths never feel cheap. The sound track is fairly good, the first act's track really sticks in my head. I'm really looking forward to seeing this game grow, as it stands i'd love to see a higher difficulty than the current hard, maybe some better sprites on the bosses and make the cool down for specials longer in the boss fights, at the moment you can just special spam your way through. Amazing game keep up the good work!
My only issue is that most skins give power ups like attack speed and power. What happens is the game sort of scales to these, so without them it becomes extremely challenging. Easy is fine without them but gl with hard mode. Skins can be bought with crystals, crystals can be purchased or grinded in game. This is fine, but I do wish they dropped more commonly. I assume people looking up these types of games know of Tohou SHMUPS, well this game is definitely inspired by those games.
Perfect! Moe~ girls and bullet hell go well together. Bought starter pack to support it just like Pandaclip. The voice needs a separate slider in the options. Thank you.
This game is not bad but not the best either. The gameplay feels like it really came from a bullet hell game which is great. Although, bosses are easily defeated because of the quick cooldown of the skills. The purple crystals are kinda hard to get and the lore is funny but needs to have character development. The art style of the villains is terrible compared to the heroes and the art of the start screen should be changed because the art is probably from the beta versions of the game.
the game is great the stages are amazing there's no problems in it like game breaking bugs but the story is really meh for me the only thing that's interesting is Mao with her hilarious 4th wall breaking both of the main characters dialogue is very bad for me atleast. over all great game I can't wait for more updates!
I LOVE IT!! THIS IS AN AMAZING SHOOTING GAME I PLAYED. THE CHARACTERS ARE BEAUTIFUL AND THE STORYLINE ARE WONDERFUL…. I HOPE THERE WILL BE AN UPDATE TO CHAPTER 3 AND THE NEW CHARACTER…. THANKS LOVE I
This a great little bullet hell, kind of easy even on hard though, reminds me a tiny bit of Touhou but still has its own flavour, an extra difficult mode with more hectic bullet patterns would be greatly appreciated, as i only find the bosses final boss challenging. The "fan service" (almost loli / hentai) is almost verging on distasteful though please dont pudg the lude aspect to any more lude then it already is as it will at that point begin to distract from the game, all in all its awesome.
Contact developer :
Video :
Download Guardian Girls from Play Store
Leave your feedback regarding Guardian Girls
Get more android apps/games/updates
Subscribe to our mailing list and get new android apps / games and updates to your email inbox.
Thank you for subscribing.
Something went wrong.