[Game] Gun Club 2
 free apps android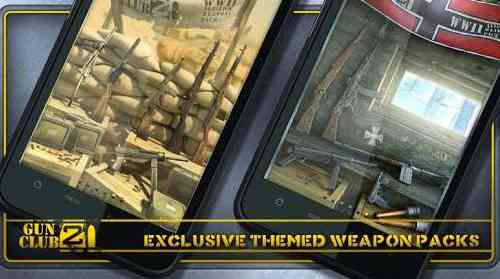 Welcome to Gun Club 2 — the most feature rich, graphically intense & technically accurate gun simulator — and it's finally available on Android!
Enjoy the jam-packed selection of interactive weaponry for free and find out for yourself why GUN CLUB 2 is the most downloaded gun simulator anywhere!
Update 2.0.0 introduces the free M1897 Trench Gun and AR 70/90 along with the new Pacific Theatre & Cartel Weapons packs the taking the total number of fully interactive weapons to over a massive 225!
Want more info on updates? Come join us on our forums at www.thebinarymill.com/forum/ or on Facebook at www.facebook.com/GunClubArmory
WEAPONS INCLUDED:
NEW M1897 Trench Gun
NEW AR 70/90 Rifle
PGM 338 Sniper Rifle
Ballistic Knife
9A91
Z43 Deer Rifle
SIG 552
Stechkin APS
M45
Arwen 37
Bazooka
H&K G3 Rifle
.50 Cal Flintlock Pistol
M4A1 SOF CQB Rifle
ACR Rifle
LR308 Rifle
Colt 1860 Pistol
H&K P8
Springfield 1903
M203 Grenade Launcher
TDI Vector
Glock 18 Pistol
SPAS-12 Shotgun
M60-E Machine Gun
M1911 Pistol
Colt 1911 Pistol
Colt Python .45 Magnum Revolver
Desert Eagle Hand Gun
MP5 Sub-Machine Gun
Mac-10 Machine Pistol
M-16A2 Machine Gun
AK-47 Battle Rifle
ARX-160 Assault Rifle
Remington 870 Shotgun
Chainsaw
Vulcan Minigun
More guns and weapon packs added every week!
ALL WEAPONS ARE FULLY INTERACTIVE AND FEATURE:
Shell discharge (full and empty)
Both unique sides of every weapon
Firing mechanic
Recoil animation
Muzzle flash / Flames & smoke
Reload animations
Real-time clip, gauge and magazine feedback
Auto / semi-auto fire modes where applicable
Zoom & free-look mode to examine each weapon closely
Authentic sound recordings for all actions
Detailed instructions on how to use each weapon
Also exclusive to GUN CLUB 2, custom-created themed weapon packs that explore dedicated weaponry associated with an era, special forces group or other specialisation. We currently offer:
URBAN WARFARE PACK
AS50 Sniper Rifle
M27 IAR Assault Rifle
PSG 1 Sniper Rifle
Striker Shotgun
TMP Machine Pistol
USAS-12 Automatic Shotgun
VSS Vintorez SMG
XM-8 Experimental Rifle
NORTH VIETNAM PACK
K50M SMG
M1895 Pistol
MAT-49 SMG
PPS43 SMG
RDG5 Grenade
RPD LMG
Strela 2 Anti-Aircraft Launcher
TT-33 Pistol
Vz58 Assault Rifle
SOUTH VIETNAM PACK
Ithaca Shotgun
M1 Carbine
M2 Flamethrower
M3A1 Tactical Sub-Machine Gun
M18A1 Claymore Mine
M21 Rifle
M26 Grenade
M1911A1 Pistol
M1919A6 Machine Gun
NAVY SEALS PACK
Mk11Mod0
Mk18Mod0
Mk43Mod0
USP
MP5SD3
M14 SOCOM
Mossberg 590A1
M1014 Tactical
RUSSIAN RAIL PACK
Mosin Nagant 1819/30
SKS Carbine
DP-28
ZPU-4 AA Gun
21-K 45mm AA Gun
M1942 ZIS-3
Maxim M4
ML20 Howitzer
AZP S-60
M1915 305mm Howitzer
SAS PACK
Browning Hi Power Pistol
FGM-148 Javelin
G36C Sub-Machine Gun
L85A2 Rifle
L115A3 Rifle
M16A4 Rifle
M870 Tactical Shotgun
Mac-11 Machine Pistol
PIRATE PACK
1777 Corrige Flintlock Rifle
Blunderbuss
Bomb
Cannon
Brown Bess Musket
Double Barrel Flintlock
Pocket Flintlock Pistol
Navy Flintlock Pistol
COAST GUARD PACK
GMG Automatic grenade Launcher
M2 Browning
M14 EBR
M79 "Thumper"
M870 Shotgun
Mk38 Bushmaster
MP5K SMG
P226 Pistol
OVERWATCH PACK
L/60 Bofors Cannon
GAU 2/A Minigun
GAU12/U Equalizer
M72 LAW
M102 Howitzer
M120 Mortar
MK 12 MOD 1 SPR
Too many to list here, check out our website for more info!
PACIFIC THEATRE PACK
CARTEL PACK
MARKSMAN PACK
SPETSNAZ 2 PACK
SPETSNAZ 1 PACK
HUNTING PACK
MERCENARY PACK
WESTERN PACK
PISTOL PACK
SPECIAL OPS WEAPON PACK
MODERN WEAPON PACK
S.W.A.T. WEAPON PACK
WWII ALLIED WEAPON PACK
WWII AXIS WEAPON PACK
HEAVY WEAPON PACK
Download the greatest gunapp available for free today!
Gun Club 2 user reviews :
Fun game I like it very much it is afun game to pass the time however an issue I have is when you're trying to play with a sniper rifle and you're trying to return the bolt downward and you accidentally eject the mag please remove the slide down to remove mag option from the sniper rifles binary mill
The common issue is losing your packs. YOU DONT NEED TO REPAY! JUST CLICK GOOGLE CHECKOUT, no payment processing will appear, it just gives u the guns
The only thing that I really like about this app is the variety of weapons, especially the artillery. However the controls for many of the weapons are either too sensitive or too insensitive. For example the f1 grenade to my knowledge doesn't work at all and the app doesn't offer help for the grenade either. And the graphics lag far behind other gun apps.
Contact developer :
Video :
Download Gun Club 2 from Play Store
Leave your feedback regarding Gun Club 2
Get more android apps/games/updates
Subscribe to our mailing list and get new android apps / games and updates to your email inbox.
Thank you for subscribing.
Something went wrong.