[Game] Herobots – Build to Battle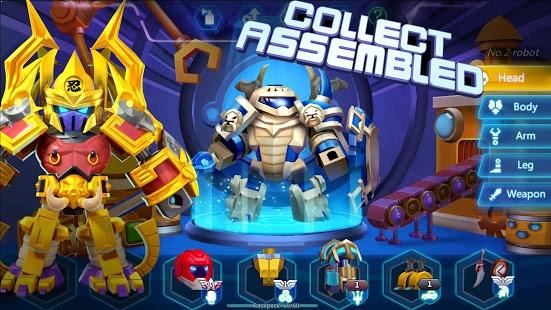 Herobots : UNIQUE ASSEMBLY SYSTEM
Thousands of different shapes, different materials parts. Ninja, Pharaoh,Spartan, boxer, Sun Wukong, Panda, demons, etc. and so on. Coupled with personalized coloring, you can easily create the world's only robot!
UNIQUE ACTION GAME:
From the core of the action game, the "attack" and "dodge" play to the limit, concentrate on the players to create a true action game! At the same time, we optimize the operation is extremely simple and easy to use: only click and swiping screen two operations!
ANYTIME TO CHALLENGE THE GLOBAL PLAYERS:
Not only to enhance their global rankings, but also to win the opponent's players parts, money, chips, crystal and experience blocks. These are all to strengthen their robots most useful items, the more the better!
EXTREMELY RICH SYSTEM AND GAMEPLAY:
A variety of different weapons, with their different combos rhythm, dodge time, Charge attack and super kill, fighting is a completely different experience, you can according to their own preferences and the characteristics of BOSS, select the appropriate weapons
EXTREMELY RICH GAME CONTENT:
More than 300 different levels, there are a lot of copies, activities, tasks, etc.,so that the game is very resistant to play, fighting is always full of freshness!
GUILD WAR IS FULL OF STRATEGIC:
All members through donation, together to develop their own super giant of Guild! Select the player, select opponents, a reasonable attack, etc., so that the battle is full of strategic
Herobots user reviews :
seemed like a good game played for awhile but not nearly enough ways to make gold coins to perform upgrades and when you are saving up money and it takes awhile onces your robots parts get to lvl 20, other players can attack your base and steal it all away. oh but you can take revenge. … no you can't everyone is like 1000 points stronger then my robot, so I have no hope in hell of defeating them. it gets pointless and becomes a giant waste of time. I would not bother with this game.
i played this game a few years ago when it was only available on Windows phone. hero bots is fun. it may seem like its taking forever to level your bots up, but thats because its creatively designed so as to always keeps the user engaged and stimulated. One thing that needs changed, when youre winning a battle and time runs out, the one winning should win. its not fair to lose when youre ahead just because time runs out. fix it.
It is a fun game. Nvr played anythibg like it. Everyone should agree with me who rated it at least 4 or more stars.
Wow! Amazing game…Control is great! but maybe need to add button for dodge and skill, so player can manuvering easily. Graphics was great, maybe need some polished..but the customize system is awesome! Nowadays is very few games that letting you make your own robot.
June 3, 2017

Thanks for your supporting!
While the game has serious potential, there are some flaws. 1st there are many words spelled wrong or used incorrectly and being an English speaking american, that is soooo annoying. Lastly, some camera angle shots are way off. But the game is most fun.
June 4, 2017

Thanks for your supporting! We will hiring more professional worker to translate in the future.
This is superb game but plz add a option for choosing opponent bcuz many time's this give so much powerful opponent that you have to give up and plz remove this energy system.
Contact developer :
Video :
Download Herobots from Play Store
Leave your feedback regarding Herobots
Get more android apps/games/updates
Subscribe to our mailing list and get new android apps / games and updates to your email inbox.
Thank you for subscribing.
Something went wrong.