[Game] Horde Defense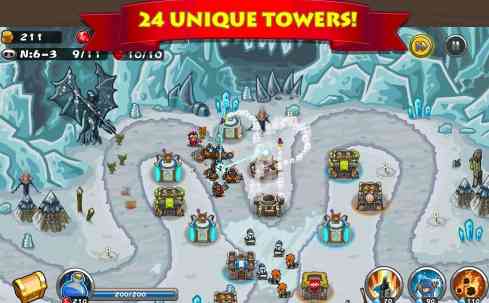 Horde TD: The best strategy/arcade castle/tower hero defense ever!
Commander, our clan is in great danger which we've never faced! You must face the forces of Darkness and stop the Fire Lord before he acts on his terrible schemes! Build your defense and stop them now!
Powerful Towers:
8 special tower skills! Multishot, Revive, Missiles…
Fantastic Props:
There are 4 fantastic props for you. They can be good options no matter you want to destroy all enemies or just heal yourself.
Merciless boss fights:
Fight with 8 bosses in Great Plains, Ice Fields, Deserts and Dungeons using variety of defense strategies and skills!
Hard Mode:
Intense boss fights! Are you up for a real challenge? Go with Hard mode!
Mission Mode:
There are 20 different challenging missions, different ways of playing, gathering, protecting, attacking and more!
Endless Mode:
Facing endless waves of monsters, how long can you survive?
Features:
3 unique skills including Warrior, Mage & Firerain
4 gorgeous props which help you turning defeat into victory
8 bosses
12 epic battlefields
24 powerful towers
27 monsters
30 achievements
90+ challenging levels
And more…
You may also like
Horde Defense user reviews :
Played the game for maybe a total of just 2 hours. It is however just the game I was looking for. A game where you defend invaders coming from one side of a map to the other side of the map, using upgradable soldiers with different abilities. I especially like the difficulty level adjustability. Hope to have more fun along the gameplay
FREAKING AWESOME TOWER DEFENSE GAME!!I love it. I did buy a couple gem packs they offered a really good deal after playing a few levels. I got the 30 dollar feel pack for 3 bucks. I couldn't pass that up. Overall I love this game. get it now why you waiting!!
They offered me 500 gems to give them 5star so I did. But in all honesty, it is a super fun game, if you like tower defense, this is actually super awesome!!!! Trust me, I love tower defense and this one has m locked down!! Enjoy and good defending!!!
For what it is it has been quite fun and engaging. Difficulty scaled quickly enough to keep my interest.
Game is great. Careful when you do the surveys for free rubies a lot them do not pay out so its a waste of time, especially a survey from gimmemore avoid that one at all costs.
Spare yourself the aggravation and just hand over your wallet right now. Not that it will do you any good. Theyve designed it so that no matter what, you nees to buy more. And dont be fooled by the high rating. The beggar devs give five hundred rubies to anyone that rates five stars. Too bad five hundred rubies are only worth about half a cent in this game.
Very simular to other tower defence games, which I like. Fun game play, nice graphics and smooth transition from different levels.
Good game. Lots of repetitive scenarios to get rubies to level if you dont coin. Over very good game
The upgrade game is really cool it is ×12 better than kingdom rush and I will enjoy unlocking my achievements which becomes a goal for me thank you
Great easy games so far very reminiscent of kingdom clash but different enough to make its own
Great game. But the surprise ads are killing it.
Great game with solid progression… love the mission mode
Pretty challenging gaming if you dont spend money. I like it
Very Very fun tower game lots of potential
Good game. My biggest issue is that there is no way to tell if I can't beat a level because I'm using the wrong strategy or I don't have enough resources to skill up the proper towers needed. It takes the satisfaction of winning by strategy out of the equation bc skilling towers makes the levels easier.
One of the best TD on playstore. Worth providing 2.99 for the add free. Alot of variable with the towers leveling system. Would like to see a refound system to trie different setup. Maybe a hero system could be fun also. An awsome over all TD
Contact developer :
Download Horde Defense from Play Store
Leave your feedback regarding Horde Defense
Get more android apps/games/updates
Subscribe to our mailing list and get new android apps / games and updates to your email inbox.
Thank you for subscribing.
Something went wrong.