[Game] Hunters League – The story of weapon masters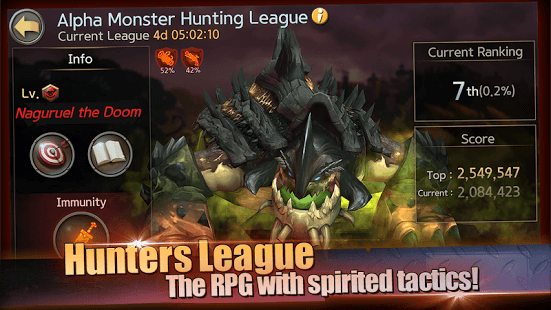 Hunters League Hunters League : No more dull autoplay!
Real-time active auto control action at your fingertips.
The team action control to command the entire team at once.
Switching weapons to let you switch characters roles and tactics.
The story of weapon collectors and masters!
The adventure and challenge to lead your hunter team to the best! ◈
The best Hunter team led by you, the master!
Increase your honor and wealth at the same time as you fight monsters widespread throughout the continent.
Race to race the best Hunter team!
Win a race of honor and fortune by hunting powerful monsters, including wanted monsters.
27 weapons, what weapons to choose?
The most important thing for Hunter is the weapon! Hunter's characteristics and roles vary depending on which Hunter is equipped with which weapon. Win with your own weapon selection and strategy.
Actions and roles that change according to weapon evolution
As well as weapon selection, each time you evolve your weapon, your Hunter's actions and combat features and roles are changed and enhanced. Please check the change and strength with your own eyes.
Team! team! team!
As a master, choose which hunters to team with, and see how they fight with collective and individual intelligence into one team in a real-time battle. All of this is optimized through our own BlueBrain AI engine.
Active team action/ control with simple gestures
Masters can command action controls such as moving/ enemy targeting/ dodging/ holding all the team or each hunter at any time with a simple finger gesture. The falling rock trap is difficult to dodge without the help of you, the master.
Collaboration is the best weapon!
The three Hunter characters in one team, when using 'Collabo Skill', perform an exhilarating collaborative attack that pierces together after the moment of the each consecutive critical attack. Check out the Collabo Skill' with your eyes!
Enjoy various PVP!
The battle between the Hunter teams led by the Hunter masters! Challenge the strongest players in the Arena and Resources War!
Attack monsters with your own pool of tactics!
Monsters of the race(competition) / Dungeon / Boss Challenge change every day and so should your tactics according to that change.
Low-spec High-quality 3D hand-drawing graphics into well-made Hunter Team Action RPG!
Depending on various skins, Hunter character's appearance change as well!
Meet unrivaled 3D hand-drawing art graphics right now~!
Permissions Notice
Necessary Permissions
Access to Photos, Media, Files on your device : Need this permission to read files necessary file to start the game
Necessary Permissions below Android 6.0
Address Book :Need this permission to verify Google account through log-in
(Unnecessary for Android 6.0 or more)
Permission Cancel
Android 6.0 or more : Setting > Application Manager > (Select the app) > Permissions > Possible to cancel permissions
Android 6.0 below : Impossible to cancel permissions so you can delete the app to do so
For more information:
www.facebook.com/HuntersLeagueGlobal
OolBlue Customer Service:
oolbluehelp.zendesk.com/hc/en-us
1 on 1 request:
oolbluehelp.zendesk.com/hc/en-us/requests/new
m.me/HuntersLeagueGlobal
Hunters League user reviews :
You need to give this game a try. Has a touch of everything to it. Style, reflexes, strategy, customization. Not your average hero brawler, this game rises above them all in a whole lot of ways. Oozes charm in everything from the loading screen art to the boss intros. Translation is a little rough bit but in a cute way that doesnt impede you playing. Wish the devs nothing but success with this.
This game have some kind vip system,the good news is its able to gain without paying anything. This game also completely fair for non pay4win and pay4win player,the different just a time. That the reason I give high star. But.. when your team lv is 18 gameplay escalated quickly. Suddenly your current map boss lvl is 21. And next area require lv 24. So.. enjoy the darkness side of this game. Anyway.. still better than other pay4win gamr.
Contact developer :
Video :
Download Hunters League from Play Store
Leave your feedback regarding Hunters League
Get more android apps/games/updates
Subscribe to our mailing list and get new android apps / games and updates to your email inbox.
Thank you for subscribing.
Something went wrong.