[Game] Hyde and Seek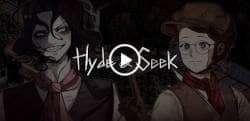 A story-based board game you experience with a set of dice and fistfights!
Kate, the 'London's Flaming Fist,' is waiting for you to join her exciting adventure!
Game Features
Hyde-and-Seek for the Truth in 19th Century London
'Kate,' who becomes one of the wanted criminals overnight, disguises herself as a man and runs away.
Will she be able to reveal the unimaginably horrific secret surrounding her,
escape from the gangsters, and return to her dear Dr. Jekyll's laboratory?
The final result depends on your choices!
The Story Unfolds on the Game Board
Enjoy Kate's adventure story as you play the board game.
You must use your cards to move her so she can reach her destination within the time limit.
This is the only way Kate can continue her adventure!
Talk with the people on the streets to make a better decision, and collect your bonus!
You might even come across formidable enemies…!
Thrilling Card Battles
Use flasks, punch or kick the enemies to defeat them!
Merge and collect cards for your battles!
Defeat more enemies, or stronger enemies, to get better rewards!
A game of Hyde & Seek that revolves around Kate's experiment, Dr. Jekyll, and the gangsters.
Check out the results of the experiment for yourself!
You may also like
Hyde and Seek user reviews :
It's a great game, i understand that people who aren't familiar with a ticket system would think it takes too long to play because you need to wait for the tickets to recharge but it doesn't bother me a lot, the characters are interesting and i'm happy i get to see them again after so long! It's always nice to play a new mazm release, i'm always looking forward to your new projects i def recommend
Still just ok, since this game "asks" you for money at every turn. You need to spend money to upgrade your cards to premium level, you're forced to watch lots of ads, and you can only play 6 levels a day, or you need to purchase more tickets to play on. If it were just ads alone, it would be bearable. If it were just needing to buy tickets, it would he bearable. If it were just needing to pay to upgrade your cards and abilities, it would be bearable. All 3 together..not so much.
MazM (Story Games, Adventure)

Thank you for playing the game. Your valuable feedback will be highly appreciated.
Playing the game after the first update and thoroughly enjoying it. The puzzle board and cutscene sprites remind me of Don't Starve and Professor Layton, with animated 2D models and detailed environments to boot! I pre-registered because I was hoping for a puzzle game with unique art and a satisfactory story, and so far this seems like it. (The puzzle combat mechanics are an added bonus.) I'm very gripped, and I'm glad to have found this so early. Already paid to remove ads for immersion!
Day 1 review – Love the story, for the time being; the art style is very appealing; the gameplay is simple and easy; and the music and sound design is wonderful. I would prefer to have more in-game energy more quickly to advance through the game and story more; however, I can wait for a day to continue. The ads start appearing at around Stage 4, if I recall correctly, and are only either short or skippable, so it doesn't intrude too much. If the story holds up, I can recommend this to friends.
Really fun game with an interesting premise and story along side excellent visuals. My only issues are the tutorial needs to be a bit quicker when waiting for the next and close spots, and the ticket regen is horrible even after paying to remove the ads. If the tickets can either have a faster timer or at least up to 10 tickets at least for those who pay to remove ads before the regen,that'll make it a much better experience.
MazM (Story Games, Adventure)

Thanks for your feedback. We will consider adjusting the ticket regeneration time as soon as possible.
Interesting game. Beautiful cards. Captivating story. Smooth gameplay. Instructions on signposts, purple/yellow tiles could be given the first time you encounter them. Limited cards without spending. Watching one ad per round is excessive. Bought 1 card pack just to get rid of the ads. (edit: Devs changed the ticket recharge from 24h to 6h which is great! Would go up by 0.5 stars if I could!) Can't help but to compare this with night of the full moon.
Really enjoying this game so far. Haven't seen any ads yet and it's definitely unique. It takes hours to get a ticket but I can understand that. It's a new game with a story.. I don't mind cause then I can enjoy the story more. What I DIDNT like, was using one of my tickets for story and no board play.
Contact developer :
Download Hyde and Seek from Play Store
Leave your feedback regarding Hyde and Seek
Get more android apps/games/updates
Subscribe to our mailing list and get new android apps / games and updates to your email inbox.
Thank you for subscribing.
Something went wrong.