[App] King Oddball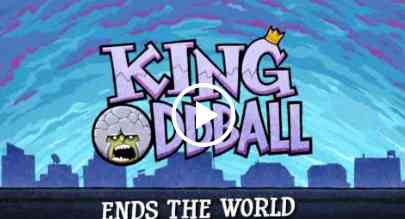 King Oddball : Blow up tanks and helicopters, squash puny humans, and collapse massive structures! Hurl boulders until nothing remains!
End the world with boulders! The King swings a boulder back and forth with his tongue and you get to release it by tapping on the screen. Time the release accurately and crush as many targets as possible with each boulder. Simple, but surprisingly addicting!
You'll get shiny extra boulders when crushing three or more targets with a single throw. To master the game you need to anticipate how boulders roll, bounce, and launch from explosions. Take advantage of collapsing structures too!
Conquer the world by defeating the humans in more than 120 fun and increasingly challenging levels!
FEATURES
– Single tap gameplay: easy to learn!
– Earth shaking massive physics action
– More than 120 levels + secrets!
– 15 achievements
– Eccentric art style
– Original music by Jonathan Geer
King Oddball user reviews :
Game can be fun and challenging, but ads are disproportionate to gameplay. Got old quickly and I deleted it. If you don't mind 30 second ads for 30 seconds of gameplay, this is your game.
I very interesting and addictive take on angry birds style of games, i own this on my PS4 and played it for dozens of hours, so i had to get in on my phone. Here's hoping for a sequel! Great simple addictive fun.
Odd for sure. But oddly satisfying as well. "Huzzah!" for KingOddball!
I've been playing this game for a very long time. Sometimes I love it, sometimes I hate it, I can't stop playing this damn game.. Addicted to KingOddball.
I used to play this game on my Nokia N8 with Symbian Belle. Was a lotta fun, still is. Especially haven't forgotten about the music. This game is dear to me.
Excellent game. Very challenging. Got through the first world map, and almost completed the 3 extras. How do I get to the secret world??
Basically angry birds, but with frequent mandatory 30 second ads, even when you are just retrying a level
This game is great. Ive played it for years. The ads are a pain but none the less its just a fun game
It is great I remember this game played it all the Time if you do not like it you are bot
Good fun game, ideal for short bursts of play
It's fn awesome and I've been waiting on "king oddball 2". What's the hold up. Let me know if there's a 2 in the mix or not please. Thanks and great game. Hours n hours of down time fun.
This game is very very very nice I love to play kingoddball
this game is awsome!!!! and i found the secret stach!
Fun take on angry birds-type projectile/destruction physics.
Just finished the game!!!!! One of the best games I have ever played!!!!!! Helped me in stress!!!!! Thaaannnkkk you tons!!!!!!!
FIX THE MUSIC! I love this game but PLEASE FIX THE MUSIC BUG! It's still not working properly. I bought this game on my phone, Galaxy Note 8, even though I finished it on my PlayStation. The music cuts out between retries, levels, and menus. I have to minimize the game and expand for it to play and sometimes even that doesn't work. The music is a huge part of the game and when it's not there the game just feels wrong. Please fix it! FIX THE MUSIC !!
I loved this game on my friends PS4. Now I discover its on mobile. *God's plan starts playing*
I love this game really fun, challenging and addicting, but recently the music has been stopping in game. Even after the update said to fix this problem it still happens to me not sure why.
The whole screen ad is a bit too disturbing at times.
This is by far the best tongue slinger game ever!
Contact developer :
Video:
Download King Oddball from Play Store
Leave your feedback regarding King Oddball
Get more android apps/games/updates
Subscribe to our mailing list and get new android apps / games and updates to your email inbox.
Thank you for subscribing.
Something went wrong.