[Game] Kuma Sushi Bar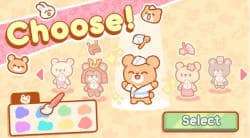 These paws are made for slicing… sushi!
Welcome to your new Kuma Sushi Bar! Join the tiny and adorable Kumaki on his endearing adventure to learn all about the ancient mysteries of sushi-craft, as he takes upon his family legacy!
New at management? Surely things will run smoothly with extra helping paws! Hire from a pool of well-intentioned animal weirdos to help you to run the restaurant as you decorate it to fulfill your (or your clients') specific tastes. Maki this café into your home!
Practice makes perfect! Be sure to check on your restaurant every day to progress on your sushi skills, level up the status of your restaurant, and learn more about your staff's outlandish life stories!
Are you ready to become a top Sushi chef?!
You may also like
Kuma Sushi Bar user reviews :
The game itself is really cute and fun to play but there's this bug where when I played the game again to finish my tasks, after i done cooking, the game got freezed. There's nothing wrong with my storage or internet either so i think it's a bug. Please fix this bug and I'll give a higher rating.
This game is awesome, but too many timer! But it's good anyway love it!
Ilove 5his game! But i dont like how it dosent let me whach adds and it tacks a bit to get the fenicher cuz i cant get adds
I like the concept but why are there so many timers? It really interrupts the flow of the game
Some ads couldn't be played. I couldn't interact with characters with bubble text who show up after watching ads. Nyanko is gone?
hiyaahhhhh so much time you have to wait. i could go to mexico and come back but still not repaired my restaurant. time gated game
Nice design and concept, but too many ads, almost feels like the game is about ads instead of a sushi bar. Need to improve the techniques.
This is cute and fun game.. I rate it 4 becues ther are adds on the way..but i think if i turn off the data there will be no more adds i like it its pretty fun to play with
The game is really good like I-DLE's songs. Stream Tomboy on march 14, 6pm kst
so far illustrations are cute! but the cool down time for flyers and recovery timer takes too long. but so far enjoying this game
Super duper cute.Although im rating this game 5 stars,i dont like it when theres no costumers
Game was literally made so you spend more time watching ads rather than playing it
This game needs better tutorial. I can't find option for buying the new outfit. Storage for some revord items couldn't hurt also.
The game is very cute but it can only be played for a short while before you're hit with a timer for making sushi or for repairing furniture or for attracting customers… unless you watch ads. The tasks are also hard to complete unless you, once again, watch ads because if, for example, you need to buy an outfit, and you don't have one unlocked, then you need to watch ads to get the crane to watch and ad to unlock an outfit to buy
I likes the game. But i hope it fix the ads. Everytime I want to watch an ads, the npc just walk away.
It's cute, yes but it's just timers on timers. The core gameplay should be making the sushi only you make 2 sushi and then you wait for some unspecified time while ur chef sleeps. So all you do is call in guests and serve them until even that runs out. There is almost no time when both the chef is awake and you're able to call in guests so you don't end up making any sushi. Also no cloud saves so your progress is deleted if u uninstall the game and all upgrades require premium currency
This is a very fun game everything is just sooo cute but it would be better if there would be more dishes.
Looks cute, but I can't get past the screen where you have to make the first sushi
It's a Super Super fun Game! I've been waiting for it to come out for so long! And from my Experience in 24 hours I can just show it to more People!
Fun game to past time,only wish that the chef character doesnt have a timer.. i prefer cooking manually for my customer..
It's really cute, but I don't get the 20 minute cooldown on the flyer. It seems to serve no purpose and it's extremely annoying.
Contact developer :
Download Kuma Sushi Bar from Play Store
Leave your feedback regarding Kuma Sushi Bar
Get more android apps/games/updates
Subscribe to our mailing list and get new android apps / games and updates to your email inbox.
Thank you for subscribing.
Something went wrong.