[Game] Legend of Heroes – Eternal Arena
 free android apps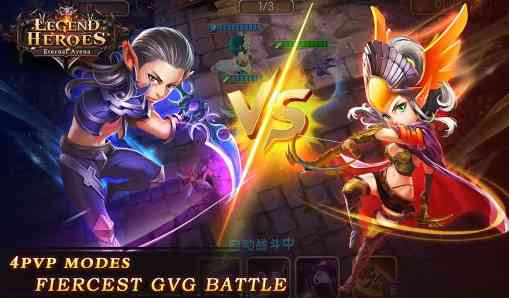 Legend of Heroes : This ancient land is full of blood and rancidity.
The devils hunt humans and convert them into demon. Watching the devastating tragedy, survivors formed a team to hunt demons and save other survivors. From then on, the heroes started an endless fighting with devils…
Features:
3D Real-Time Micro-operation&Strategic RPG, combine classic MOBA operation (click to move) and automatic combat system. You can choose freely to become an operational master or just a labour-free player. NEVER PAY TO WIN!
70+ heroes with different abilities, more than 100 gorgeous skills, and over 1,000 hero Lineups.
Exquisite 3D characters and scenes, a strong sense of percussion, and gorgeous skill effects… All will bring you a cool immersive experience.
PVP:
10s online Real-time matching, fast battle in 3 minutes, and competing with global players. Conquering the whole legend world!
Individual battle:
Arena:Compete with global players anytime, anywhere.
Honor Battlefield:Real-Time matching with global online players and win the highest honor by strength.
Mine War:You can capture other players' resources after defeat them through "Plunder" or "Occupy".
Team battle:
World Boss:Working with worldwide players to challenge the super powerful devil. Win rare rewards!
Guild war:Fight against other guilds with guild members and become the leaderboard.
Guild Boss: Join a guild and kill the powerful guild bosses one by one with guild members.
Real-time Colosseum:Match teammates and enemies online in real time, starting a 2V2 team battle NOW!
PVE:
Nearly 30 main-line chapters, more than 400 well-designed stages. Build an epic hunting team right now!
Adventure:Divided into common and elite, passing different dungeons, getting rewards of different value. A secret you should know, there are some hidden stages, will you find it?
Material: You can obtain different props and resources required for hero growth by challenging the "guild raid", "hero trial", "guild raid", "devil's treasure", and "ancient relics".
Hero Cultivation:
Training your hero through "Advanced","Boost","Skill","Talent" and "Artifact", combining with multiple powerful lineups to build your super epic team!
Idle:
When you AFK, choose the "Mercernary Camp", your heroes will automatically fight and explore everywhere of the game world, and bring you rich loots.
The war is coming…Are you ready to start a legendary hero journey today? Download for FREE!
Any questions or issues with the free 3D Real-time RPG adventure game from Legend of Heroes:Eternal Arena, welcome to reach us:
Email:support[at]moyegame.com
Facebook Fanpage: www.facebook.com/LegendHeroesEA/
Facebook Group: www.facebook.com/groups/2452756298308070/
Legend of Heroes user reviews :
I know that this is an unusual game, with unique gameplay, extraordinary creativity, and an unimaginable brain. It is a must-have when you are idle and idle, but there are still problems with style and sound effects, but I still like it I hope this game gets better and better
The screen is relatively simple and easy to understand, that is, you can add some functions and continue to work hard. The early stage will be very busy, because the gameplay is really many. . . It 's okay if I get familiar with it later
There are many rewards to receive every day. The content is novel, the gameplay is fun, and the upgrade is fast. At first it seems that it is very simple to play monsters, and it will gradually increase the difficulty. It is challenging to play!
The operation method of this game is simple and convenient. You only need to click to complete the release of skills. At the same time, many offensive methods can be achieved through the combination of moves.
I have always been fond of card games. I started to think that it is the same as most card games. After slowly playing it, I became more and more addicted and integrated many kinds of gameplay. Good!
This game is very good. There are some advantages to the gold medal, but civilian players have developed well in the early stage. I personally recommend the first charge of 6 yuan.
Contact developer :
Video :
Download Legend of Heroes from Play Store
Leave your feedback regarding Legend of Heroes
Get more android apps/games/updates
Subscribe to our mailing list and get new android apps / games and updates to your email inbox.
Thank you for subscribing.
Something went wrong.