[Game] Magical Paws 2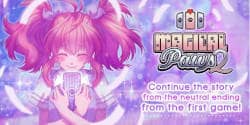 Two years after the events of the Magical Paws 1, Hikari reunites again with the three cards, but she can't remember them.
However, a mysterious person shows her a great amount of new cards and asks her to help him in a task that only she can do.
Will she succeed? Will she remember Ren, Toshio, and Hiroshi if she does it?
Maybe she will find something else that just friendship with these new cards…
Important!
It's neccesary to play the "Magical Paws 1" app to understand and enjoy this story.
The story continues from the neutral ending of any of the three routes in the last game.
There are more than 10 new routes to play.
The game is episodic. Follow us in our social media and websites to get all the latest info on new releases!
From Visuki we create stories that can not only focus on romance, but also give warm messages to never give up.
We want you to be able to get something more than just a love story. We want you to be able to identify yourself with a protagonist who, despite the difficulties, can always find a way to move forward.
Web: www.visuki.com
Twitter: www.twitter.com/visuki_otomes
Instagram: www.instagram.com/visuki_otomes
Youtube:  www.youtube.com/channel/UCWeliQVsYZ0UCGMyOUpyUkQ
Wattpad:  www.wattpad.com/user/VisukiOtomes
Twitter (English):  twitter.com/visuki_english
You may also like
Magical Paws 2 user reviews :
I love the game and don't mind waiting for chapter updates, but my only issue is how rough the translation. It either doesn't make sense or fumbles a character pronouns, making the it harder to tell what's going on or who's talking to who.
I love this game its really addictive. And I also like getting the images they're cute. I can't wait for the next part on chapter 6
Damm this so amazing I'm in love this and I love Ren and the ending is so good but please I'm crying because I thought Ren well come back I'm so crying but that's okay
I really like the story! I see a huge improvement in the art as well. Im looking forward to new chapters. The only thing I would suggest is to lower the coin prices of each chapter, since 10 ads each (newest) chapter is a lot imo, but thats all!
This game is AWESOME! If you play one chapter, you will play another. It's so addictive! The images are cute, the English is a lil sloppy but otherwise everything's perfect!!
I really love magical paws.But please make it offline just like magical paws 1.If you could change it,I probably could give you 5 star.But,please keep making this kind of game.It's really great to have this kind of game that rarely don't have to pay.Love you Visuki
Everything got upgraded, I'm loving it so much. I spent few hours watching ads to unlock Toshio's special scenes but it was so worth it~ The price for the coins is very very cheap too, don't listen to the ones complaining. Creating such a beautiful game is not easy, it takes time and energy and it should not be taken for granted. Playing the 1st chapter was fairly smooth but no matter how much I try, I can't get past the 2nd one and I played 4 times now, please help me TT
Visuki

Hi n.n Try this: A B B B A C A B A B D
So I have been playing this game for a long time and it's absolutely amazing! But I had a problem with load/save feature. I had to switch devices at one point and after that whenever I save the progress and open the app again it reverts back to chapter 1.. And yes I am logged in. Please help me with this issue. I like playing this game and I don't want to lose my progress everytime I open the app. Thank you!
Visuki

Hi n.n first you need internet connection. And then you need to save the game more than one time to ensure the saving data progress. Sorry for the inconveniences. The next update will fix this!!!
I really loved the game ! Specially that we got the opportunity to play it without the need to pay for each episode , i really liked the characters and the story line :-) , but there is only one problem is I can't get passed the first chapter even though I tried all choices I keep having a bad end :,-(((
Visuki

Try this choices: C A B B A A C C A A A B C B B n.n
The game had amazing graphics! Everything was very detailed, it got better when I saw the cards which had different animals & that their personalities were pretty charming and silly. There were even more options than before. And it was an improvement from the last game. I'm excited for the next chapter of it. I absolutely connot wait!
Its a really good story and i love how much the art has improved ! I played the first game years ago and just found this one so im glad! Although im having a lot of trouble getting through the first chapter ;3; i always unlock one image but still fail TwT. Do you have any guides or tips on any social media i can follow ? Anyway congrats on making another great game ! nwn
Contact developer :
Download Magical Paws 2 from Play Store
Leave your feedback regarding Magical Paws 2
Get more android apps/games/updates
Subscribe to our mailing list and get new android apps / games and updates to your email inbox.
Thank you for subscribing.
Something went wrong.