[Game] Marble Luxor Classic
 creative destruction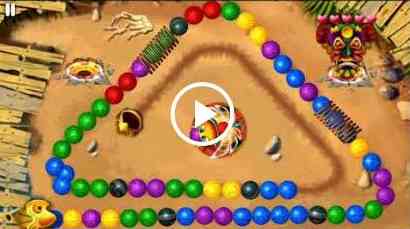 Experience the magic of Marble Luxor Classic with this new MARBLE SHOOT GAME!
This marble Luxor Classic shooting game that incorporates color blast puzzle solving skills into a magic quest! Download this marble game free of charge today!
How To Play Luxor Classic:
Match 3 marbles or more of the same color and create a magic blast to pop those marbles! Collect and use special magic blast powers-ups like the Thunderbolt or Shockwave and blast marbles away on your magical quest!
If you're looking for a free quest game that will relieve stress, This classic is the best game for you. This is a great game to play with friends or as great games for kids.
Play to discover even more outstanding features!
Boss levels: will you manage to create a gap and defeat Desmond?
Decorate your Garden with magic lantern, flowers, magic mushrooms & more!
Spectacular, power-up boosters! Play marble games and unlock them all.
Many deluxe powers to discover! Create combos to get amazing power-ups.
Amazing game graphics
Thanks every game players! Any suggestion is welcome with Marble Classic
Marble Luxor Classic user reviews :
Fun, but lots of annoying ads. You can't even pause the game without watching an ad first. I'm uninstalling because of a glitch where I watch the 30 second ad in order to back up my marbles, but they back all the way up into the cave never to come out again. Not only did I watch the first ad, but now I have to watch another just to restart the game. Happened one too many times.
I want to give u more stars but i got an endless level on level 20.the star indicator doesnt move and i stuck there.
Really good game. Not as many ads as other games.
I love this awesome get-away; ease your mind kinda game, and it's just right for me!
Played the first luxor years ago. Great to see that it's still around.
After pressing one color ball when it reaches the color change. So we loose
Ive always enjoyed this game. Its little different then the original Luxor
very exciting and easy like this game and its new..
Good graphics but that's it, I find to change the colour of the ball too fiddly and more often shoots the wrong intended ball. The shooting sometimes takes 2 presses which is extremely annoying. No help available on a difficult layer, had to work it out got bored after level 30 as I couldn't get the game to run without the above problems. Had to delete it and find something else to waste my life on.
So far so good but can't figure out level 130. Any help from anyone who's clocked it will be appreciated. :) I cracked it all by myself!! 3 weeks of trying everything I'd used in other screens but this one was… I should have realised sooner. Duh! Destroy all the marbles between each GREY marble and then when 3 Greys come together, you'll hear a "boing " sound. Didn't count how many 3 Grey combos but, eventually enough to kill the boss. YAY!
I loved the old luxor on PC and this is a pretty good copy of it. Plays fine on my s9+ controls are tap to send the ball in the direction you tap. Works okay most of time. Occasionally miss. Biggest issue is the amount of ads and with no way to remove them it's almost unplayable. I would happily pay $5 to have no ads
Love the graphics. Played on my computer. The phone version is great.
This is hard at the same time this game is fun and challenging. I truly like the game.
Brilliant. Once I had worked out how to shoot.
Super good game. good way to spend freetime. it make too hard to win level 300. but nice game
Its a nice game i enjoyed playing it u should try it
This game is very relaxing helps with stress on all levels
Contact developer :
Video :
Download Marble Luxor Classic from Play Store
Leave your feedback regarding Marble Luxor Classic
Get more android apps/games/updates
Subscribe to our mailing list and get new android apps / games and updates to your email inbox.
Thank you for subscribing.
Something went wrong.