[Game] MIR4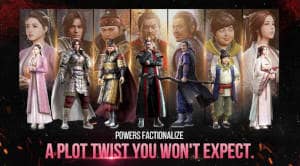 Compete Globally players!
Will you yield or rule in the face of ultimate power? Join us now and forge your legacy!
Key Features
Warriors, which path would you choose in the land of MIR?
Would you like a brand new heart pounding experience?
Perhaps live a peaceful life through hunting and gathering?
Or even wage war against other warriors and clans to conquer over all.
Follow your heart and choose your path.
This is where your story begins… MIR4.
Beauty and elegance of Oriental movement
Experience the elegant style of oriental martial arts combined with real-time fluid combat motions.
All paths lead to your growth
Every trade has its master! Tired of hunting? Try gathering or mining.
All of your activities in MIR4 will ultimately reward you with character growth.
Your time and effort spent in-game never goes to waste!
AI system moderates and prevents fraudulent transactions
Sophisticated AI system identifies and prevents bot farmers and abnormal transactions, providing a healthy and safe trading environment for all Warriors in MIR4.
Free Looting
Unprecedented Free-for-All looting system where anyone has the right to claim loot.
Be aware of others when attempting to loot!
Blue Dragon Statues and Token of the Ancient Dragon, rewards from your adventures within the land of MIR.
Your time and effort in MIR4 yields great rewards!
Various adventures and contents in MIR4 will handsomely reward you with Blue Dragon Statues and Tokens of the Ancient Dragon!
Collect these rewards to trade in for heroic items
From my battle to our war, Castle Siege.
Endless adventures to overcome my limitations,
Facing the challenges of life and death along side clanmates.
Compose an epic story through countless glorious battles.
At the end of your conquest, the strongest Clan will be born!
For your Clan's honor and your legacy, start your war now in MIR4!
Official Site: www.mir4global.com
Facebook:  www.facebook.com/mir4global
pp Access
For providing a quality gaming experience, MIR4 require permission listed below.
Required Permission
Photo Album and Camera: For capturing and uploading images for ingame profiles.
Microphone: For instance party voicechat.
How to Change Permissions
After grating permissions, you can configure or revoke permissions by following steps.
Android 6.0 or higher: Settings > Apps > MIR4 > Select Permission Settings > Permissions > Set to allow or deny
Below Android 6.0: Upgrade the operating system to change settings, or delete the app.
*If the operating system version is lower than Android 6.0, you cannot change permission settings for individual apps. We recommend upgrading to 6.0 or higher.
MIR4 user reviews :
The game is fun, with amazing graphics, alot of things to do, plenty of missions/quest, raids that can be done, its a little pay to win. You can buy your gear to get ahead. But its expensive. For now my recommendations is dont pay your way to the top. Try it out first and see if the game is for you before spending $$$$$$ maaannniiiii
This is a really beautiful game to look at. I love the detail in character creation, and the graphics are outstanding. I hate that the game goes straight to auto play however and I have to constantly turn it off. Also, would prefer to hear English since it's difficult to fight and read at the same time.
Wemade Co., Ltd

Hi, Conner P Twilhec, we've forwarded your feedback to our developers. Thank you for taking out the time to send us your suggestions!
Great gameplay. Graphics is good. Story is good as well. However there is still some lag to an otherwise smooth graphics. Hopefully the next update will rectify this. Also, is good to have an option to select how many players you want to see on the screen to avoid over cluttering.
Crashes in first 5 seconds of loading. I have no auto clicker etc. I was able to give the permissions for storage it asked for, before crashing. Even manually went in and gave it any other permissions it wanted. Forced closed app, made sure every other app was closed, restarted my phone, uninstalled, and reinstalled. Same result every time It Immediately crashes as its starting to play the opening screen, within first 5 seconds of opening game. I'm on a Samsung Fold2 so 100% can run game easily
good graphics , just like blade and soul , but , ya , DAMMIT AUTO !! thus , the heavy graphic cause heavy or lag combat performance , was like pay to auto all the way for some reason , thus , ya , i been in "punishing gray raven" these past month , the battle performance too significant , feel slow and auto-ed here , sorry , guess I not gonna be long here..
For now I'll give it 4 stars because I like mmorpg with nice smooth graphic (with/without auto button in it since it doesn't matter for me). I just hope we get the SAME or alas 80-90% rewards/ system rewards (like events or level up character or maintenance rewards etc.) like Korea version. Because some Korean games which launching in English version (SEA, EUR and NA servers) cut down rewards like 90% from the Korea server, I just hope this kind of thing doesn't happen in MIR4.
For all those people who left a negative review yesterday, you should learn to read. The game was available for PRE download only about 24 hours ahead of time, as it did not launch until today 8/26 around 7am EST. I know reading can be tough sometimes. Servers are up now and connections seem to be stable. Game is beautiful and smooth. Also maybe get better phones if you get in and it's crashing as it is unreal engine 4 and maybe your older phone can't handle it. I have Samsung Galaxy S21 Ultra
Latest Update :
New class Darkist update
"The Age of War" event opened to celebrate the release of Darkist
New Clan Expedition
New Clan Challenge
UX improved
Contact developer :
Leave your feedback regarding MIR4
If you like the content that we provide since 2012, put a smile on our face and give us a like or share this with your friends on any social platform. If you want to support this project, any crypto donation of $0.5, $1, $2, $3 is welcome!
You can find our crypto wallets on https://free-apps-android.com/buy-us-a-coffe/
Sponsored Links