[Game] Naruto Slugfest
 free android apps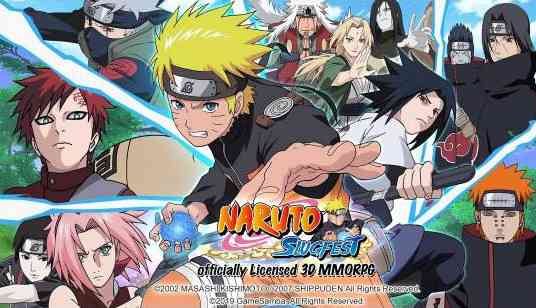 Dear Naruto Fans,
The Dev Team would like to thank you all for the enthusiasm and support you have shown us.
During our month-long Naruto: Slugfest Open Beta, we were delighted by the passion we saw in the insight, feedback, and suggestions that YOU shared with us. This left us with the realization that there were still many shortcomings and areas needing improvement.
This is the first Officially Licensed Open-World Recreation of Naruto. We want to invite you to a world that lives up to your expectations, a world where you can be a ninja, a world of Naruto.
Unfortunately, this is not that world yet. To that end, we made a very difficult decision. The original launch date will be postponed indefinitely as our Dev Team works tirelessly to optimize Naruto: Slugfest.
We sincerely apologize for this delay and would like to thank you for your understanding. We look forward to seeing you all in Konoha once more. When the tree leaves dance, one shall find flames! The Naruto: Slugfest team is looking forward to growing with you and creating a better game together!
Naruto: Slugfest Operations Team
Naruto Slugfest user reviews :
Long awaited game for many people, summarised version due to character limit: 1) Lack of content. No new modes. Capped at lvl60 for 2+ months 2) Events. Bluntly put, the events are trash. Everything is recharge and getting 1 character costs £200+ 3) Bugs. A lot of bugs and slow fixes 4) Communication. For the publishers, the lack of communication and news regarding the hand is absolutely POOR 5) Rates. The rates in game for everything is so bad. Rate chances are not even shown. Char limit so..
I expected much more of this game since this kind of game I like,but big but I guess it is ruined now :( no real improvement and update.In team and guild hard to find a players to play together for hard missions who single play it's impossible to success and finish so it's useless to play.And no characters create how you creators said it will be,but still there is not also everything what you said there is not. Make the game really better. So 2 stars and I change to 5 stars only when is better
The game is alright but there is still a lot to improve on, like targeting an enemy and locking on. The four different classes of ninjas are not balanced well for pvp and pve Earthkeeper being the worst in pvp(worst class to fight other classes with) and pve and Blazing Lotus being way to over powered in pve and pvp(second strongest). Running in this game is just bad it can be improved by adding a setting to always run and have a button to walk/run. I cannot say anymore due to character limit.
HYDROGEN HAPPY LIMITED

Hello ninja, we thank you for your opinion and suggestion, which have been forwarded to our developers directly!
I really like this game because of many elements. Co missions are great and doing them with your friends are fun. The amount of stuff you get is great and as of right now, I've grinded so much that I'm top 100 in some rankings in asura server. Only thing I don't like is that there ain't really any customaztion. I want to customize my character from head to toe and I don't like the chat function. It's too broken. Other than that, nearly perfect
HYDROGEN HAPPY LIMITED

Hey there! Thanks for the great rating and even better review. We're taking the customisation comment very seriously, it's now in our backlog of features to implement once we're out of Soft Launch; Thanks again!
Even though I quite like the game itself, I have to say that it is relly buggy and that kills the whole fun. The mechanics for some items are really bad, especially the Experience/level tracker. For quite some time now, it shows that I am well above the needed exp for level 46, which is above 8 million points, while I have 29 million points (even shows 341% on the side) and it keeps staying on level 45. Because of that, I can neither continue with the story nor character development. Shame.
HYDROGEN HAPPY LIMITED

Hi Ninja, you need to max all the group trainings to 10/10 then breakthrough after that. From your profile O in the group ; benefits and finally group training to increase it. Here's guide : www.tap.io/topic/85787 Hope you have fun in the Shinobi World! Welcome to discuss with more players: discord.gg/FuwzAuC
Best game, just don't like the fact that it's a gigabyte and the rest is just good. But yes I would also like to be able to customize from character from head to toe, and also it's really hard for a f2p player to get Naruto as a secondary because you have to get 80 of him, if possible could you make it a little less than 80 ?? Becuase I think 80 is quite over the limit maybe 30-40
HYDROGEN HAPPY LIMITED

Hi Ninja, we are sincerely appreciate your suggestion, More customization contents will be added into game in the future. We are always doing the best to bring the best game experience to you! Trust us, the game will be better! Welcome to join our official Discord to discuss with more players: discord.gg/FuwzAuC
Contact developer :
Video :
Download Naruto Slugfest from Play Store
Leave your feedback regarding Naruto Slugfest
Get more android apps/games/updates
Subscribe to our mailing list and get new android apps / games and updates to your email inbox.
Thank you for subscribing.
Something went wrong.