[Game] Neopets – Legends & Letters
 android games download free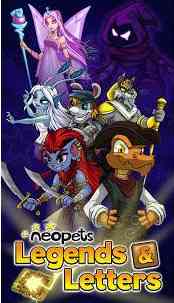 Neopets : An ancient evil has been felt across Neopia.
Do you believe that you have what it takes to challenge the powers of the Cursed Claymaker? You will have to prove yourself with magical spelling prowess in Legends & Letters. Join Aurrick, the infamous highwayman, on his adventure to stop the mighty sorcerer and his hordes. On your journey, you can customize your very own Neopet, earn awesome in-game rewards, and battle alongside friends. Defeat foes by using powerful heroes from your collection, calling upon their special abilities and using mystical potions!
Features:
Spell your way through over 180 challenging levels!
Collect and upgrade over 50 Neopian heroes
Travel through mysterious lands and experience a journey like no other
Unlock special character abilities to defeat enemies
Choose between endless options of outfits, colors, and backgrounds to customize your very own Neopet!
Strategize your attack plan while battling adversaries
Use powerups to vanquish enemies, heal yourself, and swap tiles!
Battle alongside friends
Use Board modifiers to maximize your points and hit enemies with massive attacks
Dive into the lore of Neopia
With daring twists and turns around every corner, do you dare to take on the Claymaker?"
Neopets user reviews :
For the first couple days of playing this, it worked absolutely smoothly and was fun. I conquered the first World and neared the end of the second, which is when the game completely froze up. I restarted it multiple times, And it would not go past the loading page. I uninstalled it and reinstalled it, and it seemed to work until after I logged in with my account and went to the first battle. Then it froze up again. I attempted to restart, turned off the phone etc to the exact same problem.
I would love this game if it worked, but it has not been saving my progress and has been eating my gems as a result. It thinks I've been playing it for a one day streak for almost two weeks now. A big draw for me is the potential to earn prizes for Neopets, so I find an inability to progress with challenges and monsters very disappointing.
I don't mind the game. It freezes up and lags but it's easy for the av and afterwards, random items during crossover weeks. wish we could get actual NP 3x a day, even if a small trivial amount…but oh well Edit: right after I leaving 3 star review, it became IMPOSSIBLE to play. I've opened up more than the doubled the required amount of free space- still can't load past start screen showing fullly loaded bar. I'd give this 0 star if i could, considering how problematic it's been for others too
This used to be a 3 star rating but after the THIRD Reset of my account, I am furious!!! I was hoping to do this Cross Over Challenge and had completed all 5 Daily Challenges to find that , again, you have reset and made all of those 5 Challenges "expired" and requiring gems to 'complete' these 5 Challenges I already had completed! I am not handing over more than 100 gems AGAIN like I did to complete last week's Challenges that I also completed and had gotten reset by you TWICE!
The ruki guard character seems to have an incorrect value for its attack skill. It is 70+10% of attack while most other rare characters have the percentage value at 100% of attack. That aside, the game is fun but network connection being lost and then kicking you back to the start menu and losing all progress on a level is not a good solution.
Game is kinda fun when it works. It now will try to load but will crash. Try to load it again and it stays on the home loading screen and doesn't move!
Sometimes it freezes on a screen, but if I leave the game open and do something else for a bit then return, that usually fixes the issue. The story is interesting so far.
Contact developer :
Video :
Download Neopets from Play Store
Leave your feedback regarding Neopets
Get more android apps/games/updates
Subscribe to our mailing list and get new android apps / games and updates to your email inbox.
Thank you for subscribing.
Something went wrong.