[Game] Planet Pi
 free android apps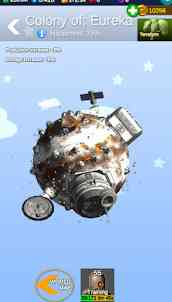 This game combines elements of idle game and strategy
Add buildings to get more resources, and start conquering the world
Train soldiers and send them to enemy planet
The more colonies you have, the bigger your army becomes
Balance resources to wage war or to grow population and prevent riots
Your goal is to unlock all 5 major planets and capture the galaxy!
All game processes occur in real time. While you are resting, the extraction of resources continues, the ships are flying toward their goal, your army is growing.
Sign in to Google Play Games to save your progress and access Achievements!
Planet Pi user reviews :
Game is good for a casual idle game that doesn't require a lot of time invested. No ads is another great bonus. Id like to know what the nebulas are or when they will will introduced. Currently they all say (coming soon). Ive unlocked all 5 planets and almost conquered all the colonies on the 5th but don't see where to go after that. Is it a dead end?
Supernova Republic LLC

Thank you, Adam! Yes, Nebulas are just added to be seen, but they are not active yet. They will be part of bigger update on which I'm working now. Currently the conquest of all colonies around main planets is the endgame. I'm going to expand the universe and rebalance some things. Can't say how soon it's ready, but I will definitely do it.
Im usually not really into these kind of strategy games, however i am very into tap-idle games, and i can see that this game has a ton of potential. I really liked that there's no rush to invade planets, you can do it at your own phase. No pressure. From reading the developer's responses to the reviews it feels like there's only one person behind this game, maybe two, and i have all the respect in the world for you. You've made a really good game, and i can't wait to see it evolve. GG
Supernova Republic LLC

Thanks so much mate! I appreciate it! I'm working to evolve it, don't know how long it takes, but your support is awesome, it's a huge motivation!;)
It's a cool concept! The only reason I lowered it is because there is a definite wall of waiting for enough resources to get the 3rd planet. The battles were also too easy just to have to wait and grind for a long time. Update! Uninstalling due to excessive waiting, way too long for Utopia unlock, lost all interest.
Supernova Republic LLC

Thank you, Frank!
This needed editi g from my part and the dev answered which is a good point. After grasping the fact we need an outpost to seize the planets, you get on the rails. Now, I'd have a small guide for it, like after first capture tell us to build an outpost. What I'd make is auto resource harvesting, it's a pain to go back to the planets and harvest the bubbles, just to go back to the map and build an outpost or whatever. Keep the nice effort!
Supernova Republic LLC

Thank you, Laurent!
I'm actually torn between 3 stars and 4. I gave 3 because though I think there's alot that would make this game better I've still found myself casually addicted and continued playing it for weeks. It has alot of potential to be great. Needs an actual tutorial and better structure. Colony planets serve no real purpose and become a waste after you move to next planet. Rebels are way to easy. Need better storage capacity and I think terraforming needs work. Maybe special bonuses based on choices
Supernova Republic LLC

Thanks Jake! I totally agree with you and will try to improve those things in bigger update I'm working on. By the way, I received your email. I appreciate it!
Great casual game. Not riddled with adverts, and if you want to support the developer, you can choose to buy one of the in app purchases. Its great having a game that doesn't bombard you with ads. Just waiting for an update for content now, as Iv captures all the planets. Well done
Supernova Republic LLC

Thank you, David! I appreciate this! I will keep working to bring more interesting features to you!
Contact developer :
Download Planet Pi from Play Store
Leave your feedback regarding Planet Pi
Get more android apps/games/updates
Subscribe to our mailing list and get new android apps / games and updates to your email inbox.
Thank you for subscribing.
Something went wrong.