[Game] Real Boxing 2 CREED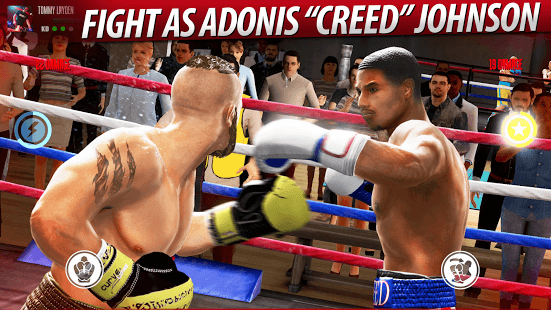 Take the fight to the next level in Real Boxing 2 CREED™ – the official mobile game of the movie CREED™! Train with the legendary Rocky Balboa and become the World Champion in the sequel to the award winning Real Boxing™. Ready for Round 2?
BECOME CREED AND CLAIM YOUR LEGACY
Enter the ring and fight as Adonis Johnson, the son of Rocky Balboa's legendary rival Apollo Creed. Challenge the boxing elite, unlock unique CREED™ themed items, and fight to prove your legacy is more than a name in the official game of the movie CREED – coming to cinemas this November!
JOIN AN ENDLESS MMO FIGHTING EXPERIENCE
Challenge an elite of boxing champions and fight players from around the world, night or day, in single and multiplayer gameplay across hundreds of exciting events, story fights, and tournaments in a never-ending Career Mode.
ENGAGE IN FAST PACED ON-THE-RING ACTION
Master jabs, hooks, uppercuts, body punches and combine them with devastating Special Punches and Focus abilities creating the ultimate combo to KO your opponent.
CHOOSE YOUR STYLE OF BOXING
Develop your boxer's Strength, Stamina, Speed, and Endurance, level up your abilities, and equip powerful boosts to create your own unique fighting playstyle.
UNLOCK HUNDREDS OF POWERFUL ITEMS
Progress and gain access to a huge number of unique, upgradable and customizable gear, enhancing fighting stats and abilities of your boxer.
CREATE THE ULTIMATE FIGHTER
Use a robust set of options to create your own boxer – from body mass, muscle sculpture, and attitude, to details as small as eye color and nose shape.
CONNECT WITH FRIENDS
Invite a friend and duke it out in real-time PVP action to find out who's the best boxer right here and now. Fight for the quickest KO and best scores across a variety of leaderboards. Never stop competing!
PLAY EXCITING MINIGAMES
Train your fighter in exciting minigames with Rocky Balboa and try your luck in the Daily Lottery for a chance to win awesome rewards.
FEEL THE POWER OF UNREAL ENGINE 4
Witness jaw-dropping graphics fully utilizing the power of Unreal Engine 4 technology to create the most dynamic and visually stunning MMO fighting game experience.
Important information: Real Boxing 2 CREED™ is best experienced while playing on high-end devices. The game requires a persistent Internet connection to access all features.
Official Website: www.realboxing2.com
Follow Real Boxing 2 CREED™ on Facebook: www.facebook.com/realboxing
Terms of Service: www.realboxing2.com/tos/
Join the club, create your fighter and start boxing with Real Boxing 2 CREED – The Ultimate Fighting Game.
Real Boxing 2 CREED user reviews :
The game is super fun, my pet peve is not the MANY MANY ads… but the fact that the ads get stuck on and I can't close them because the x button is hidden behind my phone's on screen buttons! Have to close it the app, then it shows the same add and gets hidden and stuck open again! Grrr gonna stop playing I guess. It's making mad now.
this game would be getting a lot more 5 stars if it wasn't for those damned ads. i got an ad on loading screen on my 1st game. if only the devs weren't so greedy, then it would be a really good fighting game for mobile phone. but on it's current state though, i wouldn't recommend because of the egregious monetisation.
This game is focused on making its players worse whenever a player gets knocked out he cant get up he needs to spend gems coins or watch a ad but whenever a bot gets knocked out he gets super fast this, games last no more than 45 seconds and the graphics could better i think if they used there money from their ads and chagnged the game up it could be better but from now on i wont reccomond this game to friends
It seems it doesn't even know simple addition dropping it down from a 2 to a one. Visually pleasing however the fights are really underwhelming. This could be a good game if you try to make it one however it seems that you just dont want to try.
Good GM but needs to be optimized, abit laggy too. keep up the good work thanks..
Could you let us know what seems to be the issue and what type of device you own? Send us your feedback to support@vividgames.com.
Game is ok.. Needs improvement on the graphics. Feels like Real Boxing 1 had better graphics on my Galaxy S6. Abit laggy and unresponsive. Hope these issues will be fixed. Especially the graphics.. love the customisation.
The next best thing Philly where I'm from good movie good game
Latest Update :
Strength and honor Boxers!
The fight is on, and Godfire is still waiting for new challengers. Join his trials and prove how hard you can punch your way out to the top!
We have worked on new things and upgrades to Online Fight. Go on and fight your way out in leaderboards with other players in this game mode. Climb up to the top, and you will be rewarded with new shiny rewards.
That's all for now, but stay tuned for upcoming events and updates!
Game on!
Contact developer :
Video :
Download Real Boxing 2 CREED from Play Store
Leave your feedback regarding Real Boxing 2 CREED
Get more android apps/games/updates
Subscribe to our mailing list and get new android apps / games and updates to your email inbox.
Thank you for subscribing.
Something went wrong.