[App] Selfissimo
,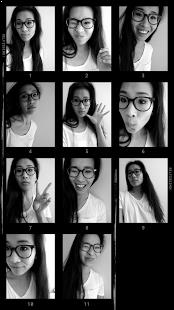 Selfissimo : Strike a pose and the camera will definitely love you!
Selfissimo! uses experimental research technology from Google to capture photos automatically each time you pose, encouraging you to capture your best self.
HOW THIS APP WORKS
Start a photoshoot and Selfissimo! snaps a photo each time you stop moving. Change poses or move the phone a little to retrigger. End with a tap, then save/share individual images or the entire shoot.
PLEASE SHARE YOUR FEEDBACK
Selfissimo! is an appsperiment that relies on technologies under active research at Google, so its performance may vary depending on your device. You can help shape its future development by giving it a try and letting us know what you think.
Selfissimo user reviews :
To people say the camera takes pictures too fast, that is not how this works. It is not on a timer. It recognizes when you change your pose and takes a picture. A little fine tuning of the shutter speed and AI recognizing movement would solve the issue. Other then that, it is a weird and cool app. It detects your face, enhances features like your eyes and smooths your face while not making it look artificial. It also applies a blur to the background which can be a hit or miss. Other then that, fun photo booth style app!
Great app.. great filter… just 2 issues, sometimes it doesn't recognise movement and doesn't click the photo, spoiling the mood. Secondly, photos don't get autosave not even in temp, so if one looses that screen all the moments are lost..
I'd want this app because it takes selfies automatically and most of them poses are pretty good for a not-so-photogenic guy like me, so I'm really hoping this app gets more attention. It's a little slow and laggy though, hope it works better in the upcoming updates
Pretty impressive but Auto save feature needed! i lost all my photos once I switched between other apps . And apart of the monochrome (b/w) effects there should be a original capture mode.
Great app.. one issue though.. if there are more than 1 face it blurs others faces.. and also takes a long time to click for multiple faces.. but quality of photos is great.
App is great . With powerful mechine learning and algorithm, thanks to GOOGLE. But only black and white option isn't cool enough add color photography feature also..
Contact developer :
Download Selfissimo from Play Store
Leave your feedback regarding Selfissimo
Get more android apps/games/updates
Subscribe to our mailing list and get new android apps / games and updates to your email inbox.
Thank you for subscribing.
Something went wrong.