[App] ShaderPaper – Live Wallpaper Designer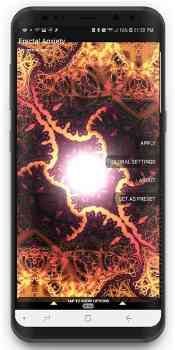 ShaderPaper : The most customizable, optimized and unique live wallpapers available on the Play Store.
Millions of unique combinations are possible.
Over 120 shader themes are now included! Each shader is customized with unique individual options for effects not available anywhere else!
Apply effects to the pixels used to render. Many styles available to provide that unique kick to your live wallpapers.
Main Live Wallpaper Features:
120+ shaders themes to choose from
Customizable detail level
Change the speed of animations
20 different pixel shaping effects to apply
Each shader theme has options specific to it and the elements used within. Allowing you to change how it operates and give that extra unique touch.
Save your settings as presets and share them with friends and the community.
Pick presets to put in a playlist so you're live wallpapers change over time
And more!
All live wallpapers can also be configured for ScreenSaver as well.
Battery Tips:
Lower the detail (pixel size)
Lower time scale (speed)
Choose a shader that has more black for AMOLED screens to conserve power
Don't be afraid to turn detail all the way down! Unique effects can be achieved with a low detail level. Square garden and high bacteria at the lowest detail are pretty neat!
View our website for battery usage information, help with the options available, or to browse presets to load onto your phone.
Thanks to ShaderToy and GLSL Sandbox!
ShaderPaper user reviews :
Amazing. I really like this a lot. I purchased the full version of Hex Shaders and now I see this even better version and I'm quite annoyed that I payed. I was wondering if you got permission to use Hex Shaders backgrounds. Because they look very similar. I really like this app a lot and I don't want you to get in trouble as a developer. You also should add an option to reset settings for each individual wallpaper and add the option to have a wallpaper randomizer whenever the screen goes off
DigitallyServiced

December 15, 2018

Thank you! I like your ideas and will see about I including them. Try the beta version which has some newer features as well as with presets that can be shared and loaded online. The "backgrounds" in my app and hexshaders are from ShaderToy and GLSL Sandbox originally. All 3 are credited throughout.
You can make some absolutely beautiful live wallpapers using this app! I am still kind of confused how to work all the parts of it but am quite impressed so far!
Huge fan! The app has beautiful presets that are greatly customizable. I haven't noticed any battery drain either. Love it!
DigitallyServiced

August 8, 2018

I am glad you are loving it!
this is soooo fantastic, awesome, incredibly good… I already liked 'hex shaders', but this blew my mind away. Thanks dev!
DigitallyServiced

September 6, 2018

Thank you for your feedback. I'm glad you are enjoying it! Keep an eye out for my upcoming update that includes even more effects and new community features. www.shaderpaper.com/presets
Great app. I'm on pixel 3 using stock pixel launcher. Occasionally the wallpaper 8nly shows on the bottom of the screen. Small bug, fixes itself eventually but FYI.
DigitallyServiced

January 2, 2019

I am glad you are enjoying it! Can you please email me at info[at]digitallyserviced.com with screenshots? I would like to resolve the issue and thank you for your support!
absolutely loving this. i realize it will impact battery as most all live wallpapers do. i just hope its just not extremely hard on battery. time will tell. thanks so much! beautiful work!
DigitallyServiced

January 2, 2019

I am happy to hear you are enjoying the app. If you turn the details and speed down the battery is not impacted as bad. Dont worry about low detail level though. Many of the shaders programs look awesome at low detail as well.
Probably the best designed app available. You should see these backgrounds!
Thumbs up great
DigitallyServiced

September 28, 2018

Thanks! Hope it is working good for you and if you have any comments or suggestions please let me know!
Contact developer :
Video :
Download ShaderPaper from Play Store
Leave your feedback regarding ShaderPaper
Get more android apps/games/updates
Subscribe to our mailing list and get new android apps / games and updates to your email inbox.
Thank you for subscribing.
Something went wrong.