[Game] Shadowgun War Games – Online PvP FPS
 free android apps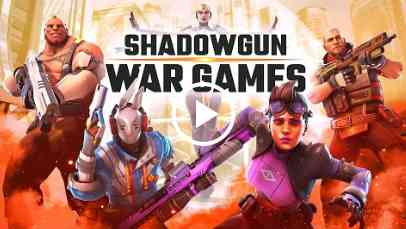 Tactical multiplayer FPS (First Person Shooter) with outstanding graphics and intense PvP (Player versus Player) 5v5 battles.
Work out your strategy for classic Capture the Flag or go in all guns blazing in Team Deathmatch. With intense multiplayer maps and modes, Shadowgun War Games is the best PvP experience on mobile!
FREE TO PLAY CONSOLE-QUALITY FPS
Tactical First Person Shooter action shooter with outstanding graphics, customizable controls, plus voice and text chat! Easy on-the-go FPS multiplayer shooter where everyone can experience truly competitive combat on their mobile device.
STUNNING MAPS AND THRILLING GAME MODES
Fight against players worldwide in arenas, maps and unique events across the Shadowgun Universe.
EASY CONTROLS
It's fun and accessible for beginners and hardcore gamers will find plenty of challenge. Anyone can compete in Capture the Flag and Team Deathmatch game modes!
UNIQUE HEROES AND ABILITIES
From Blink and Shield for defensive players to Berserk mode for more aggressive tactics. Customize your hero with unique skins, emotes, charms, stickers, etc.
COMPETITIVE GAMEPLAY
Multiplayer PvP FPS that rewards skill and strategy in battle. Team tactics will ensure victory in this free to play multiplayer PvP First Person Shooter.
UPDATES AND VARIETY
Regular updates will add more choice and complexity to the Shadowgun War Games PvP experience with the arrival of exciting new heroes, game modes, events, skins and emotes. The future of mobile gameplay is War Games!
ATTENTION ALL PLAYERS! We'd love to hear your feedback to help us improve the game. To leave feedback visit here: support.madfingergames.com/hc/en-us
Note: You will need an internet connection to play Shadowgun War Games – Online PvP FPS.
© 2019 MADFINGER Games, Shadowgun War Games, Shadowgun Legends, Dead Trigger, Unkilled are trademarks of MADFINGER Games a.s. By downloading, installing this App, you agree to MADFINGER Games' privacy policy and terms of use. To view MADFINGER's privacy policy please visit www.madfingergames.com/privacy-policy and for terms of use please visit www.madfingergames.com/eula.
Shadowgun War Games user reviews :
This is a great game. Similar to overwatch. My advice is 1. make the kills effect, headshot, quadrakill etc more satisfying. The current effect was very general. 2. Create more heroes with different unique skills and weapons. The current heroes skills is very similar to tje others, be more creative. 3. The matchmaking for ranked game was a bit too long. Thank you dev for listening to my advice
Game works smoothly and is fun, but does not have much content. A few things should be added such as a friends section, a character or 2 monthly(probably a hot drop of 5 at once just to keep players hooked in the early stages), more modes/map, and most importantly EVENTS. I believe this game has a lot going for it, and it will improve in time.. I just hope it won't take forever for it all.
Everything seems pretty good, aside of the controls. I can see this game having some serious potential, but I feel the controls/UI need a lot more player customization options. If you are up against someone using a controller on their phone or device and you aren't, the way this game controls will have you dead every time. I do pretty well regardless, but see this as a future issue if not remedied. More character options in the near future would be nice, as well as other player friendly choices.
The gameplay is good. It's ok not very great right now. It still looks like it's in beta. But my main problem is that this does not have a movement joystick. I am a claw player and I keep my fire button at the top left. But as I hold down the fire button the character starts moving. This is very annoying. Please add a proper joystick for movement. And controls need to be changed according to those in cod mobile and PUBG mobile, so that people can easily migrate from those games.
Amazing!! I play this on my Galaxy S10+ and I haven't experienced any issues. I absolutely love the game. I was worried at first it would take me away from ShadowGun Legends. I love playing the both of them now. It's definitely missing a few things. Custom touch controls, adding friends, controller support, guilds or clans, and a few other things. I am not worried though. Stuff like that will come with future updates. I am just happy to play the game.
Last Update :
Venture Beyond and fight your enemies all across the galaxy with Dandara, a powerful new hero that can pulverize any foe with her mighty punches, while also protecting her allies with a shield wall! Use her abilities in the new Observatory map and lead your team to victory! Prepare for vastly improved matchmaking, redesigned and more rewarding Splits, smoother player progression, and a rich 100-tier Season 5 Battle Pass with exceptional awards!
Contact developer :
Video :
Download Shadowgun War Games from Play Store
Leave your feedback regarding Shadowgun War Games
Get more android apps/games/updates
Subscribe to our mailing list and get new android apps / games and updates to your email inbox.
Thank you for subscribing.
Something went wrong.