[Game] Crush the Castle – Siege Master
 creative destruction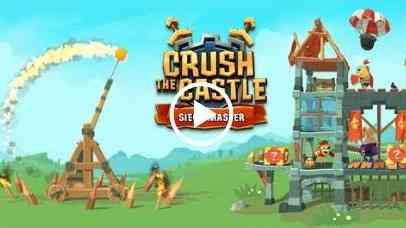 The physics projectile puzzle game that started it all returns with more smashing trebuchet destruction.
Embrace the cathartic power of structural carnage and a really, really big trebuchet with Crush the Castle: Siege Master. The goal in each stage will vary, but at its core the objective is to catapult rocks into a variety of elaborate towers to smash them to smithereens. Destruction has never been so fun!
The king has sold off all of the royal army to fuel his loot box addiction and you must use the only tool left – your trusty trebuchet – to fend off the invaders trying to take over the kingdom. From rolling green fields to deep deserts and beyond, crash into enemy towers and drive out the treasonous inhabitants.
Download the full, free game now!
KINGDOMS WILL FALL AT YOUR FINGERTIPS
Destroy enemy towers and reclaim your kingdom. Tap once to swing your trebuchet, tap again to catapult its ammo.
INTRICATE STRUCTURES TO CRUSH
The vibrant kingdoms are filled with a variety of fun new towers to destroy. Use the power of physics to launch massive rocks into the core of your enemy's defense and bring it to the ground.
HUNDREDS OF ENEMIES TO SQUASH
Crashing into enemy towers is fun, but wiping out the baddies inside is just as satisfying. If your aim is true, you'll crash into the enemy stronghold and send it flying, along with everyone inside.
UNLOCK SPECIAL PROJECTILES
Rocks getting boring? New projectiles let you fill that castle with massive hooks or set it ablaze with powerful missiles.
FREE TO DOWNLOAD
Crush the Castle: Siege Master is completely free to play! While you can download and play for free, there are optional in-app purchases available to enhance your experience.
DID WE MENTION THE TREBUCHET?
Catapults get all the glory, but can they use a counterweight to launch a 90 kilogram projectile over 300 meters? No. No they can't. The trebuchet is the greatest medieval siege engine of the middle ages, is the surest way to drive out your enemies – and now it's yours to enjoy anywhere, anytime, in the palm of your hand.
If you love playing "Crush the Castle: Siege Master," please leave a review. Thank you for playing!
Siege Master user reviews :
It's a good game, but there is a somewhat CRIPPLING aspect of the game. The game is presented to you as 2 dimensional, but in some of the levels enemies are in (what I call) different layers of the level, meaning if something doesn't fall on them like it is was supposed to, you can't kill them no matter what, since you can't aim anywhere else except on one layer.
Man this game is addictive. Requires a bit of physics, a bit of strategy and a bit of luck. Adds are acceptable in frequency and length for a free game with cool cartoon graphics. Good job on this one.
March 2020 -Rather addictive. This game can be challenging and easy at the same time, but it is always fun. More levels please! June 2020 – Tore through those new levels, still challenging and great fun. More, more, more please!
Many of the levels aren't working the way they should. Level 53, the building always fall the opposite direction its supposed to. On many levels the ammo I throw gets stuck on roofs instead of rolling. Level 116, the ice bombs seem to think the rock behind the structure is a wall. And many other bugs.
Level 242 forces me to rate game and will not allow me to progress. I have beaten 241 multiple times at all levels. I just changed my rating to 5 stars for no reason beyond the fact that I am still at level 241 for no reason. I will be deleting this game. And now I'm on level 271 with the same issue. I'm changing my ratings to all one star and deleting the game.
is there somewhere in particular I'm supposed to tap on the screen to fire the stone? I tap on the screen nothing happens I tap again nothing happens I tap again nothing happens, then it's like all three of them catch up and I end up dropping the stone out of the catapult. you know I lose more points doing this is there a trick to it?
Awesome game. Finished all 291 levles. would like to see more heavy impact projectiles, overall good game and love the fact that ads are not intrusive. Keep up the good work. Can twait for the new levels.
Contact developer :
Video :
Download Siege Master from Play Store
Leave your feedback regarding Siege Master
Get more android apps/games/updates
Subscribe to our mailing list and get new android apps / games and updates to your email inbox.
Thank you for subscribing.
Something went wrong.