[App] Skyclock
 jw library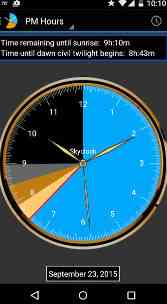 Skyclock is the ultimate Sun calculator for sunrise, sunset, and twilight times. Calculates for exactly where you are.
Pilots, photographers, golfers, hunters, construction managers, those who fish, camp, hike, and organize outdoor recreation and those who organize their lives around sunrise and sunset can all use Skyclock®.
Skyclock® shows you 'usable twilight' so you can extend, or plan, your day. Twilight is the time between day and night when there is available light before sunrise, or after sunset. All of these times change every day, and depend on where you are.
Using an analog clock face (12 or 24 hour mode), and Skyclock's patented 'slice of pie' display method, you can quickly see and understand all of these times, and optimize your outdoor activities to take advantage of natural lighting conditions.
With Skyclock® you can get that evening round of golf in before dark. You can finish the landscaping job. You can time your run to end before full dark. You can know when to start or end your fast. You can plan to be at the beach in time to watch a beautiful sunrise or sunset, maybe see the green flash, and enjoy the colors in the sky that are best during twilight. You can know if you will 'be home before dark'. You can plan your fishing time for when they're biting, and your hiking time to get back to camp in time for the twilight s'mores. And you can do much, much more.
It's convenience, planning, and safety. It's making the most of your outdoor time, whether it's for recreation, or occupation. Enjoy your day. Enjoy your night.
For more information on twilight and Skyclock®, visit www.skyclock.com, and www.facebook.com/skyclock.
Skyclock user reviews :
App no longer works. Before the last update, the clock face actually had the color key and appropriate times. Now, there's nothing but a clouds on the face with no hands. In addition to this mess, my location shows up in a different country (Canada) while I'm 75 miles south (US). The location does not change. I've tried to uninstall, reinstall, changed Wifi connection and even on my carriers cell tower. Is there any hope that this app will function properly again?
Lovely clock to place on an exclusive tab. It would be very nice and convenient as well as add some functionality if I could add some custom sliders across the 4 clock. For example; a blue slider overlay that can be slid from 9pm to 5am and an orange one for 7am to 3:30pm. Those hours I'm asleep and working. Having an interactive visual representation of the day ahead of me rather than an agenda would liven my morning up. I think skyclock could branch out in that direction easily and also create a larger userbase who cares about time and time management
I like the idea but the settings for the widget do not work e.g., always stays at the bottom. I also dislike the logo "Skyclock" in the middle of the clock.
This app unexpectedly reminded me of the joy of watching the sun set. At the very least it helped me take notice that, during the busy city life, it's always there in case you need a break.
This is a new wonderful way to tell time!
Kind of works, it shows sunrise and sunset times but the pie chart is completely black/gray for me. Using a Samsung Galaxy S7 here on Android 8. **EDIT:** The times at which this works is seemingly at random – sometimes it has colors, sometimes it's just one single color, be it black, gray, or brown.
Skyclock

thank you for your feedback – we did not see that behaviour in testing – what version of android?
Contact developer :
Video :
Download Skyclock from Play Store
Leave your feedback regarding Skyclock
Get more android apps/games/updates
Subscribe to our mailing list and get new android apps / games and updates to your email inbox.
Thank you for subscribing.
Something went wrong.