[Game] Slint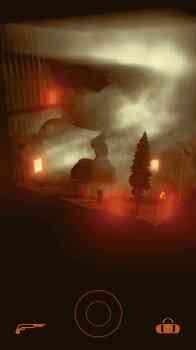 Slint is a single-player adventure game set in a future, post-apocalyptic world.
You solve environmental puzzles, capture illuminating animals, meet different characters and explore the ruins of destroyed capital city, as a wanderer named Maynard.
Slint has no ending. It is a growing post-apocalyptic city in your pocket. Free and without ads, for iOS and Android.
New locations and missions are added continuously through Area Updates. Slint has no spoken or written language, making it available to everyone.
Game Story:
It was a great city! A dynamic, vibrating centre of science, technology and architecture. It was a place where presidents had important meetings, and urban cutting edge technologies where tried out for the first time. When the giants arrived in the 25th century they chose it as their capital. When the same giants were brought down in the 32nd, they were kept in the tunnels beneath it. Because of its significance it was also the target of many foreign, hostile rockets, and once the Final Wars were over there was not much left but rubble.  , and the once proud name of the city was forgotten and exchanged with the then slang word for silence, Slint.
One night a wanderer called Maynard set up camp in one of the city suburbs. He was just falling asleep when a distant sound grabbed his attention. Was someone shouting? Hesitatingly he turned his flashlight on, and crawled out of his tent.
Slint user reviews :
Well, the visuals are amazing. It would be nice if there was a bit more colour. Although, the lack of said colour adds a nice atmosphere. It makes things with more colour "pop" more. The controls feel a bit slow, and maybe inaccurate. I'm not quite sure what's happening, the description for the game say what, but it's hard to tell while playing the game. Overall, well worth the time spent playing.
Great art direction, but the choice to have terribly slow (and somewhat imprecise) controls, as well as purposefully leaving out any text out of the game, is in my opinion throwing away a lot of the potential that this had. Having a written story directly in the game would have made it a lot more interesting.
Interesting game, looks art style is pretty cool, same with music, but I did get bugged a couple of times, mostly going through the red door and becoming invisible, not being able to continue.
Cool game
Contact developer :
Leave your feedback regarding Slint
Get more android apps/games/updates
Subscribe to our mailing list and get new android apps / games and updates to your email inbox.
Thank you for subscribing.
Something went wrong.